Sometimes you just need an easy and equally comforting side to round out a meal. And this Spiced Honeynut Squash with Pickled Red Onion delivers.
No peeling and prep is about as easy as it gets: slice each in half and remove the seeds with a spoon. Ever since I made Sonia's Ginger Chicken in our cooking class, I've been finding new ways to use ghee. Its texture is like slightly softened butter so it's easy to spread onto these honeynut squash.
After adding the ghee, just sprinkle on some garam masala and roast. Meanwhile, pickle some red onion while the squash cooks. It adds a mild yet slightly sharp and acidic taste to balance out the sweetness of the squash. Then top with pine nuts and chopped dates. I have a feeling honeynut squash's season is close to an end, so I'll be trying this with sweet potatoes next!
Behind the Recipe: Spiced Honeynut Squash with Pickled Red Onion
Ghee: As mentioned above, I've been using ghee in more recipes after cooking a Ginger Chicken recipe from my friend. In particular, I like this brand of ghee because it's already a bit soft, so it's easy to rub onto the butternut squash.
Garam Masala: This is a highly untraditional way to use this spice- it is usually used with meat in Indian and other Southeast Asian cooking. However, I liked the convenience of using a spice blend here and am a huge fan of the spices usually included. In particular, I love cinnamon, clove, cumin, and coriander. Take note that different brands will have different mixes.
Honeynut Squash: See below for more about this unique winter squash. While I haven't tested it out yet, I think a sweet potato or yam would be the best substitute if you are unable to find this squash.
Pickled Red Onion: One of my favorite additions for salads and sides. It brings in a slightly acidic flavor to balance out rich and sweet flavors. I like to use a mild vinegar like rice vinegar or white balsamic to keep things subtle. The longer the onion sits in the vinegar, the stronger the vinegar flavor.
Pine Nuts: I always love to add a crunch factor to my sides and this does the trick. Any nut or seed will do!
What is honeynut squash?
Honeynut squash is the smaller relative of butternut squash- a single one is about the size of your hand. When I first posted about it 2019, this variety was a newbie and just starting to be easier to find at farmers' markets, although usually, only one or two stands would carry it. Now, two years later, it's become much more common.
Unlike so many seeds, honenynut squash was just created about 10 years ago. It all traces back to Dan Barber, a chef I've admired for a long time and was a huge force behind the farm-to-table movement (there's an episode about him on Chef's Table that I recommend checking out on Netflix). The idea was to create a "better" butternut squash.
So what makes it better? A few things: First, you don't have to peel it. The skin is edible and quite palatable. While I haven't actually done research on it, my guess based on similar vegetables is that the skin is the most nutritious part and contains lots of fiber. Second, it's easier to cut. Not only do you not have to peel it, but it generally is a bit softer and more tender than butternut squash. So if you've ever gotten a little nervous about cutting butternut squash, this is a good alternative. Along these lines, honeynut squash is much smaller than butternut. Half of one (or maybe even a whole one) is a perfect size for one. This also means a shorter cooking time.
Honeynut squash can come in a number of varieties. Most recently I saw these ones that are spotted and green which were quite unusual- my guess is they are another breed.
Here are a few other honeynut squash recipes to enjoy: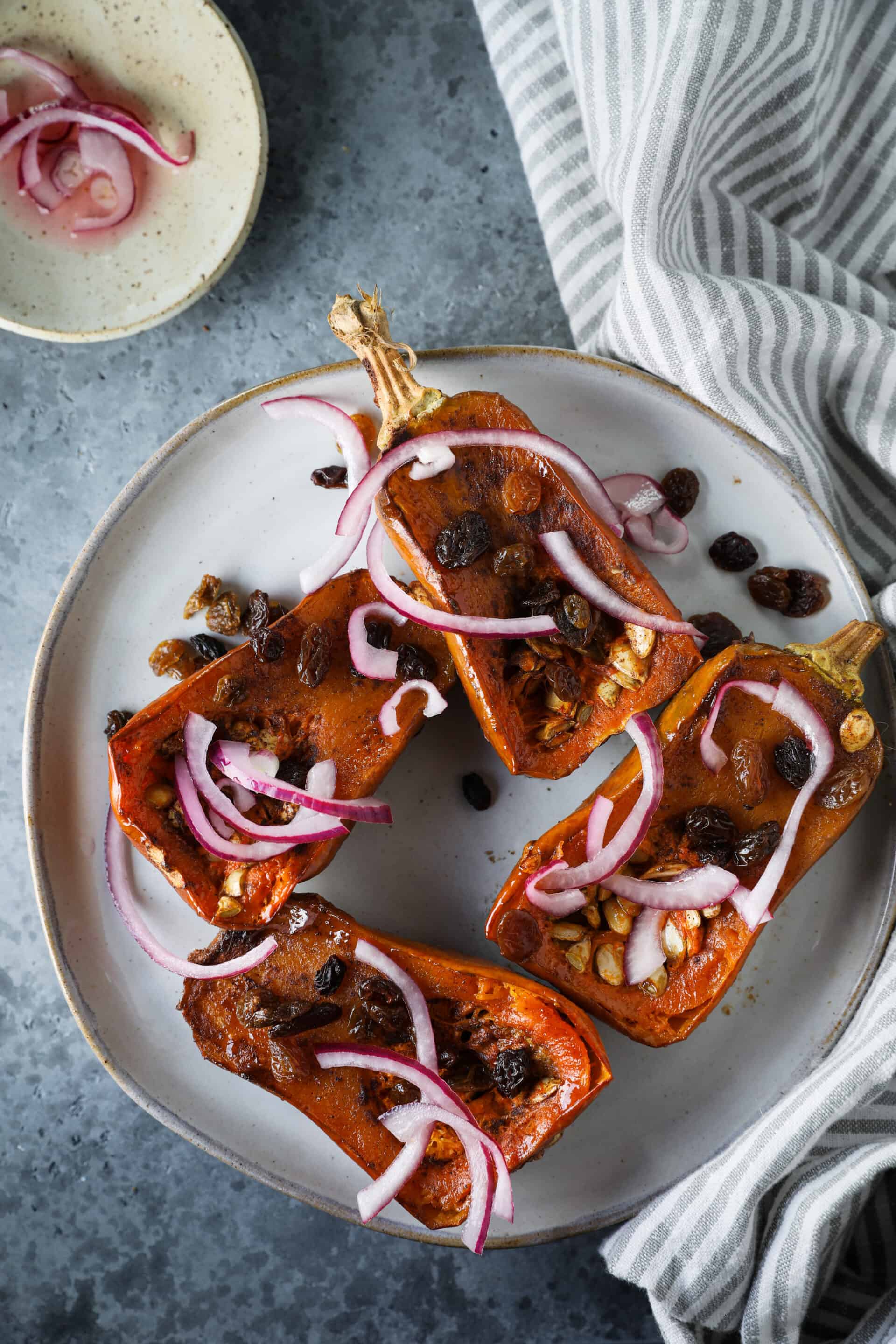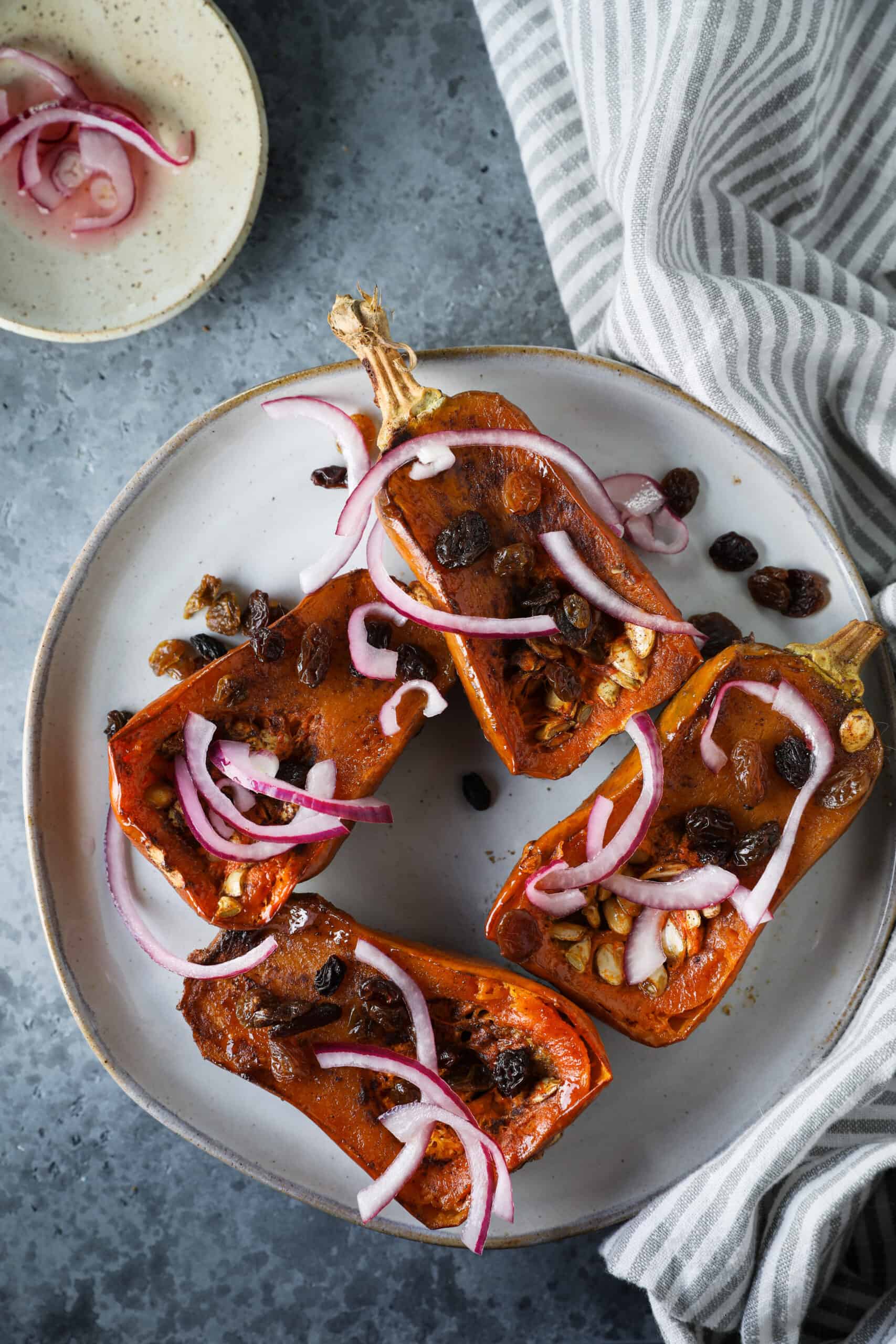 Spiced Honeynut Squash with Pickled Red Onion
4

small honeynut squash

1.5

tablespoons

ghee

1

teaspoon

garam masala

salt

1/2

red onion

,

thinly sliced

2

teaspoons

rice vinegar

pinch

sugar

1/4

cup

yellow raisins or chopped dates

1/4

cup

pine nuts
Preheat oven to 400 degrees.

Place pine nuts on baking sheet. Place in oven and toast until lightly browned, about 5 minutes. Note: This step can be done up to 2 weeks in advance.

Cut squash in half. Cut off top stem. Remove seeds with spoon.

Rub ghee on squash. Sprinkle with salt and garam masala. Place face down on parchment lined sheet.

Roast squash until tender and lightly caramelized on the bottom, about 25 minutes. You should be able to push down onto the outside of the squash to know it's tender.

Meanwhile, place red onion in vinegar and sugar and let sit while the squash roasts.

Remove squash and place open side up onto serving platter. Top with red onion, pine nuts, and dates.