It's common to load up the veggies in summer pasta dishes, but why not in winter ones too? Too often we think that for a pasta dish to work in the winter it has to be loaded with cheese and cream. But you can still get warmth and comfort from a pasta dish that is loaded with nutrients. Leave feeling satisfied but not stuffed. This Winter Linguine with Roasted Cauliflower, Squash, & Kale is full of color, winter flavors, and nutrients.
I've been on a real pasta kick recently. And I've found that depending on your mood, you can run the spectrum of light to luxurious. Here's how:
Keep it on the lighter/nutritious side:

Increase the ratio of vegetables to pasta. More vegetables. Less pasta.
Keep it semi-minimal on the oil/butter. I like to use about a tablespoon- just enough to prevent the vegetables from sticking and get that browning and flavor.
Add in some chicken sausage for an extra boost of protein.

Make it more luxurious (I tend to do this if making for guests or wanting a fuller or more decadent meal):

Add in more cheese. You can't go wrong here, let's be real.
Add in a bit more oil when sauteeing the vegetables.
Top with a bit of butter to coat the pasta right before serving.
Behind the Recipe: Winter Linguine with Roasted Cauliflower, Squash, & Kale
Whole Wheat Linguine: I love the bit of texture, nutty flavor, and bite whole wheat linguine brings. You can also use bucatani or any other pasta calling your name.
Winter Squash: I used Red Kuri Squash because it's my current favorite, but they aren't the easiest to find if not shopping at your local farmers market. Butternut or honeynut squash would work great here- just be sure to remove the peel if using butternut. For all types, make sure to dice into 1/2" cubes so you can speed up the cooking process and make sure they are fully cooked when doing sauteeing. Alternatively, you can chop slightly larger pieces and roast for a longer period of time.
Pecan Breadrumbs: Toasted pecans are the perfect nutty, fragrant, and warming topping for a winter dish. While you could use normal breadcrumbs too, I like the slightly heavier and nuttier flavors pecans bring to make this feel like a winter dish. Walnuts or pine nuts would also work well here too.
Other Recipes You might also enjoy…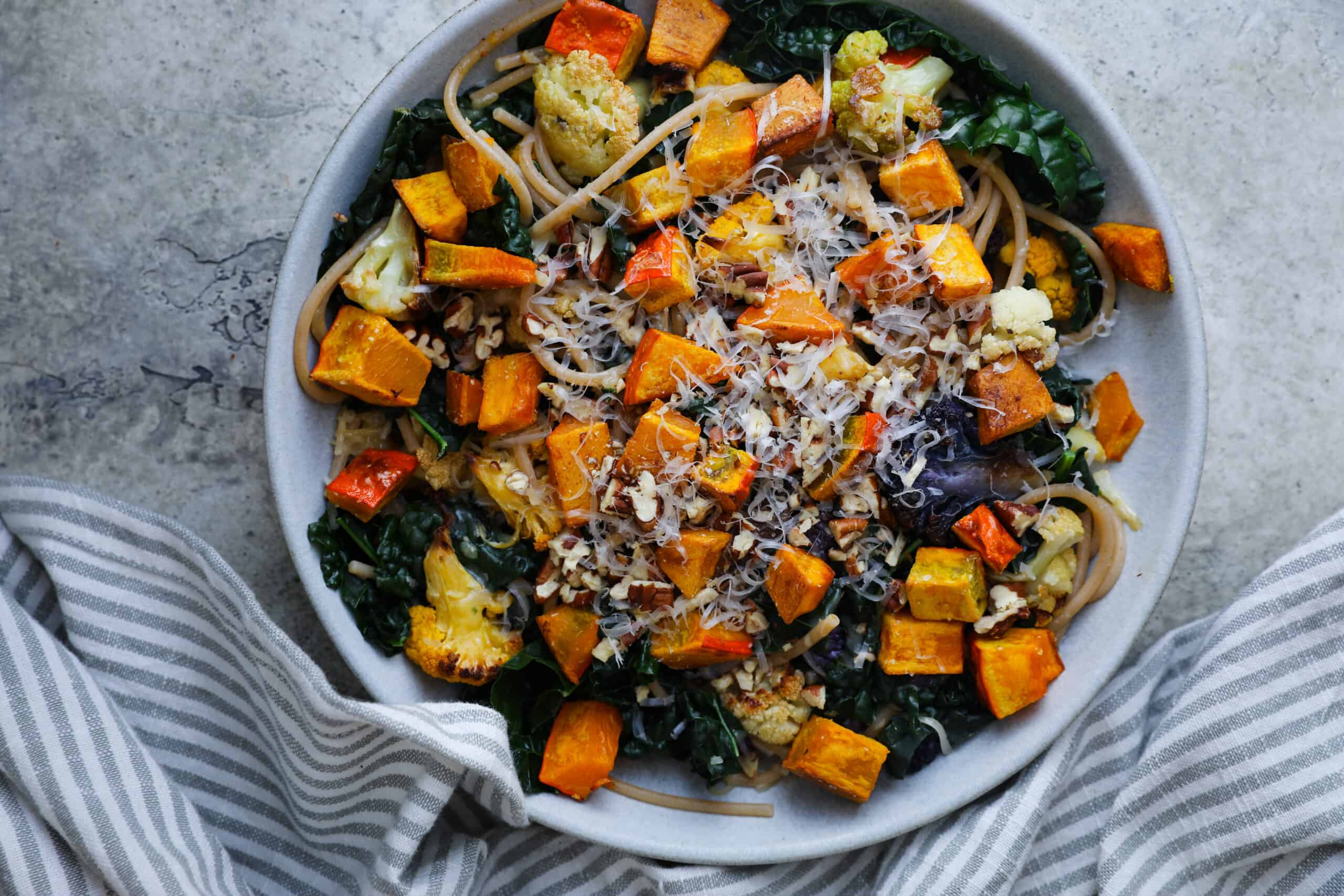 Winter Linguine with Roasted Cauliflower, Squash, & Kale
1/4

cup

pecans

4-6

ounces

whole wheat spaghetti or linguine

,

(see above for why there's a range)

1-2

tablespoons

extra virgin olive oil

,

, or unsalted butter

1

pound (about 3/4 pound once seeds removed and cut up)

winter squash (butternut, kuri squash, honeynut)

,

diced into 1/4'' cubes (make it small!!)

6-8

ounces (1/2 small)

cauliflower

,

, cut into small florets (make it small!)

2

ounces

lacinato kale

,

, cut into ribbons

1/4

cup

freshly shaved parmesan

optional:

2 links chicken sausage

,

, cut into slices
Make the Pecan "Breadcrumbs":
Note: Toasting the pecans can be done ahead of time and highly recommend doing a bigger batch to use for other dishes too.

Preheat oven to 375. Place pecans on a baking sheet. Bake until fragrant, about 7 minutes.

Let cool slightly before crumbling. You can use a knife or put in a ziploc bag and crush with rolling pin. Set aside.
Cook the Pasta:
Cook pasta according to directions. I've found that if I start sauteing the vegetables at the same time I begin this process (of bringing a medium pot of water to boil and then boiling the pasta- takes about 20 minutes), the timing works perfectly.

Once pasta is cooked, vegetables should hopefully be done. I like to just use tongs to directly place the pasta into the vegetables- I don't worry if a bit of water comes with the pasta because it keeps everything from drying out.
Saute the Vegetables:
Note: You can also roast the vegetables if you prefer a more hands-off approach, but I liked the idea of keeping everything to the stovetop for this part of the recipe. Roasting will also probably take about 5-10 minute longer.

In a large saute pan, add a generous amount of extra virgin olive oil (1-2 tablespoons; enough to fully coat the bottom). Add in squash and cauliflower. Season and saute over medium heat, occasionally stirring. About 5 minute in, once the squash and cauliflower have browned a bit, add the kale. Continue to saute for about 20-25 minutes while the pasta is being prepared.

Note: It is really important that both are cut into quite small pieces because it speeds up the cooking time. If you have large chunks of squash and cauliflower, it will take significantly longer to cook and the chance of the inside not being fully cooked is higher.

Toss together pasta and vegetables all together. Sprinkle on freshly grated parmesan and pecan breadcrumbs and serve.