This Pesto Linguine with Meatballs & Charred Eggplant is the quintessential weeknight meal: filling, nutritious, packed with flavor, and wiggle room to adapt as you want. It's part of a series I've slowly been creating- mostly at the request of Matt. The qualifications:
A balanced meal (a fairly balanced ratio of protein, carbs, fats- and of course a good dose of vegetables)
A one pot meal or close to it (minimal sides needed)
Minimal time and prep- the recipe is simple, intuitive, and stress-free
Good for leftovers
Most importantly: DELICIOUS. If you're going to put in the time to make a home cooked meal, it better taste like it.
While I'm biased toward my arugula pesto and recommend making the pesto over the weekend so it's ready to go, using store-bought pesto is a great strategy if pinched on time (aka Matt's strategy). Or switch up the sauce to give it an entirely different feel. A tomato-based one is also great. Whatever you do, don't skimp on the Parmesan. A small dose both in the meatballs and on top at the end is key.
Pesto Linguine with Meatballs & Charred Eggplant: A few practical notes…
If you're not a fan of almond flour, you can replace the almond flour with breadcrumbs or panko.
You can double the whole recipe for four servings or leftovers. If doing this…

Use one egg instead of two egg yolks.
Roast rather than broil. The eggplant and meatballs will take a bit longer to cook (the eggplant takes about 25 minutes and the meatballs about 10ish minutes) when roasting at 425.

The arugula pesto can be made up to 4-5 days in advance. Store in an airtight container in the fridge.
I personally love 365 Whole Wheat Spaghetti for this to get my fix of whole grains. It's inexpensive and also adds flavor and texture.
You Might Also Like…
I've been on a bit of a pasta kick recently. If you like this recipe for Pesto Linguine with Meatballs & Charred Eggplant, you might also like these…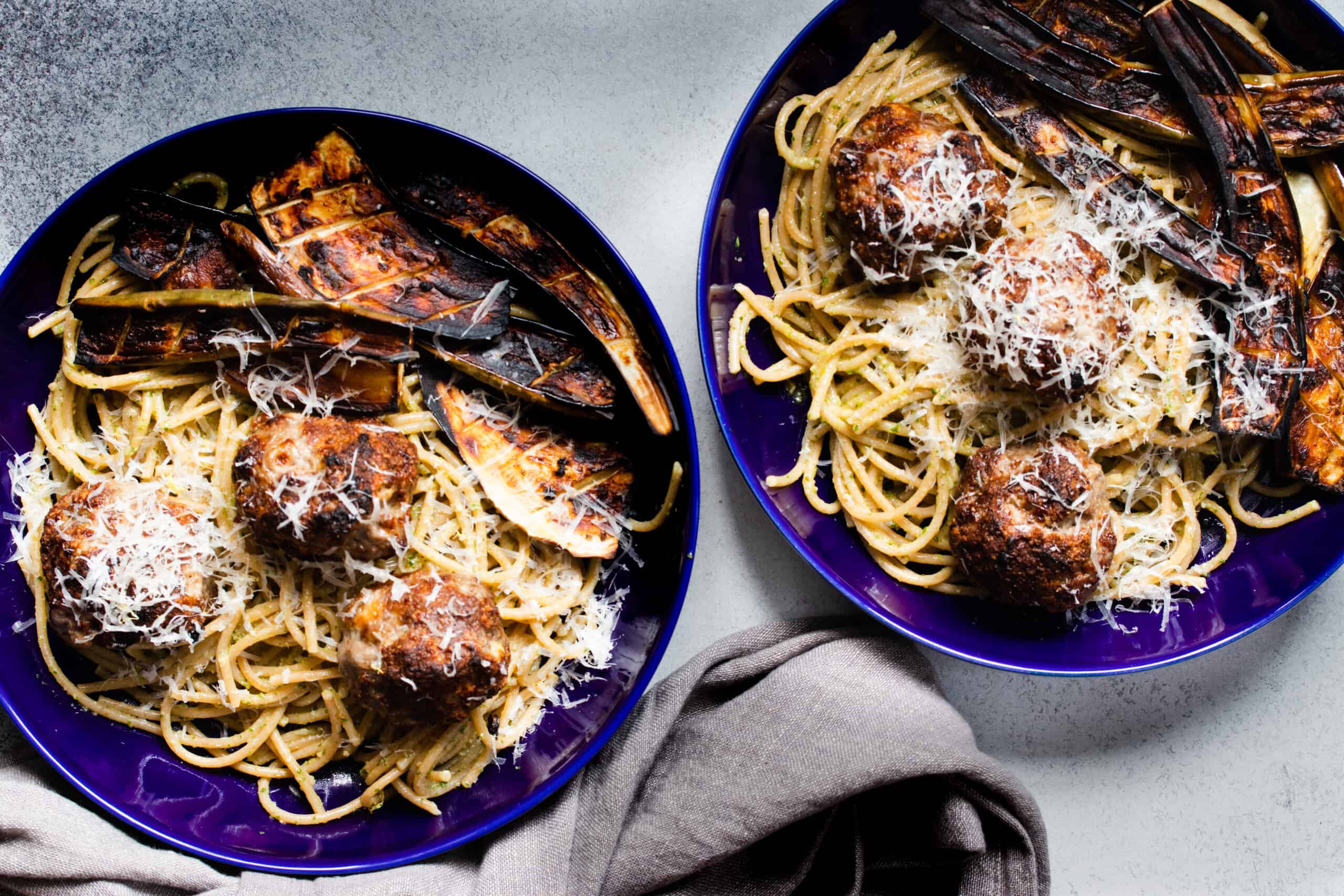 Pesto Linguine with Meatballs & Charred Eggplant
Parmesan Meatballs
2

tablespoon (28g)

almond meal

1

egg yolk

,

(if doubling, just do one whole egg)

1/2

pound

ground beef

3/4

teaspoon

diamond kosher salt (if using any other salt, use half the amount)

1

garlic clove

,

crushed

2

tablepoons

freshly grated parmesan

zest of

1/2

lemon
Roasted Eggplant
1/2

pound

Japanese eggplant,

,

sliced in half lengthwise

1

tablespoons

extra virgin olive oil

3/4

teaspoon

diamond kosher salt (if using any other salt, use half the amount)
Pasta & Pesto
4-6

ounces

whole wheat spaghetti or linguine of your choice,

,

cooked al dente (according to package directions)

1/2

cup

arugula pesto

,

, see recipe below

1/4

cup

freshly grated parmesan

,

, for topping
Preheat oven to broiler setting. Prepare a baking sheet by lining it with foil and spraying with oil.

Note: If doubling this for leftovers or for four, you will need to use two baking sheets. If doing this, I recommend roasting at 425 degrees rather than broiler (because you really need to have the pan on the top rack if broiling).

Place the eggplant cut side up on one side of the baking sheet. Season generously with salt and let sit until some excess water has been drawn out, about 10-15 minutes (during this time, assemble the meatballs).

Then pat dry with a paper towel to remove excess water. Brush on olive oil (or use your hands) on both side of the eggplant, but focus most on the inside (that is facing up). Season lightly with salt.

Place all ingredients for meatballs in a large bowl. Using your hands, combine thoroughly and then shape into 16 balls and place on other half of the baking sheet (each with about a 2'' diameter). Feel free to do whatever size you like- just keep in mind that if they are bigger, they will take longer to cook.

Place meatballs and eggplant in oven on top rack and broiler until eggplant is browned and meatballs are fully cooked through (internal temp at 145 and inside just slightly pink), about 7-9 minutes.

Depending on the size, the eggplant sometimes takes slightly longer (about 5 more minutes). If this is the case, remove the meatballs and continue to broil.

During this time, make the pasta according to directions on the box. Keep al dente and reserve 1/2 cup pasta water.

Toss cooked pasta with pesto. Add in pasta water, a tablespoon at a time, if the pesto is too thick and isn't coating the pasta well.

Top with cooked meatballs and eggplant. Grate fresh parmesan over the plate right before serving.