I can't get enough of this summer version of vodka sauce in this Summer Creamy Tomato Pasta with Crab & Zucchini. It uses fresh tomatoes and has a secret ingredient to make it a bit lighter, but still creamy- any guesses on what it is? A combination of shallot, garlic, and anchovies gives it a ton of body and flavor without making it too heavy.
As per usual, I've added a heavy dose of vegetables to round this out into a full meal that can stand on its own. Zucchini and eggplant are in season and traditionally go great with a summery tomato pasta, so it's a win win. Keep this a vegetarian meal (which I've done about 3/4 of the time in my trials) or take it up a notch with crab. Crab makes extra special and summery and requires no additional cooking- just toss right at the end! Yes, you can also use shrimp as a more budget friendly option, but it requires an extra step of cooking.
P.S. If you're looking for a more traditional penne all vodka, see my recipe for it here!
The Versatility of this Recipe: Using Different Pasta Shapes
Now here's where it gets interesting: I've done this pasta with three different types of pasta shapes bucatini, rigatoni, and penne. I choose based on my mood and what's available (either already in my pantry or at the store). Any and all work. BUT the trick is to prepare and cut the zucchini and eggplant in a way that compliments the shape. Here's what I mean:
Bucatani: Use only zucchini and spiralize it on the "medium" setting so it's almost the same thickness as the bucatini OR just thinly slice it into matchsticks. P.S. Bucatani is a type of pasta that gained a lot of popularity in the past two years, primarily thanks to Alison Roman. It's similar to a linguine, but with a thicker diameter. I enjoy it because it just has a bit more bite and texture compared to linguine.
Rigatoni: Slice the zucchini and eggplant lengthwise into 1/2'' slabs and either grilled or broiled them until they were charred. Then I cut into 2'' pieces. Perhaps my favorite option.
Penne: Same ideas as rigatoni, but slightly smaller 1'' pieces. While penne is probably my least favorite option, I did this so I could use Banza chickpea pasta (they don't have rigatoni or bucatini, at least in stores).
Behind the Recipe: Summer Creamy Tomato Pasta with Crab & Zucchini
Not gonna lie, I struggled a bit with my title for this recipe. I still think "summer creamy tomato" still doesn't quite do this sauce justice, because there's just SO many flavor bombs in here.
Shallots, Garlic: Shallots have a slightly more complex and subtle flavor than a yellow onion, but you can also use onion in a pinch (about 1/4 cup or so). I highly encourage you add the garlic in here, even if you aren't the biggest fan. With only one clove, it isn't too strong.
Anchovies: If you're slightly skeptical or haven't used anchovies a lot, think again. I used to be like this too. And I have Alison Roman and Molly Baz to thank for making me see that anchovies in sauce are actually delicious. Despite my worries about being overly fishy, the anchovies just melt into the sauce and add an amazingly salty flavor to this sauce. So just trust me and try it. (P.S. Although I'm a bit of anchovy newbie, I've made up for it by using them a LOT in the past few months. My favorite brand is Ortiz.)
Fresh Tomatoes: Since this is a summer pasta, fresh ripe tomatoes are a perfect add here. While I haven't used canned tomatoes, I plan to try it in the winter and think a 16 oz. can would sub well here if you can't find good fresh tomatoes.
Cashew Cream: More on this below, but this is my secret ingredient to keeping it light while still creamy, making it perfect for this summery tomato pasta.
Building in Flavor: Key Techniques in Tomato Pasta Sauces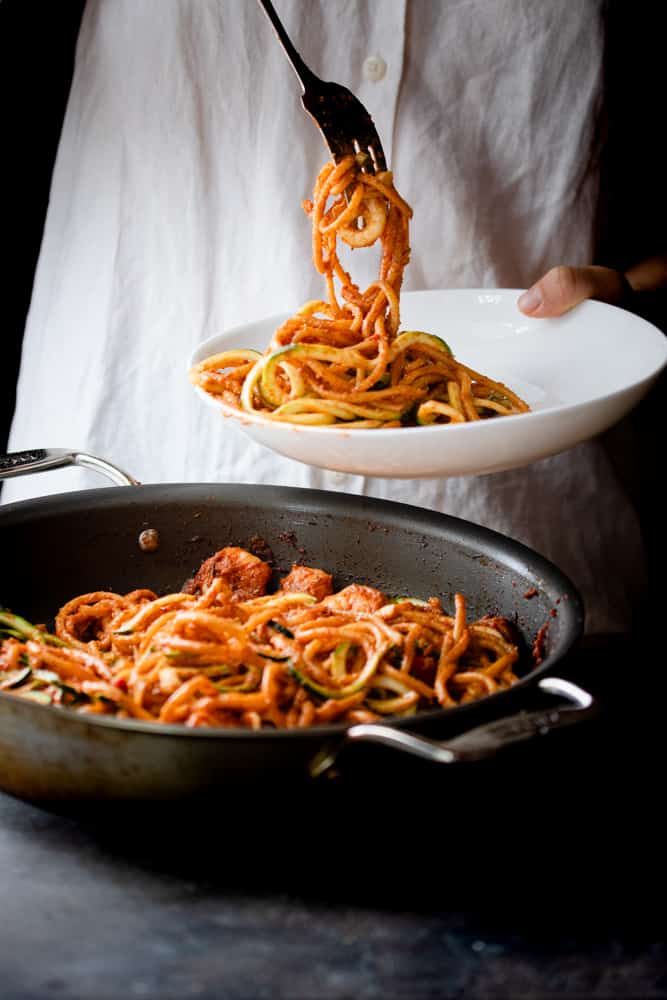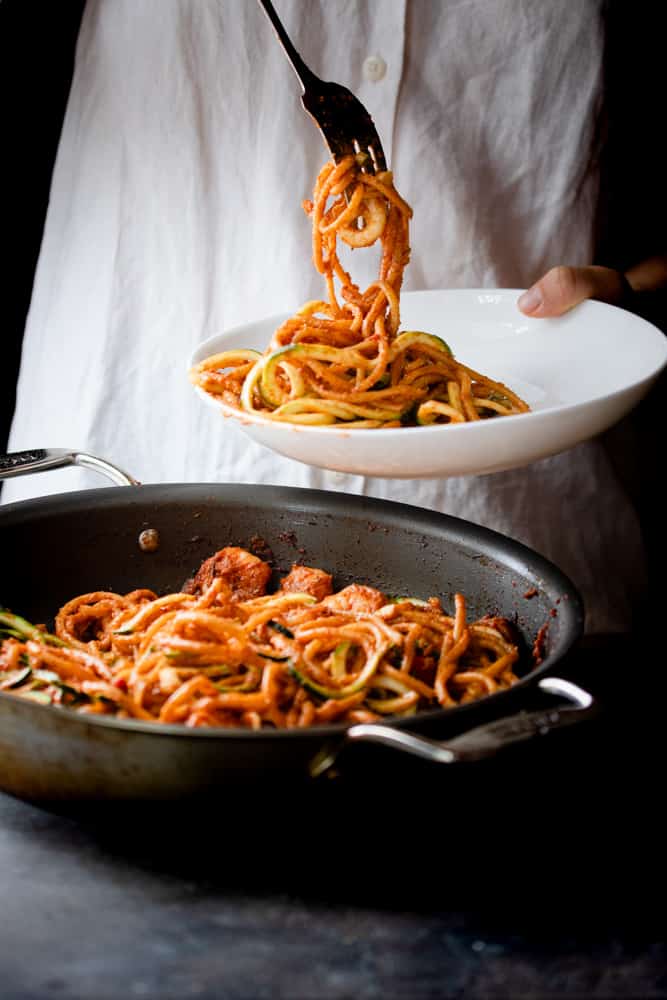 Let's take a second to talk about how the sauce in this Summer Creamy Tomato Pasta with Crab & Zucchini builds in flavor, but within about ten minutes. Each ingredient is key in layering in strong, bold flavors. If you've made a tomato-based sauce before, whether for a creamy tomato pastathis recipe follows a pretty traditional and common template that I've seen in about 10+ recipes and you'll probably see again. So here's a quick walkthrough so you can use it to make your own tomato-based sauce.
Saute shallot/onion in olive oil until light brown. Browning adds essential complexity in flavor . Think about the intense flavor of caramelized onions. That's the base of this sauce.
Add in garlic and saute an additional minute. Why not add in with the shallot/onion? It cooks a lot quicker and will brown much faster. If you add it in at the beginning, you risk burning it.
Stir in tomato paste and saute an additional minute, until brick red/darker. Sauteing the tomato paste for a brief moment helps meld in its flavor and bring out its natural sweetness.
From here, you'll see recipes branch out depending on what else is going into the sauce!
Cashew Cream: The Secret Ingredient
YUP- Cashews are the secret ingredient to this creamy tomato pasta. Cashews are one of the most versatile nuts you can use to add into different recipes. They have a much more mellow flavor that many other nuts, making them a perfect ingredient to make something creamier and thicker without greatly altering the flavor. Their luxurious buttery flavor also adds that oomph needed to replace something as decadent as heavy cream.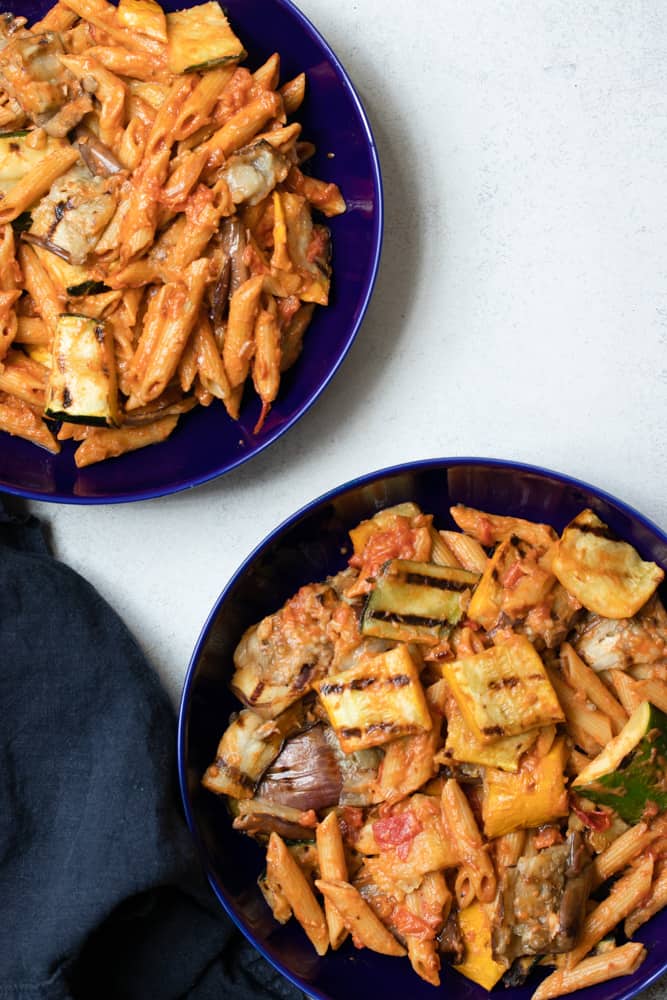 While the process of making cashew cream is quite simple, there are a few key points here that are ESSENTIAL to making it perfect.
You MUST soak the cashews for at least 8 hours. Yes, I know. It's a bit of a pain but it requires advanced planning. I've tried a variety of different ways to see if I could shortcut the step. I soaked for less time, used hot/boiling water, and made a bigger batch to help blend it. Sadly, none of them worked quite right. The soaking is absolutely key to making sure these cashews fully break down and become creamy, rather than grainy (yuck).
You MUST do the quantity listed (or more). If you do less, it's really hard for the blender to work properly and fully blend the cashews.
Sweet version: You can easily use this for sweet recipes by just reducing the salt by half and adding in 1/2 teaspoon vanilla extract and a date.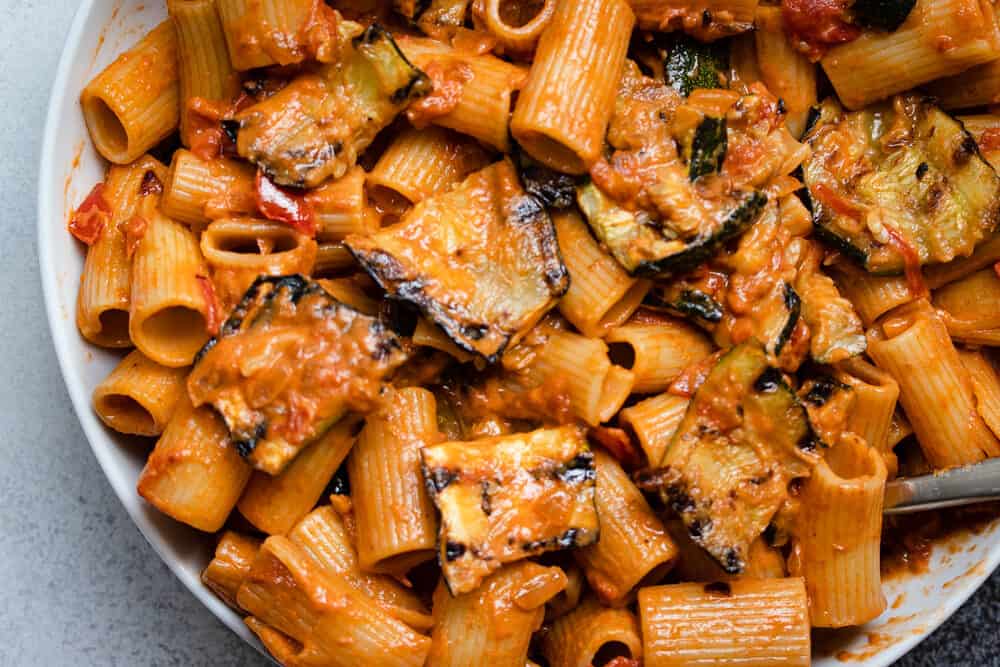 Summer Creamy Tomato Pasta with Crab & Zucchini
I can't get enough of this summer version of vodka sauce- it uses fresh tomatoes and has a secret ingredient to make it a bit lighter, but still creamy- any guesses on what it is? A combination of shallot, garlic, and anchovies gives it a ton of body and flavor without making it too heavy.
Yes, this says bucatani but don't be afraid to play around with pasta shape! See above for reccs and details.
3

medium (about 1.5 pounds)

zucchini

,

, thinly sliced- cut into very thin planks and then cut those into thin strips- about a pinky length

2

small

fairytale eggplant or 1 small italian eggplant

,

(If you can, try to fairytale or any long, skinny eggplant rather than a gigantic one)

2

tablespoons

extra virgin olive oil

1

shallot

,

minced (about 1/4 cup) (can also use white or yellow onion if needed)

1

large

garlic clove

,

minced

4

anchovies

,

, packed in oil

2

tablespoons

tomato paste

1

teaspoon

kosher salt or 1/2 teaspoon sea salt

1

large or 2 small

fresh tomatoes

,

diced

2

tablespoons (1 ounce)

vodka

3

tablespoons

cashew cream (see below)

,

or use 2 tablespoons heavy cream

3

tablespoons

pasta water

optional: 5

oz

crab
Cashew Cream
1

cup

cashews

,

soaked for at least 8 hours (up to 24 hours) in hot water

1/2

cup

water

1

teaspoon

salt
Cooking the Pasta:
During this time, cook pasta al dente and according to directions. Make sure to reserve about 1/4 cup of pasta water. I'll usually do this simultaneously while cooking the sauce.
Cooking the Sauce:
Add olive oil to a large nonstick saute pan (if using a pan that isn't nonstick, add another tablespoon of oil).

When pan is hot, add in shallot. Saute until brown, stirring occasionally, about 2-3 minutes.

Add in garlic clove, anchovies, and tomato paste and continue to saute, stirring occasionally, until anchovies have broken down and tomato paste is slightly darker in color, another 2 or so minutes. Season with salt.

Add in fresh tomatoes and vodka. Saute over low heat until most of vodka has bubbled off, and then continue to simmer at a low heat for 10 minutes.
Cooking the Zucchini and Eggplant:
SAUTE VERSION (for spiralized or thinly sliced zucchini; recommended if using bucatani or linguine):
Remove the sauce from the pan. and put into a bowl to set aside.

In the same pan (it's okay- and actually good if there's some residue!), saute the zucchini. Add in just a bit more olive oil and then all the zucchini in. Saute over medium-high heat and only stir occasionally to help brown. Season with salt. Then add back in sauce.
GRILL/BROIL VERSION (recommended if using rigatoni or penne):
Sliced zucchini and eggplant lengthwise into 1/2'' slabs. Toss in a tablespoon of olive and season with salt and pepper.

If grilling, place on grill and grill until charred on both sides and tender, about 4 minutes/side over high heat.If broiling, arrange slices onto a foil-lined baking sheet. Place on rack about 6'' from top of oven. Broil until charred, about 5-6 minutes depending on strength of broiler.

Let zucchini and eggplant slightly cool just a bit so you can cut the large slices into smaller ones. Cut the zucchini and eggplant into 1'' (if smaller pasta like penne) or 2'' pieces (for larger pasta like rigatoni).
Putting it all Together:
Once sauce, pasta, and veggies are cooked and veggies are cooked, add in cooked pasta and 3 tablespoons of pasta water to the tomato sauce. Thoroughly stir and mix to coat pasta in sauce and integrate pasta water into sauce.

Add and stir in cashew cream or heavy cream.

Add in cooked eggplant and zucchini, as well as crab (if using). Serve immediately.

This is also great for leftovers! Just store in airtight container in fridge for a few days.