One of my absolute favorite sides of summer: grilled okra. Somehow I've gotten through two months of summer without gushing about my love for this side, which is seriously a travesty. I came up with this concept two summers ago. I happened to have some extra okra on hand and decided to toss some in with some shisitos when grilling. At the time, I wasn't sure how it'd turn out (sometimes you just have to go for it and see). As soon as I took a bite, I was wondering why I haven't seen this before. It's SO GOOD.
If you like grilled or blistered shishito peppers, high chances you'll like this okra version- even if you aren't a big okra fan or haven't had okra before. The other reason why I make this recipe so much is how easy it is. No cutting or prepping needed. Literally just toss the okra (and peppers) in olive oil, some salt and pepper.
This new variation of Grilled Harissa Okra & Shishito Peppers has more intense flavor, thanks to harissa. How much harissa? Up to you. If you prefer a stricter standard, I'd start with 2 tablespoons per pound of okra/shishitos. This amount gives a subtle yet clear harissa flavor, and also allows you to add more at the end if you want a bolder and stronger touch.
Interested in trying more recipes with okra?
Here's another fun one: Spiced Okra with Pistachios, Dates & Quinoa
Oh and here are some quick facts that I pulled from my original 2019 post about grilled okra. A cup of okra is only 33 calories, 4g of protein, 3g of fiber, 2g of protein, 27% of your daily vitamin C, and 9% of your daily calcium. So yeah, stock up.
Grilling Tips: How to Grill Vegetables Like Okra and Shitito Peppers
Quite possibly my favorite thing about summer is grilling. And for me, grilling vegetables is a must. The smoky and charred flavor and grill marks makes almost every vegetable better. Here are some tips for grilling these Grilled Harissa Okra & Shishito Peppers, as well as other smaller vegetables.
Use a Grill Basket- An absolute must and totally worth buying in my opinion. I literally use mine at least twice a week (and often more) during the summer. Sadly the grill basket we got from Sur La Table about five years ago no longer exists, but this is their newer version. I don't like that this basket is deeper than the other we have, but the top is the same.
How to Use a Grill Basket:
For smaller quantities- use one side only: Especially if I have a smaller quantity, I will only use one side of the grill basket.
For larger quantities- use both the top and bottom: If I have a larger quantity, I may use both the top and bottom and then flip the grill basket halfway through cooking.
Other helpful equipment/tools (with my incredibly long explanations for why to have these):
An oven mitt: You will 100% burn yourself if try to pick up the handle of the basket when it's on the grill. Have an oven mitt on hand and ready to go. I say both of these things from experience- 1) Yes, I've burned myself 2) Matt and I used to live an apartment building where the grill was on the roof. The number of times we'd have to run down to go get an oven mitt at the last minute was FAR too many.
A small sheet pan: The grill basket is quite hot when you pull it off the grill, so having a small pan to directly place it onto for easy carrying and placement onto the counter is really helpful. I prefer not to put the basket directly on my counter, so this just makes it easy. I'll also use the sheet pan before hand. I'll add my veggies to the basket and then place the basket on top of the sheet pan. Then when I drizzle on the olive oil and salt, any excess just goes to the pan, not the counter (and I don't need to use and clean another bowl).
Frequently asked Questions about the Grill Basket:
These apply to this Grilled Harissa Okra & Shishito Peppers recipe, but also in general!
Do I need to oil my grill? If the veggies are tossed in oil, you do not need to oil the grill.
Can I put the basket directly on the grill? Yup.
Do I toss the veggies in the grill basket? Just like roasting, I'd give them a toss or two during the cooking process. You can either just shake the whole pan using the handle (and an oven mitt!) or get some tongs and move the veggies around gently.
My grill doesn't fully close. What now? That's okay. Just let the top of the grill rest on the handle of the basket if it doesn't fully fit in the grill.
What heat should I grill it? I like to do medium-high to really get a nice char on the veggies. Definitely not low.
How long do I grill the veggies for? A bit of personal preference and it depends on the veggie, but usually most veggies that I put in the grill basket take anywhere from 6-10 minutes.
What veggies can I grill in the basket? In addition to okra and shishito peppers, I've grilled asparagus, scallions, green beans, & broccolini. I'm sure there are more, but these are the ones I do the most that come to mind.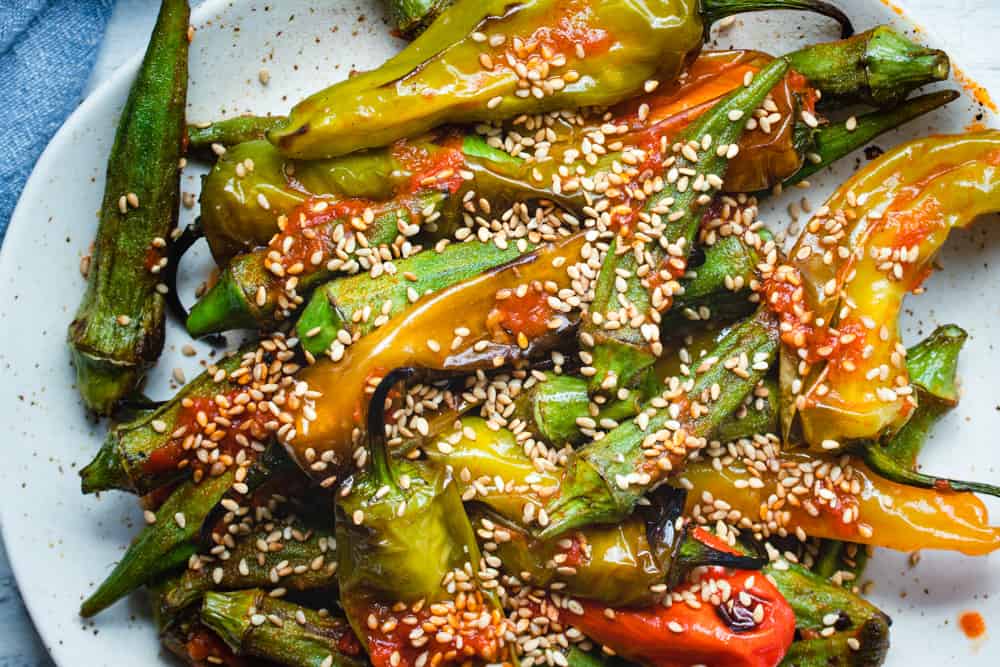 Grilled Harissa Okra & Shishito Peppers
2

tablespoons

extra virgin olive oil

2

cups

okra

2

cups

shisito peppers

2-4

tablespoons

harissa

,

(I like the Mina brand; they had a mild. It still has a bit of a kick, but mellowed out)

1

teaspoon (or to taste)

diamond kosher salt
Preheat grill to medium-high.

Place grill basket on top of a small sheet pan. Add in okra and shisito peppers in whole.

In a small bowl, combine harissa and olive oil. Then pour over okra and peppers. Season with salt and toss to coat (you can also do this in a bowl if you prefer, but the pan is there to catch any excess sauce that comes off).

Place grill basket (without the sheet pan) directly on the grill. Grill until the peppers and okra have some serious char marks and are tender, about 7-10 minutes. Halfway through, give the peppers and okra a quick toss to evenly grill them.