These Apricot, Orange & Creamcheese Danishes remind me just how much I love puff pastry. IT'S SO GOOD. Dangerously good. It also makes this seemingly impressive danish actually really simple to make. Since the dough is an already prepared puff pastry, you can prep this whole recipe in about 15 minutes. The bake time is equally short, at around 15 minutes.
The sweetness factor for these Apricot, Orange & Creamcheese Danishes in between a quite sweet breakfast and a slightly sweet dessert. If you prefer things on the sweeter side with your desserts, feel free to add in an additional tablespoon of sugar into the creamcheese. However, I really love the amount of sweetness in here. It allows the slightly tart and juicy apricots shine.
One thing to keep in mind- while I absolutely love this "before" photo, the creamcheese mixture in this trial was far too runny and was fixed in the next. Yours will look a lot firmer!
Behind the Recipe: Apricot, Orange & Creamcheese Danishes
This recipe for these Apricot, Orange & Creamcheese Danishes is quite simple and intentionally so, but here are some key points about the few ingredients in here.
The puff pastry: My favorite puff pastry for these Apricot Danishes (and all pastries) above and beyond is Dufour. You'll see me say this in every puff pastry recipe I have. It's one of the few store-bought puff pastry doughs that is only made with butter. It makes a difference and is just to die for.
The apricots: Just like bananas or other fruit, apricots can vary in sweetness. I highly recommend you taste a piece of one to see how sweet they are. Super sweet? Maybe go a bit lighter on the sugar? Quite tart? Maybe add just a touch more sugar. Ideally you want your apricots to be quite ripe and soft to touch. Unlike a pie, which can somewhat disguise not-so-nice-looking fruit, the apricots will be quite noticeable here.
The creamcheese: After doing a few trials here, I really enjoyed using whipped creamcheese the most. It just made the mixing process much easier. It only took about 2-3 minutes to get the perfect texture, whereas a block of creamcheese can take a lot longer. Leave your creamcheese out at room temperature for an hour to make this easier as well.
The egg yolks: These just add a bit of luxuriousness to this filling. While this is significantly easier and nothing like a traditional pastry cream, but egg yolks would be used in a pastry cream and that's what I was going for here in these Apricot Danishes (but without all that work).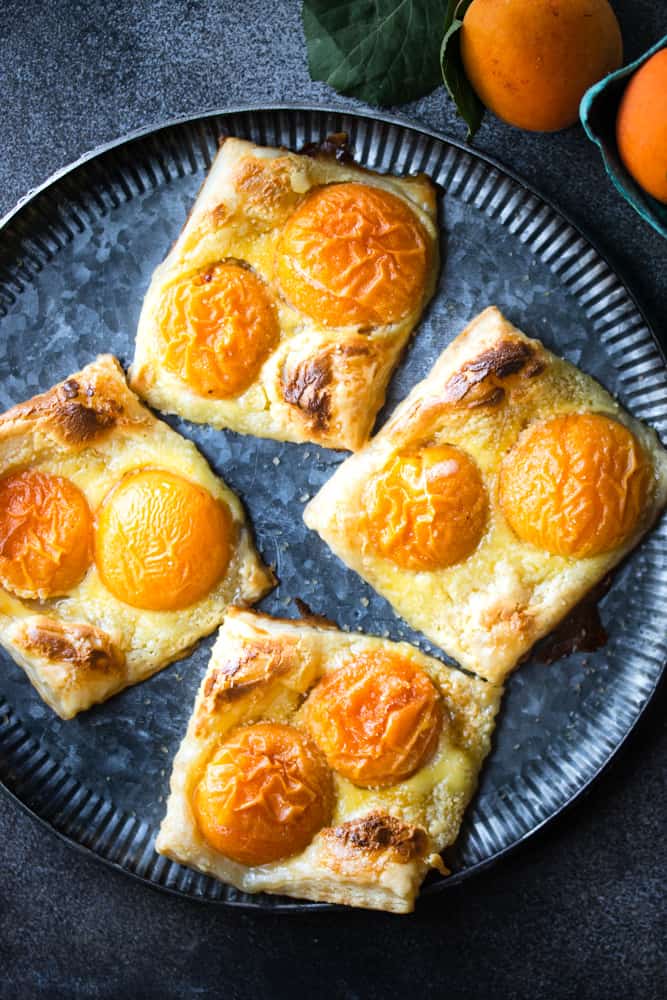 Apricot, Orange & Creamcheese Danish
You can easily half this for four, but keep in mind that you generally have to defrost a whole puff pastry sheet and if you have this, then you'll have half a puff pastry sheet leftover.
8

ounces

creamcheese

,

whipped or regular (I prefer whipped because it's easier to blend up)

2

egg yolks

1/4

cup

50g white sugar

Pinch

kosher salt

zest of 1 medium to large orange

8

apricots

,

halved (1/piece)

2

tablespoons

white sugar or turbinado sugar for topping

1

puff pastry sheet

,

my preference is Dufour because it's all butter
Preheat oven to 400 degrees.

Place creamcheese, egg yolks, 1/4 cup sugar, salt and orange zest in a medium bowl. Using an electric handheld mixer, mix until well mixed and just slightly lighter in texture (not fluffy, but not dense). You might be able to get away with whisking by hand here if you don't have an electric mixer, but you'd have to be seriously aggressive and be ready for an arm workout.

Place apricot halves in a small bowl or tray and sprinkle with 1 1/2 tablespoons sugar (reserve the other half tablespoon to sprinkle on top before baking). Toss lightly to coat with sugar.

Once you get out the puff pastry, you want to move somewhat quickly. If the puff pastry gets too warm, it gets more difficult to handle- somewhat sticky and wilty. If you notice this, pause and place back in the fridge for about 10 minutes and then return where you were.

Place puff pastry sheet onto parchment paper. Using a rolling pin, very lightly roll out the puff pastry so it is slightly thinner (but don't overdo it or it will be difficult to handle- err on the side of caution here). Lightly prick the puff pastry with a fork so it doesn't inflate like crazy in the oven. Then using a pastry wheel or small pairing knife, divide the sheet into 8 squares.

Place about 2 tablespoons of the creamcheese mixture in the middle of each square. Using an offset spatula or butter knife, spread out the creamcheese mixture in the square, leaving a bit of a border (the border should be about a fingernail's length).

Place 2 apricot halves cut side down onto each square. Sprinkle with reamining half tablespoon of sugar.

Place in oven. Bake at 400 degrees for 10 minutes, followed by 350 for 5-8 minutes. The puff pastry should be light brown and puffy and the apricots slightly tender to touch.