Simplicity at its finest. When it's peak peach season, peaches deserve to be the star of the show. Better yet, these Caramelized Peaches with Crumbled Pistachios take 10 minutes to make. 
I've done a variety of methods to cook peaches- from pan-searing on a cast iron pan and grilling to poaching and making compote. Then the idea to broil came to me during one of our virtual cooking classes. Quite frankly, I just didn't want to use another pan (can anyone else relate?) and had just used the broiler. Why not try it? Well, guess what- it's JUST as delicious as the other methods and basically no clean up because the pan is lined with foil.
One other thing I love about this recipe- it brings the best out of ALL peaches. You don't need a perfect peach. Miraculously, it seems to sweeten and soften slightly underripe peaches while also working to create a perfectly presentable peach out of those that are a bit too ripe or have some bruises.
Behind the Recipe: Easiest Caramelized Peaches with Crumbled Pistachios
The peaches: As I said above, I love this recipe because it works great on slightly imperfect peaches (slightly bruised, a little too ripe, a little too soft). While obviously the better the initial product the better the final product, this recipe does a good job of making it work.

Pitting peaches: I like to cut the peach in half around the pit and then remove the pit with a spoon by carving out the center part that contains the pit.

Unsalted butter: While you can use avocado oil or coconut oil for a dairy-free substitute, I really love the flavor the butter adds. It's subtle but powerful. Unlike the other oils, it will brown in the broiler and add to those nutty, caramel undertones. A little goes a long way, so don't feel like you need to put on a lot. You also don't need to melt it or anything before putting it on top.
Honey or white sugar: This is where anything goes. I'm always impartial to honey, but you could really do any sweetener that's calling your name. Honey and sugar would be the most traditional, but you could certainly do a stronger and bolder sweetener like light brown sugar or maple syrup.
Flaky sea salt: YES, you must add salt! It marries everything together and brings out that pop of flavor. This maldon flaky sea salt is what I use. It's expensive, but a little goes a long way and I use sparingly.
The Toppings: Crumbled Pistachios & Whipped Cream
While I've had these peaches just as is, I highly recommend taking the little bit of extra time to make the pistachios and whipped cream. They contrast the peaches in both flavor and texture and elevate this dish entirely. It's actually a great dessert to serve at a dinner party because the prep is minimal and you can do the whip cream and pistachios ahead of time.
In fact, you can do these pistachios way ahead of time- up to a week in advance. While you can even do more, I think they start to lose their punch after a week or so. I often will have toasted nuts on hand for salads and recipes like these, so I recommend just doing a cup or so and then using it throughout the week.
Pistachios bring a unique flavor in here, but almonds would be another good choice if you don't have pistachios on hand.
Lastly, the whipped cream. Making homemade is always worth it! I prefer to not sweeten mine, as the peach is plenty sweet and the whipped cream is more about adding that creaminess to the dish. You can make the whipped cream up to a few hours in advance if you'd like.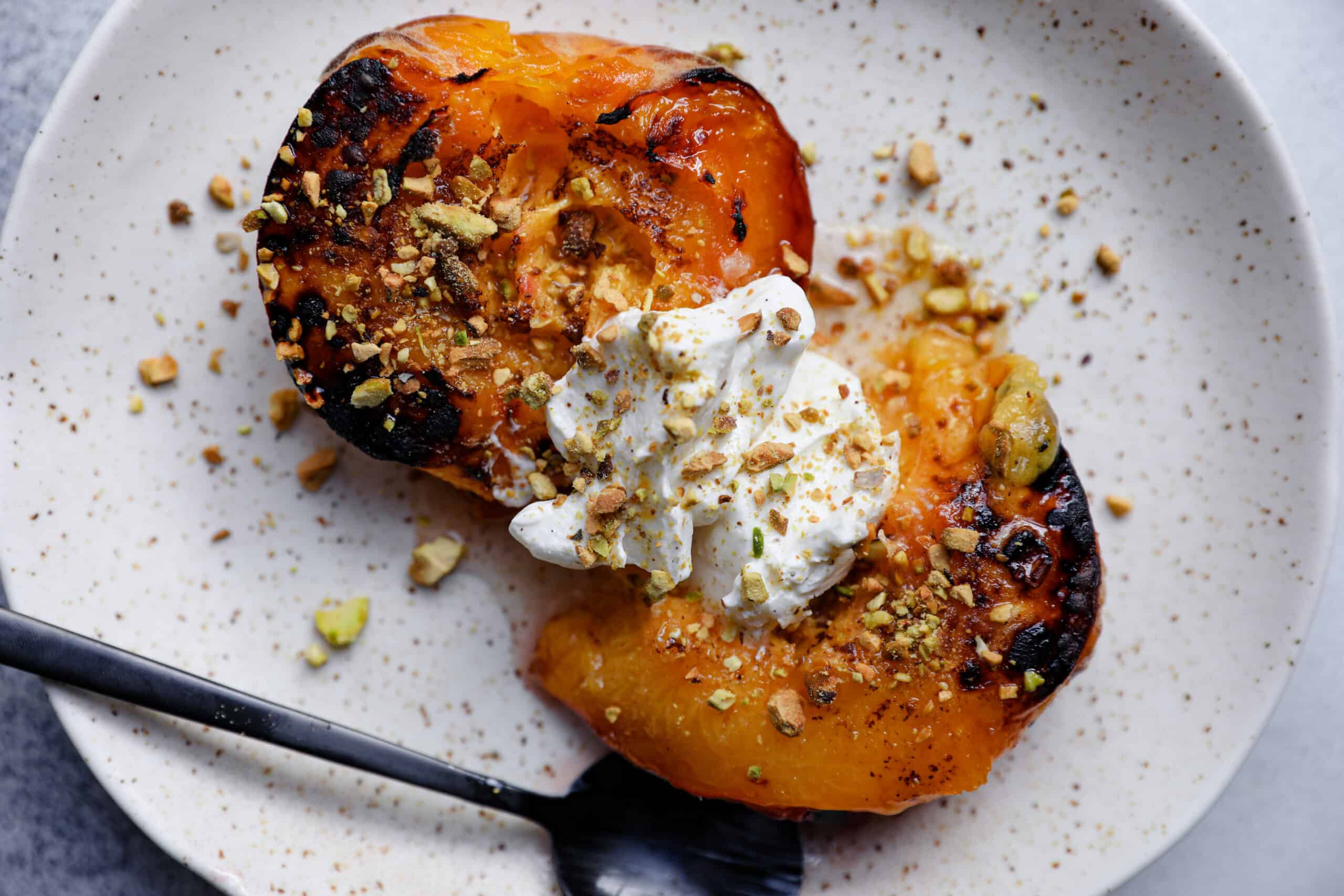 Easiest Caramelized Peaches with Crumbled Pistachios
2

peaches

,

, halved and pitted

scant 1

tablespoon

unsalted butter

2

teaspoons

honey or white sugar

flakey sea salt
Crumbled Pistachios & Whip Cream
2

tablespoon

unsalted and unshelled pistachios

1/4

cup

heavy whipping cream
Toast the Pistachios (can be done up to a week ahead of time):
Preheat oven to 375. Place pistachios on baking sheet. Bake until fragrant and lightly brown, 7 minutes.
Optional- Make the whip cream:
Pour cream into a small deep bowl. Using a handheld mixer, whisk over low to medium until soft peaks have formed. Depending on your mixer, the time can vary anywhere from 1 minute- 4 minutes (I say this from experience!)
Broil the peaches:
Preheat broiler. Line a baking sheet with foil.

Place peach halves cut side up on baking sheet. Place a super thin slice of butter (about the thinnest you can get) onto the peach. Drizzle each half with about a 1/2 teaspoon of honey (you can also eyeball it if that's more your style!) and sprinkle with a bit of salt.

Place peaches on baking rack about 6'' from top of oven. Broil until butter is fully melted and peaches are browned and beginning to char, about 5 minutes. I highly recommend checking after 2-3 minutes because broilers can vary greatly!