With so much fruit at their prime, my immediate inclination is to just eat it raw. Nothing beats a perfectly ripe peach or tomato. This idea is at the foundation of my salads right now- they showcase produce front and center with no bells or whistles. Simplicity at its finest (and perhaps an excuse to eat a pint of berries or tomatoes as part of dinner).
I've opted to bypass any greens for the moment and just include all the add-ins. I haven't seen a lot of combinations of berries and tomatoes, but I love the the slight tartness of the blackberry combined with the sweet tomato. Cucumber breaks up the acidity and sweetness, as does fresh basil. Top with some flakey sea salt and olive oil. It's a salad that takes five minutes to make and tastes like summer.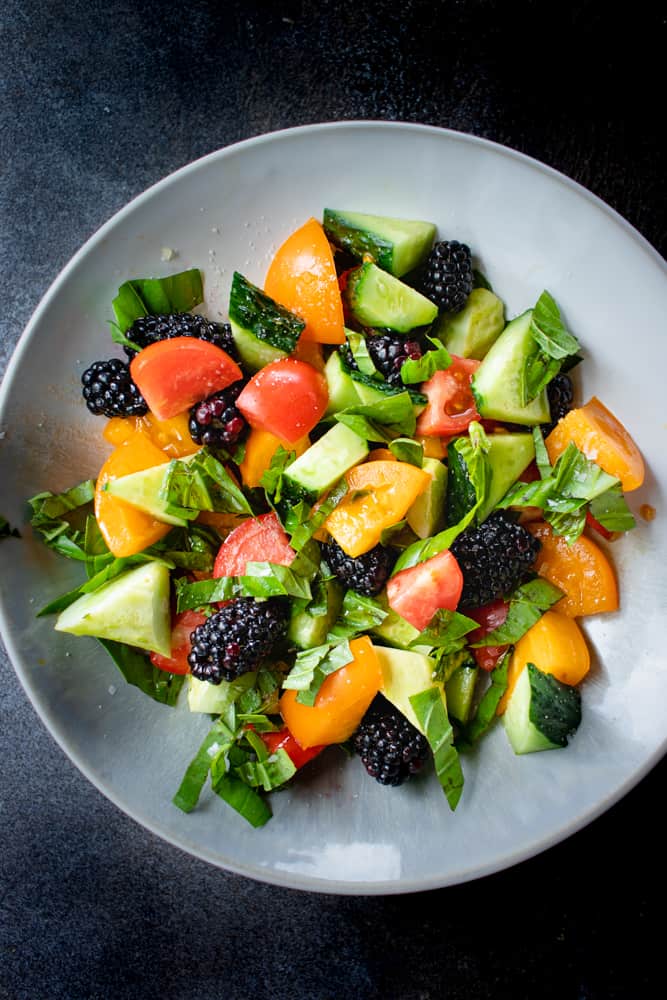 Blackberry, Cucumber, & Heirloom Tomato Salad
1

cup

blackberries

2

cups

chopped heirloom tomatoes

,

(about 2 medium)

1

large or 2 small

cucumbers

,

, diced

1/3

cup

freshly chopped basil

,

(about 1/3 bunch)

1-2

tablespoons

extra virgin olive oil

,

(use your best quality here!)

sprinkling

flakey sea salt

,

(I used Maldon)
Gently toss together the tomatoes, cucumber, blackberries, and basil together. Then lay somewhat flat onto a plate or shallow bowl.

Lightly drizzle olive oil and flakey sea salt on top right before serving.