The quintessential summer cake: A breezy cake that requires almost no equipment (no electric mixer needed!) and can be made in less than an hour. Even though it may sound fancy, this brown butter summer berry cake is actually that simple. If you happen to be traveling or at the beach, you can still make this as long as you have an oven, a whisk, and two bowls (and you could just melt the butter if you can't make brown butter). You can also maximize your time outside enjoying the weather or with guests because this comes together in less than an hour (and that includes a 35-40 minute baking time).
Oh, and this brown butter summer berry cake is the perfect cake to toss any berry you have on hand or leftover. The first time I made this, I literally just tossed a random array of berries I had- a few from one container, a few from another. It ended up being a mxi of blackberries, raspberries, and blueberries. Another time, I used only raspberries. As long as you're using a berry that doesn't release a ton of water, you should be good (although i personally love using ones I don't need slice up like cherries). You can even use stonefruit! If doing that, just be sure to toss them in a bit of sugar first to keep them nice and moist. Dropping the berries right on top before baking ensures they take the stage, front and center in this summer berry cake.
The other key- the brown butter. Not only does it add a lot of flavor, but it simplifies things in 2 ways: 1. You don't have to wait for the butter to soften and come to room temperature. You can start the recipe right away. 2. You don't need an electric mixer to combine the butter and sugar here. You'll do your own "creaming" of the butter and sugar by hand with a whisk. Because the butter will be quite hot, they'll mix very easily.
Behind the Recipe: Brown Butter Summer Berry Cake
Why do you use whole wheat pastry flour? This is my favorite flour to use for baked goods like cakes and cookies when I want to use whole grains. It can sub 1:1 with all purpose flour and unlike regular whole wheat flour, this will keep your baked goods still quite light and fluffy. Whole wheat flour tends to be a bit heavier and can result in a tighter and denser crumb.
Where can I found whole wheat pastry flour? Whole Foods is my go to, since that's the cheapest brand I've found. If you can't find it, you can also use half whole wheat flour and half all purpose. It's not quite the same, but works just fine.
Can I use all purpose flour? Of course! It will work just fine here too. Just don't use it to sub for the almond flour- that is a very different type of flour in terms of texture.
Why the egg yolk? This is quite a thick batter and the amount of butter is less than a lot of other cakes. The egg yolk helps both add in some liquid and a rich buttery taste.
Why do you include yogurt in most of your cakes? Yup, it's probably my favorite ingredient to add and I use it in most of cakes (and cupcakes- like these strawberry lemon ones!). It's similar to adding in sourcream or buttermilk, two other dairy products that many cakes often have and traditionally are folded in right at the end. It helps bring a lightness to the entire cake and also will activate the baking powder/soda due to its acidity.
Can I use nonfat greek yogurt? While you can use 0% fat, I've found that the texture is best with a 1% or higher fat. It just helps with both flavor and keeping this a bit more moist.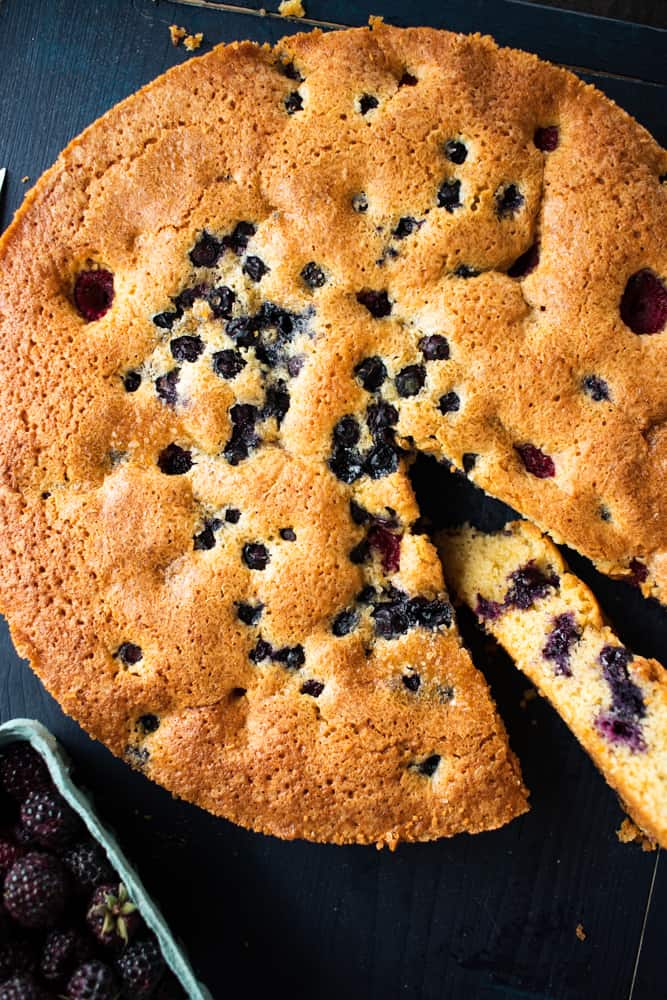 Brown Butter Summer Berry Cake
A cake that doesn't require any electric mixer and almost no equipment and can be made in less than an hour. Oh, and it's the perfect cake to toss any berry you have on hand or leftover. The first time I made this, I literally just tossed a random array of berries I had- a few from one container, a few from another.
3/4

cup (100g)

whole wheat pastry flour (or all-purpose flour)

1/4

cup (28g)

almond flour

1

teaspoon

baking powder

½

teaspoon

kosher salt

2

large eggs

1

large egg yolk

3/4

cup (150g) + 1 tablespoon (12g)

white sugar

,

the tablespoon is for sprinkling on top- you can also use turbinado!

4

tablespoons (2 oz)

unsalted butter

¼

cup (60g)

plain skyr or greek yogurt (1% or higher fat)

1

teaspoon

vanilla extract

zest of 1

orange

5-6

ounces

fresh berries
Preheat oven to 350. Prepare a 8'' or 9'' cake pan by spraying with oil or rubbing the pan with butter. Set aside.

Brown butter: Place butter in small sauce pan over low to medium heat and let sit, rotating pan occasionally, until brown. Once brown, pour into a large bowl (eventually everything will go in here, so make the bowl big).

*You can do this while doing steps 3-4 if you've done this before and feel experienced, otherwise do steps 3 and 4 first and then return to this one.*Some more details if you've never browned butter before: The butter will go in steps- first it will just melt and smell like movie popcorn butter, then it will begin to foam and you'll see lots of white bubbles. Then it will begin to darken and you'll start to see brown specks. After that, it will burn and turn very dark, almost black (not ideal). It usually takes about 5ish minutes to brown over medium heat, but it's highly dependent on your butter and stovetop. Once it's fully melted and at the movie popcorn stage, reduce your heat to low medium and watch carefully, as it can go from brown to burnt quickly. If you're unsure, swirl the pan around to see if you see any brown specks. It can also be easier to identify if you pour the butter into a clear or white bowl. You can also pour it back into the pan if you don't see any specks.

Prepare dry ingredients: Place flours, baking powder, and salt in one bowl.

Add sugar to large bowl with browned butter. Whisk to combine. Add in eggs (one a time), and vanilla extract and whisk vigorously for 30 seconds to combine.

Add in dry ingredients, two batches at a time, and whisk until thoroughly combined. At this point, switch to a spatula (the batter can be quite thick).

Fold in yogurt and orange zest whisk until thoroughly mixed.

Pour batter into prepared 8'' or 9'' cake pan.

Top with fresh berries- just genrously sprinkle around the cake- and a tablespoon of sugar.

*Update: If you want to use peaches or nectarines, you totally can! Just dice them before this step and toss them in an extra tablespoon of sugar to help them not dry out and release their juices a bit.

Bake 35-40 minutes at 350, until a toothpick comes out clean and top is golden and the edges of the cake are coming off the sides of the pan a bit.