For me personally, I always load up on the fresh berries as much as possible for any dessert- and I don't think I'm alone. This is my play on a trifle, but deconstructed so people can take as much or as little of each component as they want. It also allows you to make this ahead of time.
While my tendency is to focus in on those berries and whip cream, this cake is more than just a vehicle for the toppings. I've gone through four trials and really enjoy the texture and flavor from the cornmeal (although you definitely have to enjoy cornmeal to like this one- fair warning!). Think of this as a slightly sweeter cornbread in cake form- with only 1/4 cup sugar (but 1/2 cup honey), it's not overly sweet but works perfectly in this festive summer combo. Be sure to taste your honey before you add it in, as it is a strong and dominant flavor in here.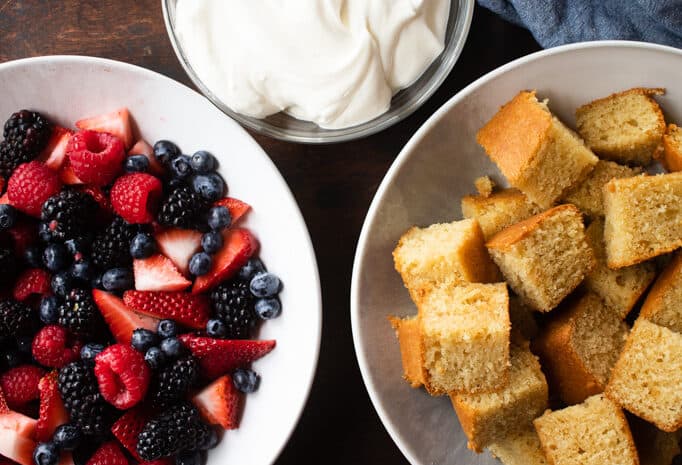 Honey Cornmeal Cake with Berries & Fresh Whip Cream
Honey Cornmeal Cake
1 cup + 2 tablespoons

(142g)

all-purpose flour

1

teaspoon

baking powder

1/2

teaspoon

baking soda

3/4

cup (112g)

cornmeal

3/4

teaspoon

diamond kosher salt

2

ounces

unsalted butter

,

softened and at room temperature

~1/3

cup (75 grams)

white sugar

5

tablespoons (100g)

honey

2

eggs

1

teaspoon

vanilla extract

2

ounces

neutral oil (canola oil, grapeseed oil)
Fresh Berries
4

cups

fresh berries of your choice (blueberries, raspberries, blackberries, strawberries)

,

keep all berries whole except slice strawberries
Whip Cream
2

cups

heavy whipping cream
Combine all dry ingredients together in a medium bowl- AP flour, cornmeal, baking powder, baking soda, and salt.

Cream butter, sugar, and honey in a bowl of a standing mixer or large bowl with electric mixer. Cream until light in color, about 2 minutes on medium.

Add in eggs, one a time with the mixer on medium, until well incorporated. I always have to scrape the sides of the bowl during this time to help make sure it's well incorporated.

Add in vanilla extract and oil and mix until smooth.

With the mixer on low, add in the dry ingredients and the buttermilk in two batches, alternating them to try to ensure they are mixed as well as possible.

Pour into a prepared (oiled or buttered) 9'' cake pan. Bake until light golden on top and a toothpick comes out clean, about 30-35 minutes.

Let cake completely cool on a cooling rack. You can either serve it whole or slice into cubes.
Make the Whip Cream
Place whip cream in a medium bowl. With a handheld electric mixer (or a standing mixer), whip on medium speed until you start to see soft peaks- you'll notice lines and more texture in the whip cream. It's best to do this only an hour or so before you serve. I personally like to do it right before serving.
Serving
Serve berries in one bowl, whip cream in another, and cake in a third bowl/pan. Serve with small bowls so people can assemble their own dessert as desired.