I made this food blog to focus on food, so thinking of meaningful ways to support the Black community and Black Lives Matter through food (in addition to personal ways) has been on mind this past week. I love sharing and/or adapting recipes, so I will focus on highlighting Black authored cookbooks and recipes. It's important to me that our efforts are sustained rather than temporary so I will make a consistent effort to be mindful to represent a diverse array of cultures in the recipes I share and spotlight underrepresented voices in the food community.
The first author: @bryantterry and his cookbooks @VegetableKingdomBook and Afro-Vegan. Vegetable Kingdom is so veggie focused it's organized by type of vegetable- a whole chapter dedicated to "stems" and another to "bulbs"?? Count me in.
The sage dressing popped out to me and that's what you see highlighted here. I normally think of sage as a wintery herb, but this creamy dressing was light and tangy, making it perfect for summer. I paired it with some peppery red onion and radish, sweet apple, and spiced toasted almonds. It's definitely going into my regular rotations of salad dressings, especially because it provides a break from most of the vinaigrette-based dressings I do.
I've adapted this a bit from the original recipe, mainly substituting ingredients based on what I normally have in my pantry and using different ratios of many ingredients.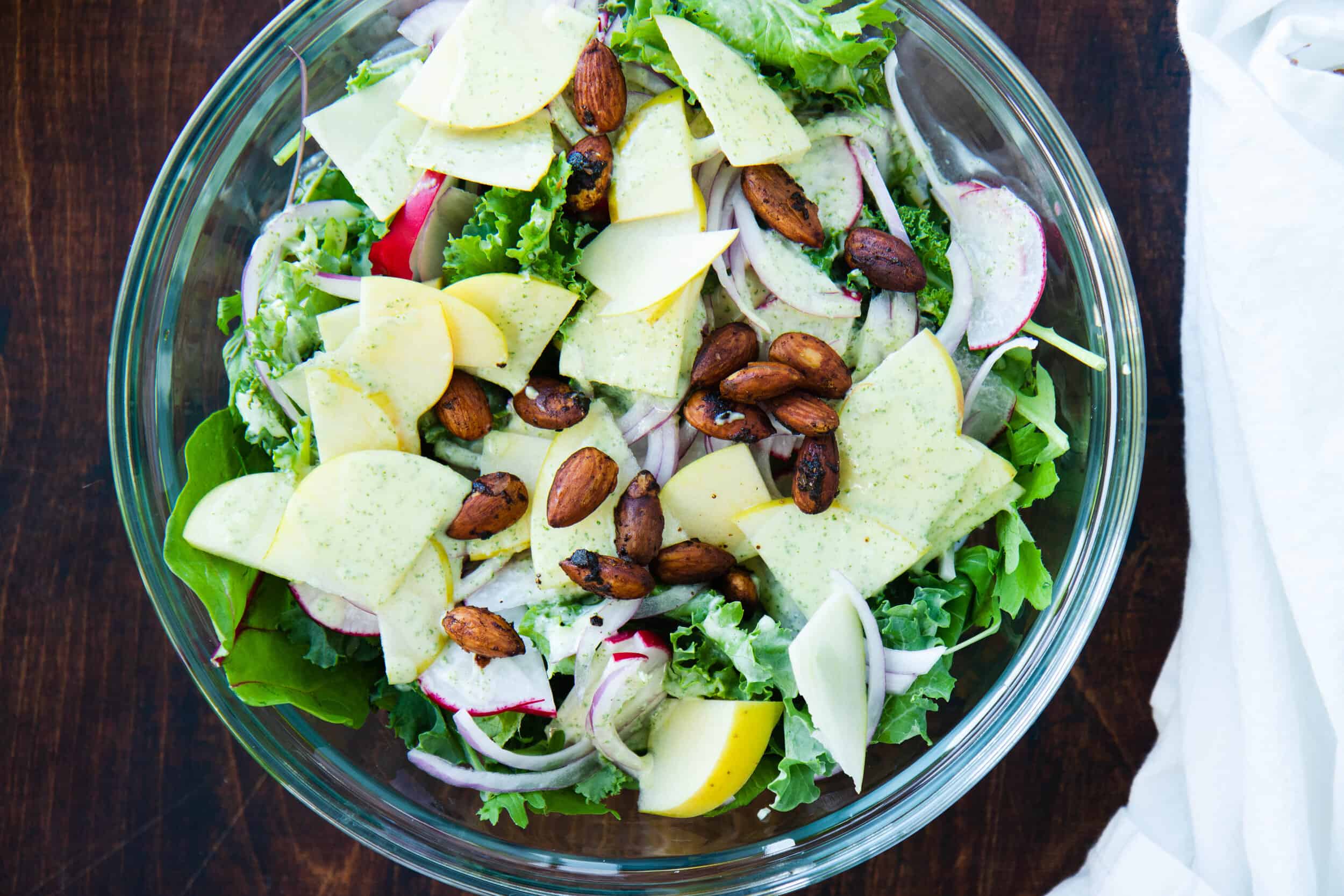 Creamy Sage Dressing
2

tablespoons

rice vinegar

,

(33g)

2

tablespoons

fresh lemon juice

,

~1/2 lemon or a bit more (27g)

¼

cup

greek yogurt plain

,

(50g)

2

teaspoons

honey

2

garlic cloves

,

chopped

3

packed tablespoons chopped fresh sage

,

(5g)

1/4

cup

+ 2 tablespoons olive oil

1/2

teaspoon

sea salt

black pepper

,

to taste
Salad
4

cups

mixed greens of your choice

,

I used some kale and arugula here, but this would also go great with butter lettuce

1

apple

,

sliced thinly- slice into half moons and then quarter

1/2

bunch radishes

,

(about 3 large radishes), sliced thinly

1/4

large red onion

,

sliced thinly

1/4

cup

spiced almonds- see recipe below
Toasted & Spiced Almonds
1

cup

raw almonds

,

unsalted

1-2

tablespoons

coconut oil

,

butter, or grapeseed oil

1/2

teaspoon

sea salt

1/4

teaspoon

cinnamon

1/4 to 1/2

teaspoon

chili powder

,

(depends on how much spice you want!)

2

tablespoons

coconut sugar or brown sugar
Place all ingredients in a blender and blend until smooth and creamy.

Place greens in a large bowl. Pour a bit of dressing over greens and toss until the greens are lightly coated in the dressing. Add in apple, radishes, and almonds and pour a bit more dressing on top before serving.
Toasted & Spiced Almonds
Preheat oven to 375. Place almonds on a baking sheet (dry, no oil). Place in oven until fragrant and slightly darker, about 6-7 minutes. Set aside and let cool slightly, just a few minutes.

Place a large skillet over low to medium heat. Add in oil/butter and almonds. Sprinkle in sea salt, cinnamon, and chili powder and stir until the almonds are thoroughly and evenly coated. Saute for an additional minute and then set aside to cool.

Once cool, lightly chop almonds into smaller pieces (I don't like to chop them too much, just enough to cut them into thirds or halves). Store in an airtight container (at room temperature) for up to 2 weeks.