This dinner hits the nail on the head on all fronts:
It works for leftovers.
It's a one pot meal and simple to make (about an hour, but most of that is simmering time)
It's full of veggies.
It's a crowd pleaser- who doesn't like a) tortellini and b) tomato?
I tend to like my soups on the less broth-y side, so this is almost like a really generous amount of sauce (which is why I'm calling this a stew, rather than a soup). If you prefer it to be more like soup, add in 2 more cups chicken broth.
Additionally, if you prefer not to use heavy cream, you can use coconut milk- just keep in mind it will have a slight coconut flavor and be a bit thinner of a soup. I've done it with both.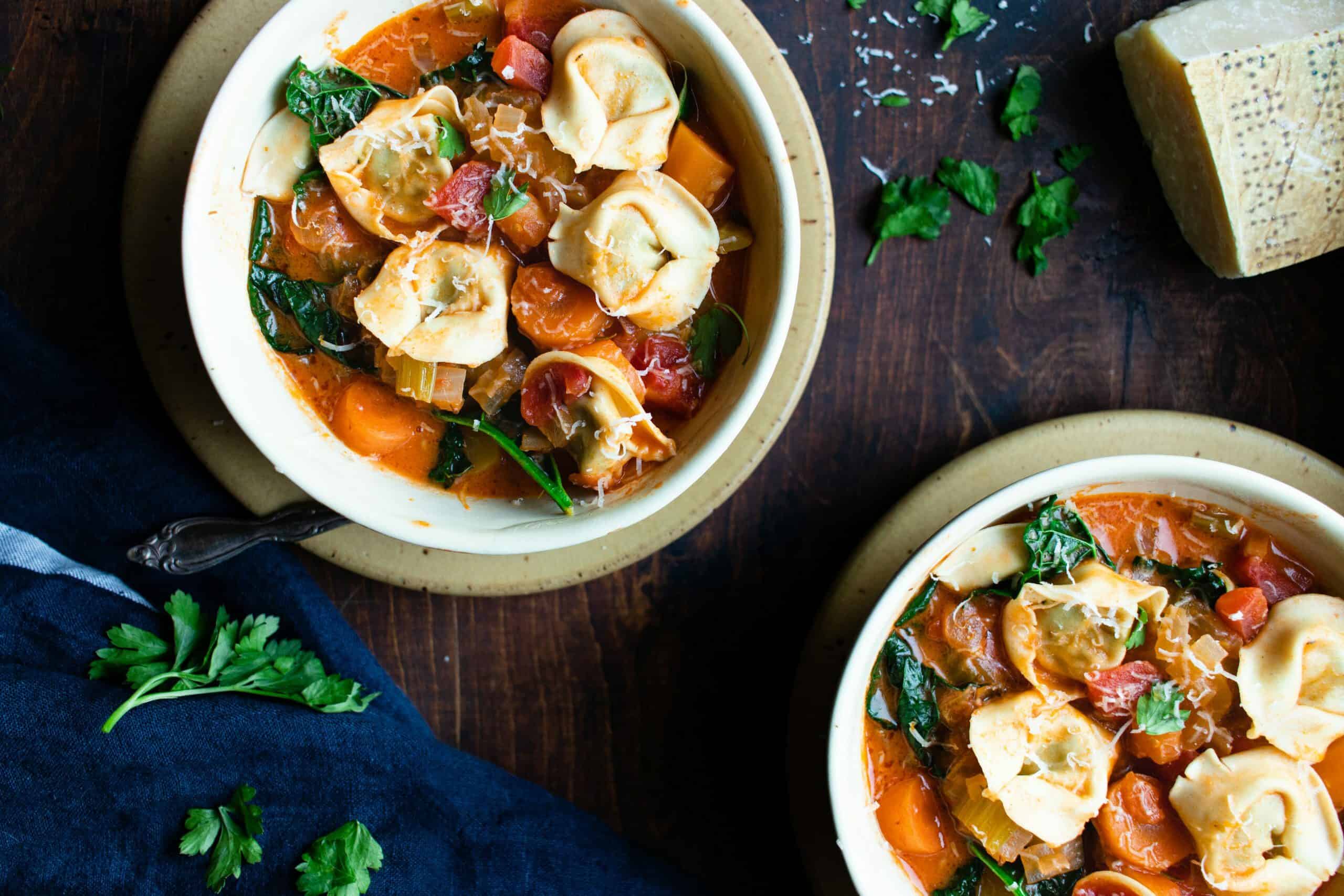 Creamy Tortellini Tomato Vegetable Stew
Difficulty Level: 2
1-2

tablespoons

olive oil

1

yellow onion

,

diced

2

cloves

garlic

,

minced

1

teaspoon

Paprika

1

teaspoon

kosher salt

2

tablespoons

tomato paste

optional:

red pepper flakes

,

(for a bit of heat)

1/2

cup

dry white wine

4

cups

chicken broth

1

28 oz can

diced tomatoes

1/2

cup (4 ounces)

roasted red peppers,

,

diced

5-6

carrots

,

cut into coins

3-4

celery stalks

,

sliced

1/2

cup

heavy cream

,

can also substitute and use 1 cup coconut milk, but then remove 1 cup of the chicken broth

1

pound

tortellini or ravioli

,

storebought and from the fridge

2-3

ounces (about 3/4 of a bunch)

Lacinato kale

,

cut into ribbons

Freshly grated parmesan

,

for topping
Saute the onion: Heat a medium to large dutch oven or pot (I use my 5.5 quart dutch oven) over low to medium heat. Add in olive oil and diced onion. Saute until onion is lightly brown, about 5 minutes.

Add the aromatics: Add in the paprika, salt, tomato paste, and red pepper flakes if using. Stir to coat onions in spices. Saute, stirring occasionally, until tomato paste has turned a darker red, about 2 minutes.

Add the white wine, tomatoes, peppers, and broth: Add in the white wine, tomatoes, peppers, and chicken broth. Bring to a simmer and simmer for 15 minutes. Then use an immersion blender or place in a blender to blend and make creamy (this is optional, but I think makes a big difference in terms of texture). Place back in saucepot and add in carrots and celery.

Simmer until carrots and celery are tender, about 20 minutes. Once they are tender, add in heavy cream, kale, and cooked tortellini. Most store bought refrigerated tortellini only requires 2-3 minutes to cook, so I just pop them right in here and they cook in the mixture. You can also cook the tortellini separate and add in if you prefer.

Sprinkle fresh parmesan before serving. This can be stored in an airtight container in the fridge for up to 5 days.