Updated Post from 2021:
One of my oldest recipes (from 2012! Wow I feel old), this was one of my absolute favorites when I was younger. I don't make it as often now (usually about twice a year in the summer), but every time I do, I wonder why I'm not making it more.
The marinade really packs a punch, thanks to a heavy dose of mirin and soy sauce, as well as some ginger and garlic. While reducing it down is an extra step, it helps intensify the flavors. Between the marinade and char from the grill, this boneless chicken is anything but bland. It's also great for leftovers the next day.
Serve with some grilled asparagus and rice for a simple weeknight meal!
Post from 2012:
You know those tried and true recipes that you seemed to have had forever, but don't even know where they came from? That's this one right here. Ever since I was little, chicken yakitori night was my faaaavorite. Whenever I come home from college for the summer, this is the first meal I make.
It's a great balance of smoky and sweet and somehow seems to have both a lot of depth and simplicity, making it a great dish for both those well-versed in Japanese foods and for those don't typically eat Japanese foods.
This chicken is versatile and goes with a number of different vegetables. I personally love serving this with one or a combination of the following veggies: asparagus, green beans, zucchini, sugar snap peas, and/or carrots. For a starch, serve with brown rice or soba noodles.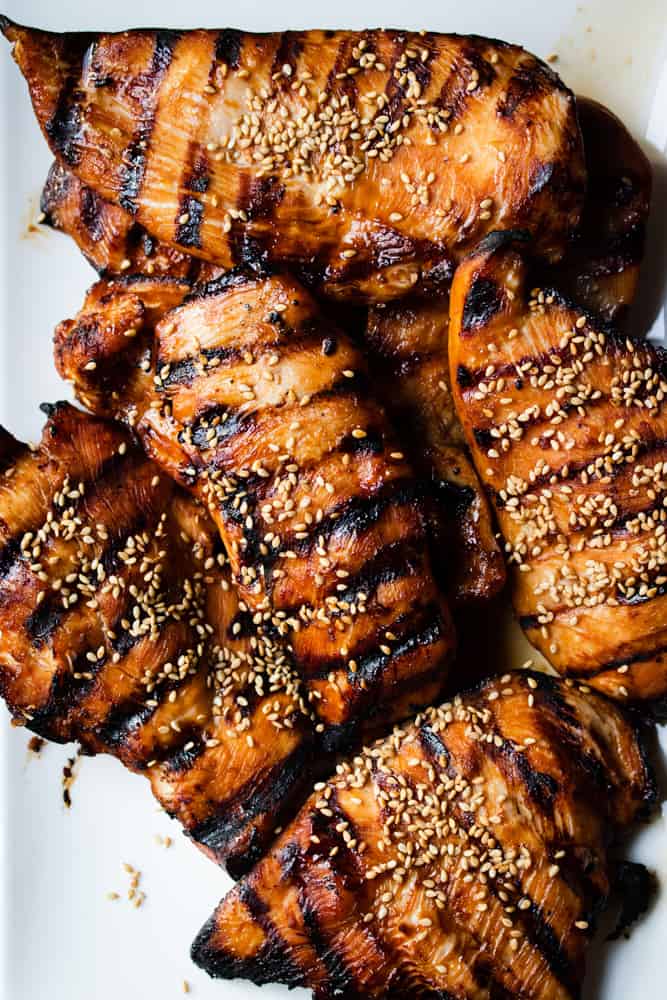 Yakitori Chicken
"Yakitori" is a term used in Japan to describe skewering and grilling chicken. The chicken is usually made with a marinade that has some combination of soy sauce, mirin, sugar, and sake.
1 to 1 1/2

pounds

chicken breast

,

skinless and sliced thilny

1/2

cup

soy sauce

1/4

cup

mirin

2

tablespoons

sake or 1 tablespoon honey

2

tablespoons

grated or pureed ginger

3

garlic cloves

,

crushed

sesame seeds

,

,for topping
Optional (but recommended): Slice chicken into thin pieces- I slice them in half lengthwise so they are quite thin. Set aside in a deep dish or a plastic bag (you'll pour the marinade on it later).

In a small sauce pan, add soy sauce, mirin, sake/honey, ginger, and garlic. Bring to boil; reduce heat to low and cook until a bit thicker, about 5 minutes. Cool slightly.

Set aside a small portion of the marinade (about 1/4 of the total marinade) in a separate container. Pour the remaining 3/4 portion of the marinade over chicken. Rest for at least 1 hour, up to 6 hours, in fridge.

Grill the chicken. Grill on each side until the chicken is white in the center and registers 165 degrees (about 4 minutes each side, depending on how hot the grill is). Before taking it off the heat, brush or spoon on remaining marinade.

GRILL ALTERNATIVES: Not all of us are so lucky to have a grill. Alternatively, you can pan-fry it (which technically violates the basis of what "yakitori" means, but it still tastes good). To pan-fry the chicken, heat up a large skillet over medium-high heat, add some oil to coat the pan, and cook chicken until it is white in the center (about 3-4 minutes each side) Before taking it off the heat, put remaining marinade on the chicken with a brush (alternatively you could spoon the marinade on).

Right before serving, sprinkle with sesame seeds.