I originally began this recipe in September, knowing that some time would be needed to perfect these before Thanksgiving. I'm happy to say that after my sixth time working with this recipe, I think I've hit the spot with texture and flavor. While I've been relatively happy with the recipe for the last few times, I've found that a few small tweaks and details helped these rise a lot more and stay fluffy.
See my instagram reels to see me make them!
A few notes that I've found help make these rolls super fluffy:
Make sure that your dairy- the milk, butter, and egg- are at room temperature when mixing. Quick temperature changes in this wet part of the dough will make it harder.
Find the point of just enough flour to create a tacky, slightly sticky dough without drying it out too much. Keeping it tacky is what helps keep it fluffy and not tough. Adding in a ton of flour to make it easier to handle will result in a tough crumb.
Don't overknead- I did this the first few times because I didn't mix the dough by hand/with a spatula first, and just went right for the dough hook. This also led to a tougher crumb.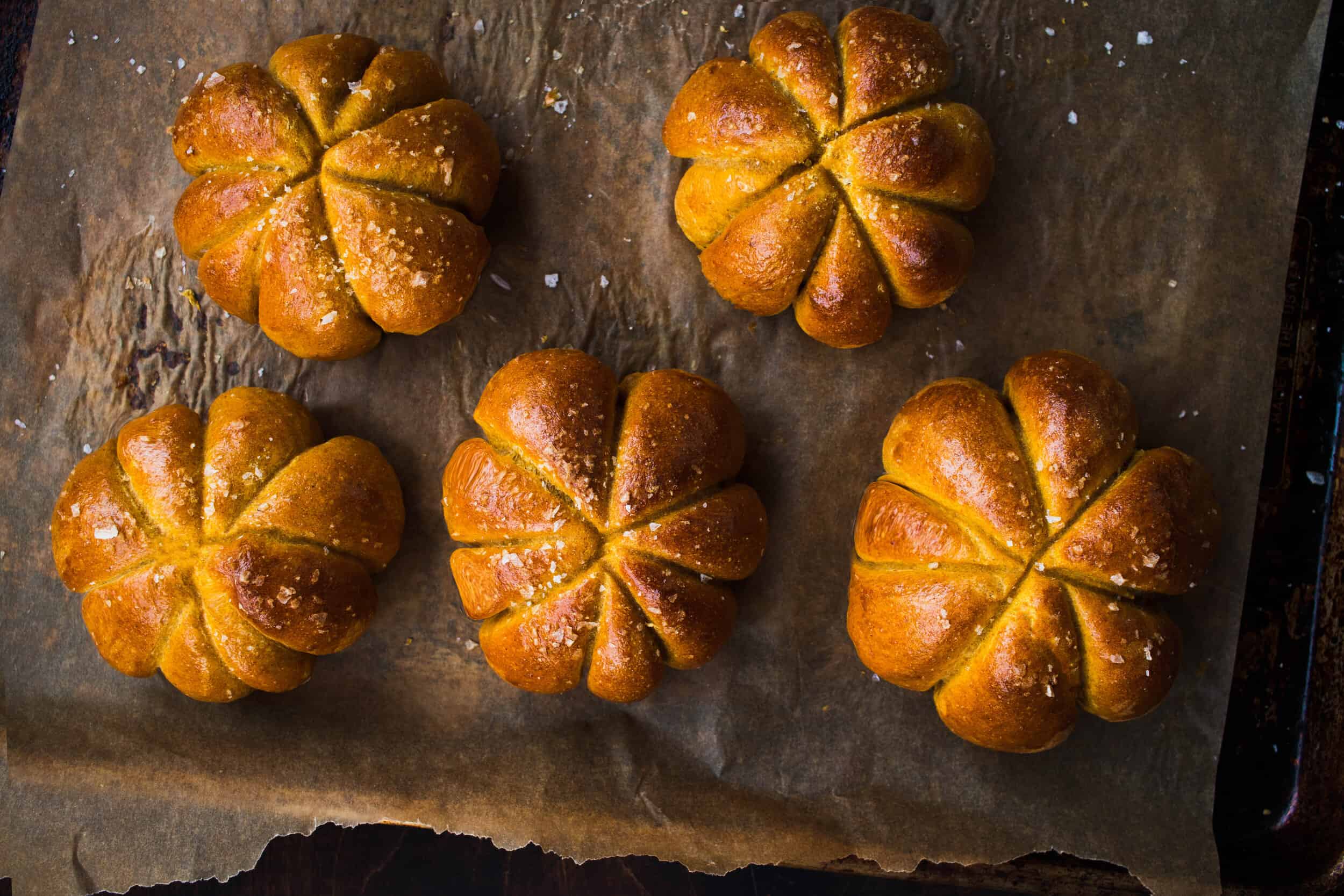 Whole Grain Pumpkin Dinner Rolls
Difficulty Level: 3
2

teaspoon

instant yeast

2/3

cup (154g)

whole milk

,

, at room temp or slightly warmer (microwave for 30s from fridge; temp should be around 90 degrees)

1

tablespoon (21g)

maple syrup or white sugar

1

cup (240g)

pumpkin puree, at room temp

1

egg

,

at room temp

1/3

cup (80g)

butter, melted
4 cups + 1 tablespoon (490g) flour, plus a few extra tablespoons just in case (this will be explained more later)
240

g

all purpose

250

g

whole wheat pastry flour

,

can also do all purpose flour for all
Other:
2

teaspoon

salt

1

teaspoon

cinnamon

1/2

teaspoon

ginger

2

tablespoons

white sugar

1

egg

,

for egg wash

1

tablespoon

flaky sea salt

,

for topping
Optional Maple Butter:
4

ounces

butter

1

teaspoon

maple syrup

,

or to taste
In a medium bowl, combine yeast, maple syrup, and milk and whisk. Let sit for 10 minutes. It should be foamy. During this time, make sure the dairy you will add in step 2 are at room temperature. You can then prep mixing the flour and spices while you wait.

After 10 minutes, add in pumpkin, egg, and melted butter to milk and whisk until combined.

Place flours, spices, and salt in large mixing bowl or bowl of standing mixer. Mix thoroughly with a spatula.

Add in pumpkin mixture and using your hands and the spatula, incorporated the flour into the wet mixture until it is mostly mixed- you will continue to knead it with the standing mixer, but I've found that this helps the mixer knead better.

Knead dough in mixer with the dough hook on the lowest setting for 5 minutes. After 3 minutes,, check the dough to see how well it is set. The key here is to have the dough be tacky, but not super sticky- you will probably have to add in a bit more flour a tablespoon at a time, until it reaches this point. I normally end up adding 2-3 tablespoons flour, depending on moisture level of the dough, room, etc. It's better to go by feel here. Add flour gradually- while more flour makes it easier to handle the dough, it also will result in a tougher crumb at the end, so it's about finding the perfect balance in which you can handle the dough without it sticking to your hands, but without adding too much flour.

See below- I added about two tablespoons of flour, looking at the texture each time. By the end, it still is not a full dough ball and is still tacky/sticky, but you more of a cohesive dough and not as wet.

With well oiled hands, remove dough and place in an oiled large bowl. Oil. Let sit in warm place until doubled in size, about 1-2 hours. It should be soft and have lots of bubbles at the end. If you are tight on time and want to speed this up to more than 1 hour range, place it in your oven with just the light on.

Punch dough down. Divide into 9-10 pieces- if you do 10 pieces, each one is roughly 100g. Shape each one into a ball.

– If shaping all the dough into balls in a baking pan, do 9 so it can evenly be distributed in the pan.

– If doing stand alone rolls or pumpkin buns, line 2 baking sheets with parchment. If doing a pull apart bun, line a 9×9 pan with parchment.

– Shape as desired.

– For Pumpkin Shape: Using twine, create a star like pattern- see my video below. Keep in mind that the pumpkin shape can sometimes prevent the rolls to rise as much, so if you want a super fluffy roll, I recommend not using the twine or tying it quite loose.

– For Regular Buns: Keep as they are.

Cover with plastic wrap loosely. Let sit until puffy and increased in size, 45 minutes.

Preheat oven to 375. Brush buns with egg wash. Sprinkle with coarse grain sea salt.

Bake for 18-22 minutes, until inside registers 180-185 degrees.