My favorite type of cookie? One that looks a bit familiar, but then has unique flavors. These Quince & Pistachio Rugelach do the trick. They have a buttery rugelach dough, which lends itself as the perfect base for other flavors. Its rich and buttery, yet not overpowering. While I personally love the combination of quince and pistachio, you can easily substitute in other nuts or jams based on what you have or to change up the flavors.
What is quince?
These Quince & Pistachio Rugelach use a paste/jam from quince. Quince is a fruit that looks similar to a pear (see what they look like here!), but significantly less sweet and harder. Some sugar helps bring out its natural fruity flavors and aromas. It can be roasted or processed into a jam. The recipe here uses quince paste that is already processed and has added sugar in it. Because it's a firm jelly, adding in some additional jam and water and heating it helps break down into a more jam-like consistency. You can easily skip this step and just use a jam of your choice.
Behind the Recipe: Quince & Pistachio Rugelach
Rugelach Dough is pretty consistent anywhere you look. Trust me. I looked at a lot of different Rugelach recipes to make sure I wasn't missing any important tips and tricks! It's generally equal parts of butter and creamcheese and then some flour. Some recipes add sugar, others don't. I found 2 tablespoons of sugar to be the perfect medium- just enough to add in some sweetness, but not overly so.
Different Shapes: Quince & Pistachio Rugelach
There are a variety of different shapes you can make for these Quince & Pistachio Rugelach. My favorites were the pinwheels and wreath. Both start the same way- shaping the dough into a log- which I found both easy and more foolproof compared to the triangle/crescents. I also found that the dough baked more evenly, whereas in the triangle/crescent shapes, some of the dough on the inside wasn't fully baked. Lastly, it was easier to get a more uniformly shaped cookie throughout. The wreath is a really fun presentation and I highly recommend it if you aren't transporting the cookies and plan to serve to a large crowd on a single day. Otherwise, go for the pinwheels- they store and transport more easily.
Other Cookie Recommendations
If you like these Quince & Pistachio Rugelach, you'll love these Brown Butter, Pistachio & Cardamom Shortbread Cookies, which incorporates crumbled toasted pistachios right into the dough. For an easier cookie that also uses jam, check out these Cardamom & Berry Jam Palmiers, which use puff pastry as the base.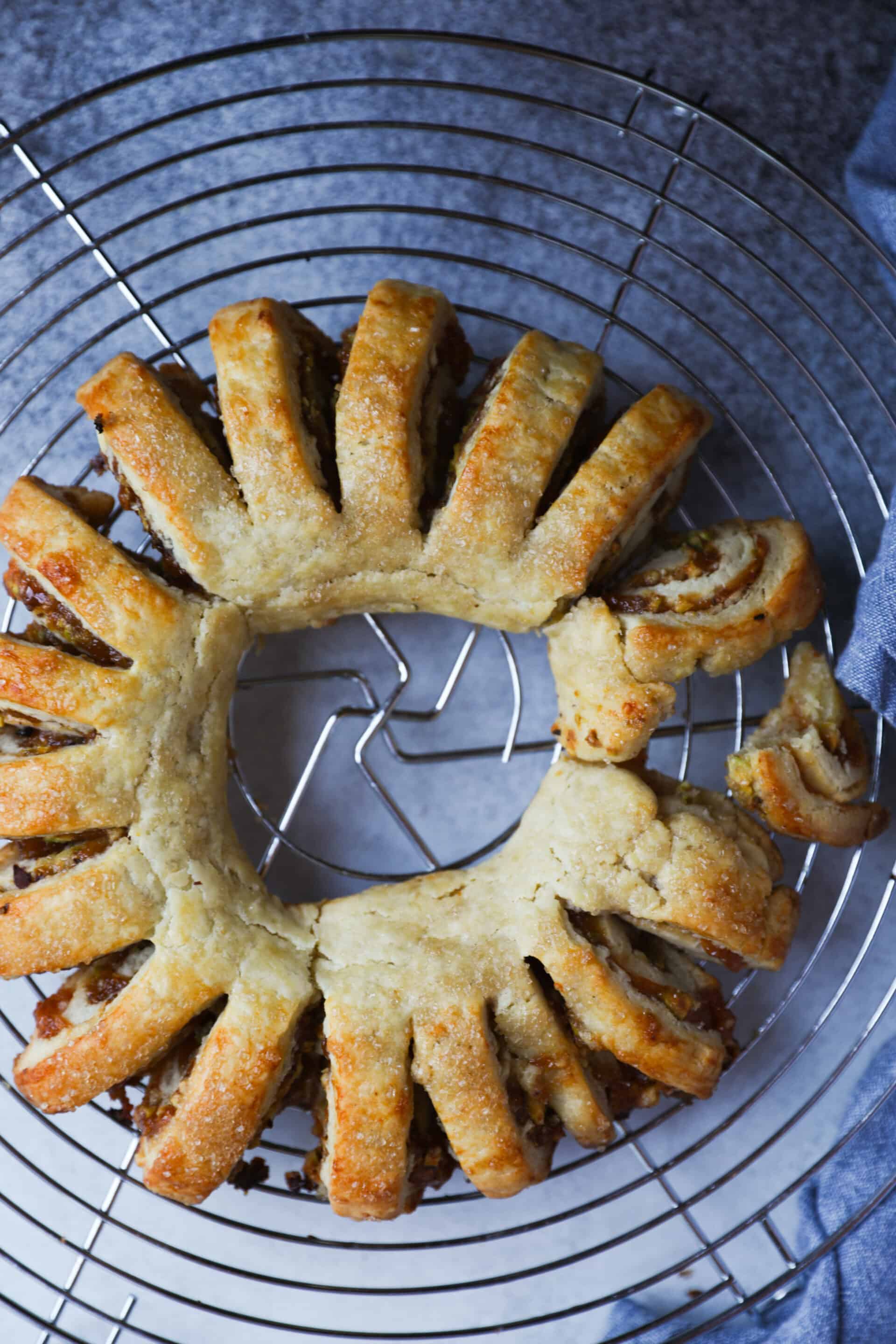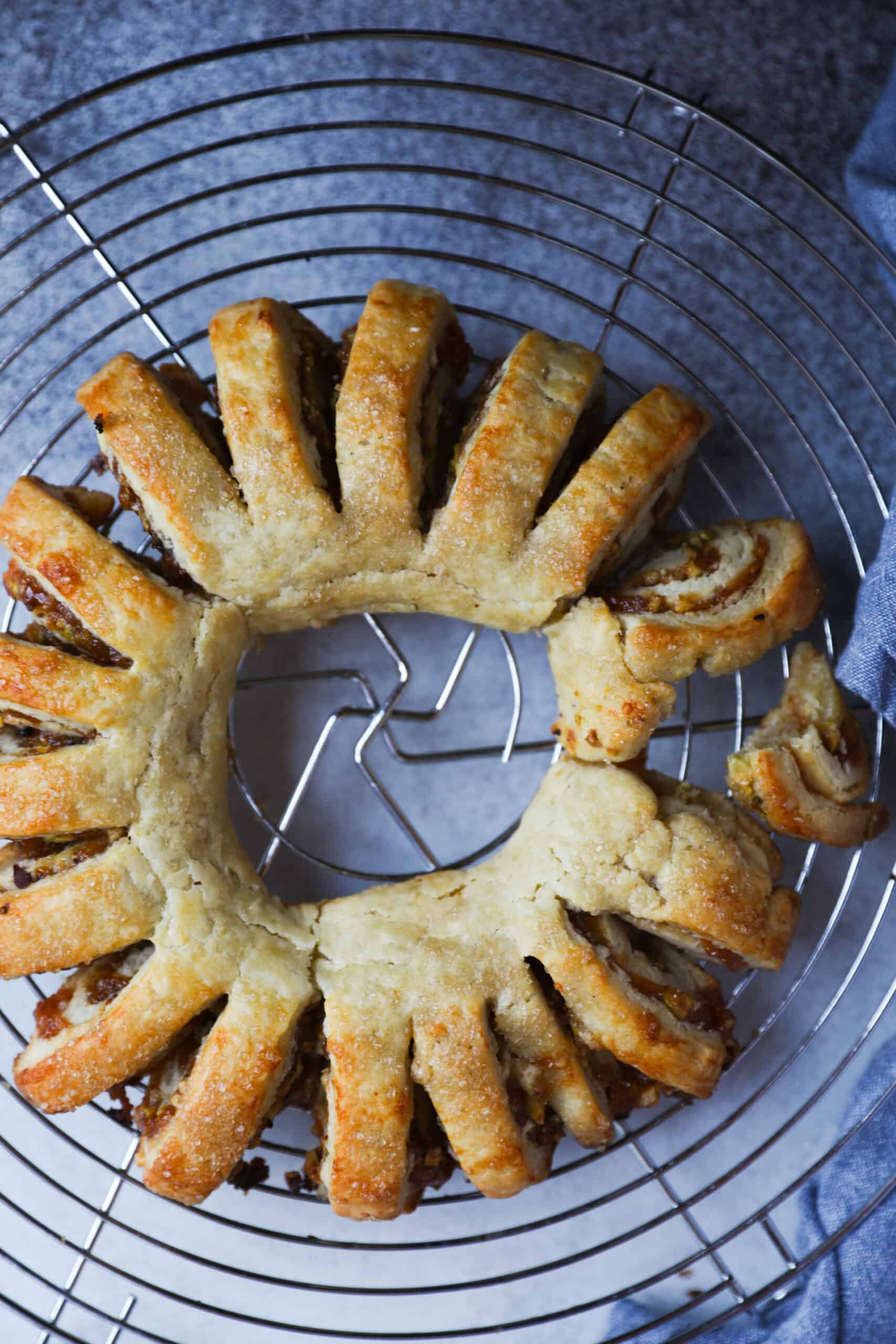 Quince & Pistachio Rugelach
Dough:
1

stick unsalted butter

,

at room temperature

4

ounces

cream cheese

,

at room temperature

2

tablespoons (24g)

white sugar

1/2

teaspoon

vanilla extract

3/4

teaspoon

diamond kosher salt

1

cup

126g all purpose flour
Quince Filling:
5

oz

quince paste

2.5

oz

apricot jam

1

oz

water
Other:
1/4

cup

pistachios

1

egg

,

, for egg wash

sprinkling of turbinado sugar

,

, for dusting on top
Make the Dough:
Place butter, cream cheese, and white sugar in bowl of standing mixer (or large mixing bowl). Using paddle attachment or handheld electric mixer, cream butter and creamcheese until thoroughly mixed (about 2 minutes).

Add in vanilla extract and beat until mixed in. Add in salt and flour and mix until just incorporated.

Shape into a large ball and then flatten into a round disc. Wrap in plastic wrap and place in the fridge for at least 2 hours, up to 1 day.
Make the Filling:
Place quince paste, apricot jam and water in a small saucepot. Heat over low to medium heat. Using a spatula or whisk, mash the quince to encourage it to break down and become smooth. Continue to heat until mixture has fully combined and is a smooth, jam like texture, about 5 minutes. Set aside to cool completely in fridge.

Place pistachios in a small ziploc bag and using a rolling pin, pound them until they are fine crumbs.
Assembly:
Roll out dough into a large rectangle (about 6-7'' by 12'') until 1/8'' thick (almost as thin as you can get it).

Spread jam filling onto dough in one even, thin layer. Sprinkle on pistachios. Roll into a log, starting with a long edge (to maximize the length of the log). Place in fridge to firm up, about 20 minutes.
Tips for Rolling out Dough:
– When rolling out, be sure to use some flour to prevent sticking (but try to overdo it on the flour because too much and the dough becomes dry and cracks when baking). Flour both the surface and rolling pin.

– Use silpat or parchment paper to help prevent sticking when rolling out.

– Constantly pick up the dough and turn it to make sure it doesn't stick on the counter or parchment.

– If it's sticking a lot, place back in fridge to help firm up.
To make pinwheels:
Cut dough into 1/2'' thick slices and place pinwheels onto a prepared baking sheet. They won't spread too much.
To make a wreath:
Every 1/2'', cut an incision that goes about 5/6 of the way into the dough to the edge. Gently shape into a circular shape and join the ends. Place onto a prepared baking sheet.
For both:
Preheat oven to 350 degrees.

Brush dough with egg wash and lightly sprinkle with turbinado sugar. Place in fridge for an additional 20 minutes before baking.

Bake until dough is light golden, about 18-22 minutes (the range is due to how long you have the dough sits in the fridge for beforehand).