Prior to December, shortbread cookies were not high on my list. Luckily a version of these beautiful Brown Butter, Pistachio & Cardamom Shortbread Cookies caught my eye on Bon Appetit. And turns out I was seriously missing out.
Not only does the dough make the perfect buttery, sweet, & sandy texture that melts in your mouth, but it also gives the perfect canvas for lots of subtle flavors. By far my favorite part about these cookies is the combination of brown butter, cardamom, and pistachios- it's one you'll remember.
I've made these for both my mom and Matt on two separate occasions- and the reaction was the same. Initially lukewarm at the idea, pleasantly surprised at the first bite, then eating them all, and finally begging me to make more and get the recipe. With each bite, the flavors become more pronounced and I become more obsessed.
I've adapted this recipe quite a bit to use 1) granulated white sugar instead of powdered sugar 2) reduce the sugar without a noticeable change in flavor or texture and 3) add cardamom. Also- while I've done these diamonds a few times, I prefer to do the more traditional method of rolling into a log. It's not as fun/pretty, but equally delicious and a lot easier and quicker to do.
How to Brown Butter:
Place butter (2 sticks here) in a small saucepot over medium heat. If you've never browned butter before, 2 sticks is actually easier because it's a bit more forgiving- simply because it takes longer.
Begin heating over medium heat until sticks have melted and butter is golden brown. Lower heat just a bit and watch more closely- you don't want the butter to burn!
Your butter is done once it is a amber/golden color and has bits of brown specks in it.
For this recipe, you'll need this butter to cool. Cool in the fridge for at least an hour or do this up to four days in advance.
If this is your first time browning butter, be sure to have an extra 2 sticks just in case you burn it!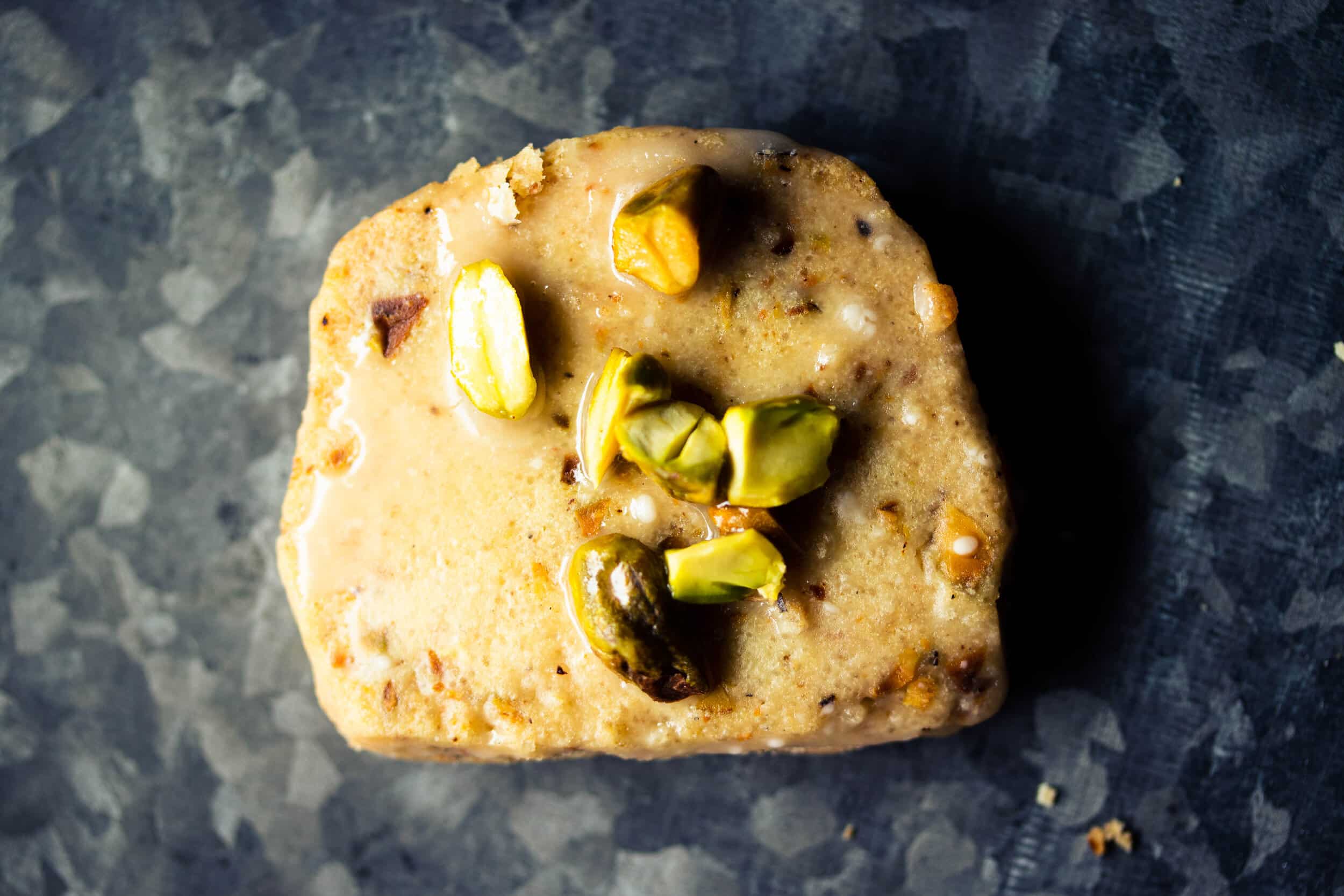 Brown Butter Pistachio Cardamom Shortbread Cookies
1/2

cup

+ 2 tablespoons (70g) pistachios

1

cup

(2 sticks) unsalted butter

1/2

cup (100g)

white sugar

2

egg yolks

1/2

teaspoon

vanilla extract

3/4

teaspoon

diamond kosher salt (if using any other salt, use half the amount)

1 3/4

cups (224g)

all purpose flour

3/4

teaspoon

cardamom
Optional Glaze:
1

cup (110g)

powdered sugar

1

teaspoon

vanilla

2-3

tablespoons

water
Brown butter: Place both sticks of butter in a small saucepan and sauté over low to medium heat until milk solids are a brown color and is smells nutty, about 7 minutes. Let cool in a separate bowl for about an hour in the fridge.

Toast pistachios: Preheat oven to 375. Toast pistachios until fragrant and lightly brown, about 5-7 minutes. Set aside to let cool and then put in a large plastic bag and use a rolling pin to "grind" the pistachios until they are quite fine (you can also chop them but I find this a lot easier).

Cream butter and sugar: Place room temperature butter with the white sugar in bowl of standing mixer with paddle attachment. Cream on medium until lighter in color.

Add eggs and vanilla: Add in egg yolks, salt, and vanilla on medium.

Dry ingredients: In a separate bowl, combine flour, pistachios (reserve 2 tablespoons for topping), cardamom, and salt. Add this mixture gradually into the butter mixture with the mixer on low speed and mix until combined.

Shape: Place dough on parchment and pat into shape of choice. 1. Diamonds: Roll out dough into a 1/2'' thick square.2. Circle/Squares (easier method): Place dough on parchment paper and using the parchment paper, shape dough into a log. Cover with plastic wrap and place in fridge. See below for a visual!

Chill: Chill in fridge for at least 30 minutes, up to a day (Okay, i'll be honest- I've done 2 days and it was totally fine too). NOTE: You can FREEZE this log at this point. If you do, just let it sit in the fridge to defrost for a day before moving onto the next step.

Cut: Slice cookies into design of your choice.1. Diamonds: Using a small knife or pastry wheel. See below for a visual!2. Circle/Squares Slice log into 1/4'' thick slices and place onto baking sheet. They can be close together, because they will not spread. You can sprinkle a bit of turbinado sugar on top if you are not doing the icing.

Bake: Bake 16-20 minutes at 350, until very lightly golden. Let cool completely before eating. They are a little crumbly/delicate, but will harden up and not be as crumbly once stored in the fridge for a few hours. Store in an airtight container for up to a week.
Notes
Log/Square Method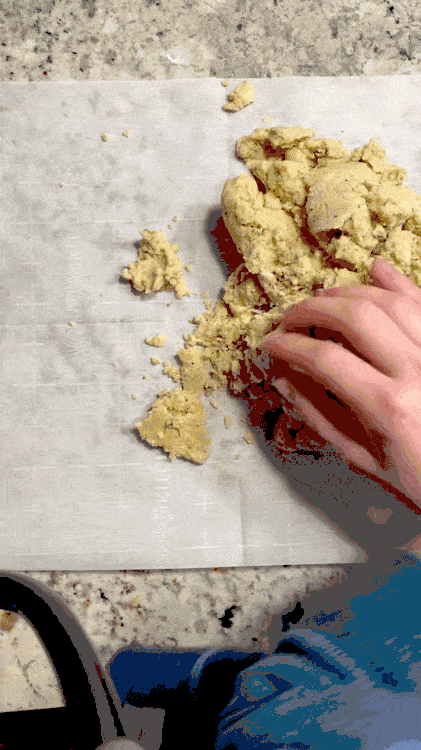 Diamond Method