About a year ago I would have considered myself a biscuit novice- certainly not one to create my own recipe. Now, having tried a wide variety of recipes and techniques, I've come to love how simple they actually are- provided you do the correct techniques and focus on a few things.
I've borrowed and combined some of my favorite methods I made in biscuit recipes by @csaffitz @emtulis and @basically. Here's a few key ones I consider game changers:
Freezing & grating the butter into the dough.
Cutting the biscuits into squares, not circles.
Realizing there are a variety of folding techniques- all which work. I'm not picky as to which I do (honestly I still switch it up), as long as you fold the dough over on itself several times you'll get that flakiness we all want.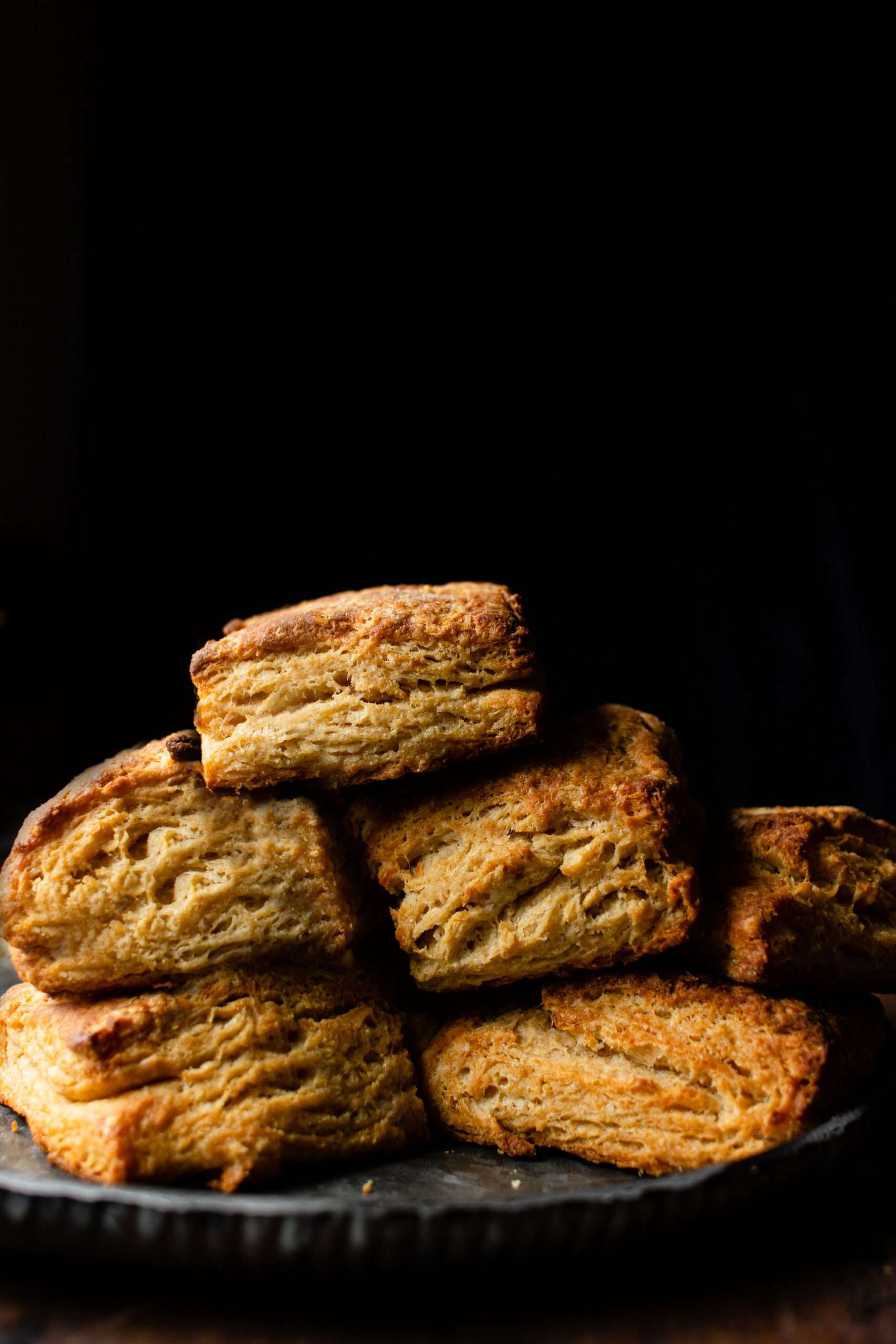 Whole Grain Miso Buttermilk Biscuits
Adapted from Dessert person and Pastry and Prose, Difficulty Level: 2.5
1

stick (4 ounces)

unsalted butter

,

placed in freezer

2

cups (240g)

total flour

,

(Usually I'll do half and half all purpose and whole wheat)

Option 1: 120g all purpose + 120g whole wheat flour or whole wheat pastry flour

Option 2: 120g einkorn flour + 120g white whole wheat flour

1

teaspoon

baking powder

1

teaspoon

baking soda

1

teaspoon

kosher salt

3/4

cup (180g)

buttermilk

,

+ 1-2 tablespoons as needed (15-30g); If using whole wheat flour, this extra will probably be needed, but wait to see how dry/wet the dough is.

1/4

cup (65g)

white miso

,

can also do 1/4 cup finely grated parmesan
The key here is keeping things frozen and cold! Keep things in the freezer/fridge until you absolutely need them. If there is any wait time in between steps, put the dough in the fridge.

Preheat and prep: Preheat oven to 425. Place stick of butter in freezer to chill.

Mix miso and buttermilk until completely smooth. Place in fridge.

Mix dry ingredients: Mix flour, baking powder, baking soda, and salt in a large bowl. Set aside.

Grate frozen butter in flour mixture.

Drizzle buttermilk into bowl while stirring constantly with a fork. Using a spatula, fold mixture inside bowl.

Roll out dough: Put dough on floured surface. Roll into rectangle 1/2'' thick. Cut dough into quadrants. Stack quadrants on top of each other. Dust more flour on top and underneath. Roll out the stack with a rolling pin until 8 1/2 inches across.

Cut int 8 squares (a 2 x 2 grid). Freeze for 15 minutes before baking.

Bake at 400 for 18-22 minutes, until golden brown on the top.