Tired of salads, but still want to get your veggies in? As much as I love my greens, sometimes I need a break. Especially with the bounty available right now, it's surprisingly easy to make a delicious salad sans greens.
Seriously this spotlights all of summer's best in one big bowl. Peaches and tomatoes are at their prime- perfectly juicy and ready to eat with minimal seasoning. But what makes this panzanella particularly unique is the addition of green beans- they aren't the star of the salad, but add that refreshing and slightly grassy crunch that balances out the sweeter components of the salad. P.S. Toasted bread is the icing on the cake- don't skimp on it. And it's a perfect way to use leftover bread from your fav bakery that's about to go stale.
This recipe details how to prep the beans and bread and make a quick vinaigrette, but really this is about the flavor combination. The quantities of the veggies and fruits (don't forget tomato IS technically a fruit!) should be adjusted to what you have on hand and what you enjoy most.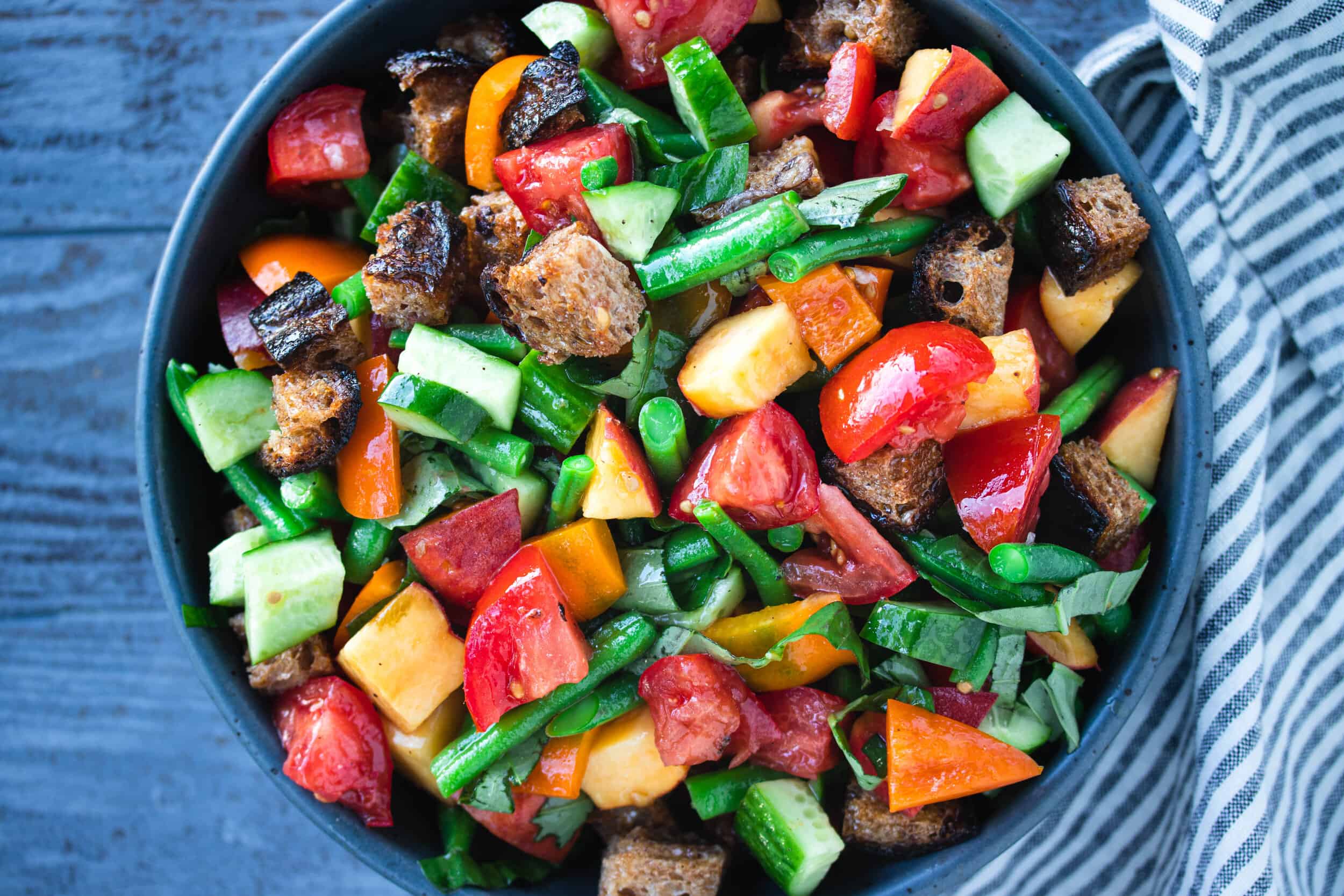 Peach & Green Bean Panzanella Salad
1

cup

diced bread

,

1/2'' cubes

1-2

tablespoons

olive oil

1

cup

tightly packed green beans

2

peaches

,

diced into 1/2'' cubes

2-3 to

matoes

,

diced into 1/2'' cubes

1

bell pepper

,

diced into 1/2'' cubes (optional: I've done both with and without!)

2

small cucumbers

,

diced into 1/2'' cubes

optional: handful of basil
Easy Champagne Vinaigrette
1/4

cup

champagne vinegar

1/4

cup

to 1/2 cup extra virgin olive oil

,

high quality if possible **see note below

1

garlic clove

,

minced

1/2

teaspoon

dijon mustard

1/2

teaspoon

sea salt

big pinch black pepper

**I personally like my dressings on the more acidic/vinegary side of the spectrum

,

a 1:1 ratio. When making this for guests, I often will add more olive oil than I do more myself (a 2:1 ratio). I recommend dipping a piece of bread or a veggie in the dressing to taste test before dressing the whole salad.
Toast the bread: Preheat oven to 425. Toss diced bread with olive oil until every piece is lightly coated. Sprinkle some sea salt and bake in oven until bread is lightly golden brown and cripsy, about 10-15 minutes. Every 5 minutes or toss, shake the pan to move the bread and check to see how it's doing. Set aside to cool a bit. If you prefer to not use the oven, you can do this on the stovetop. See here for those directions.

Blanch the green beans: To make these crispy yet tender, blanching is key. To blanch: Prepare a medium pot of salted boiling water on the stove. Once it is at a boil, uncover and add in greens beans. Let cook for about 2 minutes- the green bean should be vibrant green and you should be able to bend it just slightly without snapping (but also shouldn't wilt). Test one after 2 minutes; an additional minute may be needed, but I've never needed over 3 minutes. Pour green beans and water into a colander and put under running cold water or in an ice bath until the green beans are cold. Chop green beans into thirds (about 1'' pieces).

Make the dressing: Add all ingredients into a blender or small bowl and mix vigorously until combined.

Toss green beans, tomatoes, peaches, peppers, cucumber, and cubed bread all together in a bowl. Lightly pour vinaigrette over (keep in mind you may not use at all of it- just add enough so everything is lightly coated) and gently toss. Garnish with basil and serve.