Eggplant is one of those vegetables that can go in two directions. Far too many times have I seen some sad-looking eggplant in the prepared foods section at the store or sometimes even a restaurant; there's nothing worse than when it's somewhat tough, leathery, and devoid of flavor. Luckily, you can just as easily achieve perfectly cooked and prepared eggplant: a slight char on the outside with a velvety soft inside that melts in your mouth. The difference between the two is HUGE. If you're not a believer, this Easiest Garlic Roasted Eggplant will show you.
What are Asian Eggplants?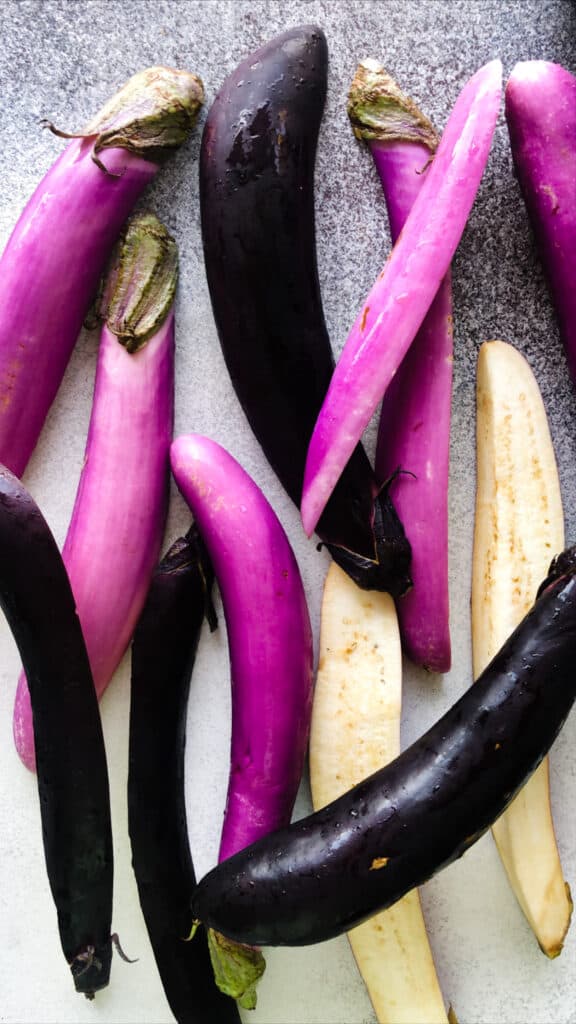 One of my absolute favorites at the market, asian eggplants usually have a season from late summer into early fall (August and September usually being peak months). Asian Eggplant includes both Chinese (the darker color) and Japanese (the lighter color. From my experience, they both cook the same and have a very similar flavor.
While Italian eggplant is a common staple at grocery stores, these types of eggplants aren't (sadly). So I always do my best to take advantage of their season. You can sometimes find them at grocery stores, but not your commonplace ones.
I prefer these varieties because they cook a lot quicker and are a lot easier to make more tender, making them perfect for this Charred Garlic Eggplant. While they still retain water and need to be salted to extract the water, they hold a bit less water compared to an Italian eggplant, which makes them a bit more flavorful and easier to caramelize. They also have fewer seeds.
A few other eggplants you may spot at the market include fairytale eggplants. Fairytale eggplants can be a variety of purple colors and sometimes speckled. They are also quite small, but have a shape a bit more similar to an Italian Eggplant and are a bit wider. White eggplant is also a variety I've seen and enjoy! Both of these varieties work great in the Easiest Garlic Roasted Eggplant recipe too.
Behind the Recipe: Easiest Garlic Roasted Eggplant
The type of eggplant is very important when making this Charred Garlic Eggplant. While you use small variety like fairytale eggplants in addition to Chinese and Japanese eggplants, I wouldn't use an Italian eggplant here. See above for why. If you're looking for a recipe that uses Italian eggplant, try out my Roasted Eggplant Parmesan.
Salting the eggplant: This is a key and crucial step- and one you'll see in a lot of recipes that feature eggplant. Just like other vegetables high in water content like cucumber and zucchini, salting is a common method to help draw out the water out of the vegetable. Interested in learning more? See the below headers to geek out with me for a second.
Minced/Pressed Garlic: You can use a garlic press or finely mince, but the key is to get the garlic into very small pieces so you can spread it out and not have it all concentrated onto a single piece.
Brushing on Extra Virgin Olive Oil: While sometimes I'll be lazy and drizzle olive oil and then spread out with my hands, I've found the best way to evenly distribute olive oil is brushing it onto the eggplant. Eggplant will absorb oil readily and if you drizzle, it'll absorb so quickly that you won't be able to toss to distribute the oil. Brushing is the best way to make sure you have enough olive oil, without going absolutely crazy and using 1/4 cup oil here.
Aluminum Foil: 95% of the time I use parchment paper on my baking sheets. It minimizes the mess and makes for easier clean up and also results in better browning in my opinion. While I have used parchment for this recipe (which you can see below), I have learned foil is best and safest. Broiling with parchment can result in the parchment paper burning. While I've never started a fire (thank god), I have learned this the hard way and highly recommend using foil.
Here's a quick video to show you how to both slice the eggplant, and brush on oil.
Why do we salt vegetables?
Long story short- water makes it difficult for things to brown and caramelize.
This a universal rule of thumb for any and all products, from vegetables to meat. If something has a lot of water, it will release that water upon cooking/heat. Excess water in a baking dish or saute pan greatly affects the other texture and product. Most importantly, it prevents the product from browning and caramelizing. Salt is our way of removing some of the water from the vegetable before cooking. It works in this Charred Garlic Eggplant, as well as so many other recipes.
The science: Why salting works.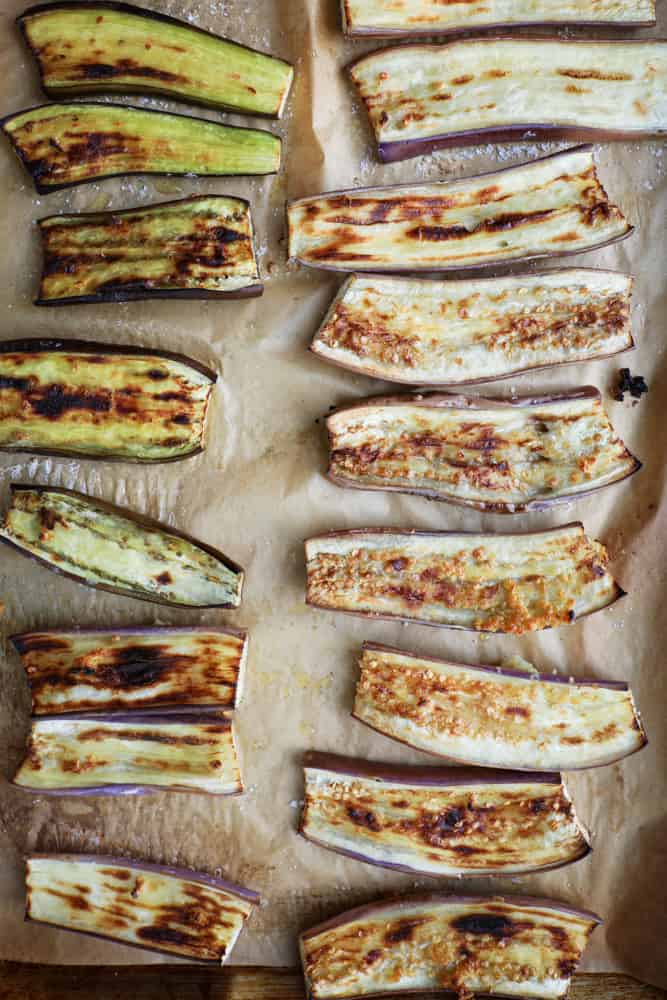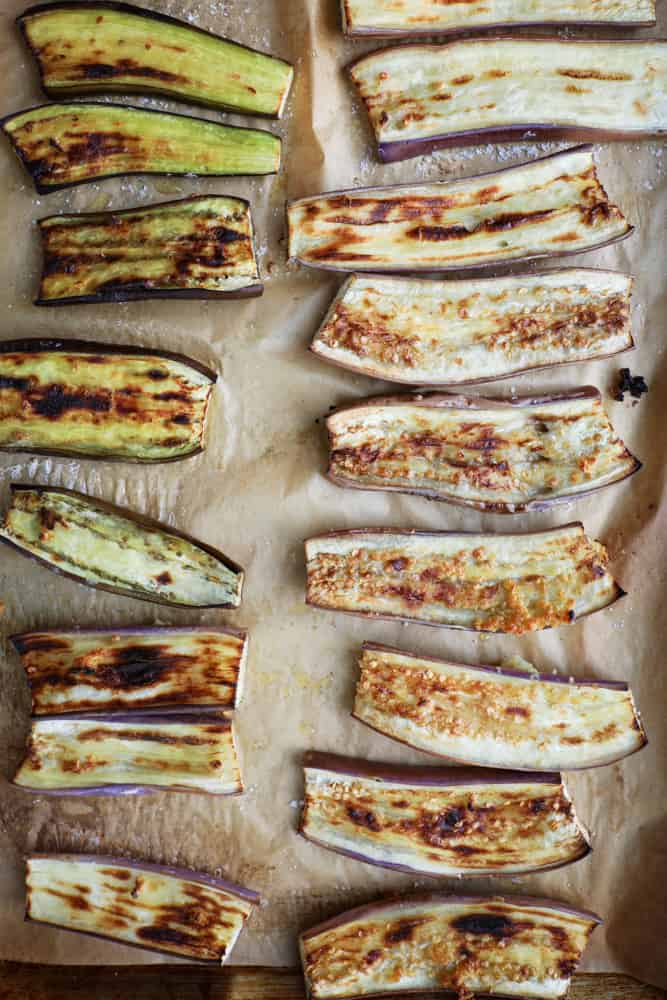 Water moves out of the vegetable and to the outside due to a concept called osmosis. Osmosis is essentially the movement of water across a membrane due to a difference in concentration.
In this case, we focus on the concentration of salt (and other minerals) both inside and outside the eggplant. When the concentration is equal, water will not dramatically shift inside or outside. However, when the concentration is not equal, water will move to whichever area has a higher concentration in effort to equalize it.
Before we do anything, the inside of the eggplant (or any vegetable or meat) contains water, along with other nutrients and minerals. By generously salting the outside of the eggplant, we are greatly increasing the concentration (aka salt in this case) on the outside of the eggplant, so water will move out of the eggplant to equalize the concentrations.
Interested in this technique? Check out these zucchini fritters.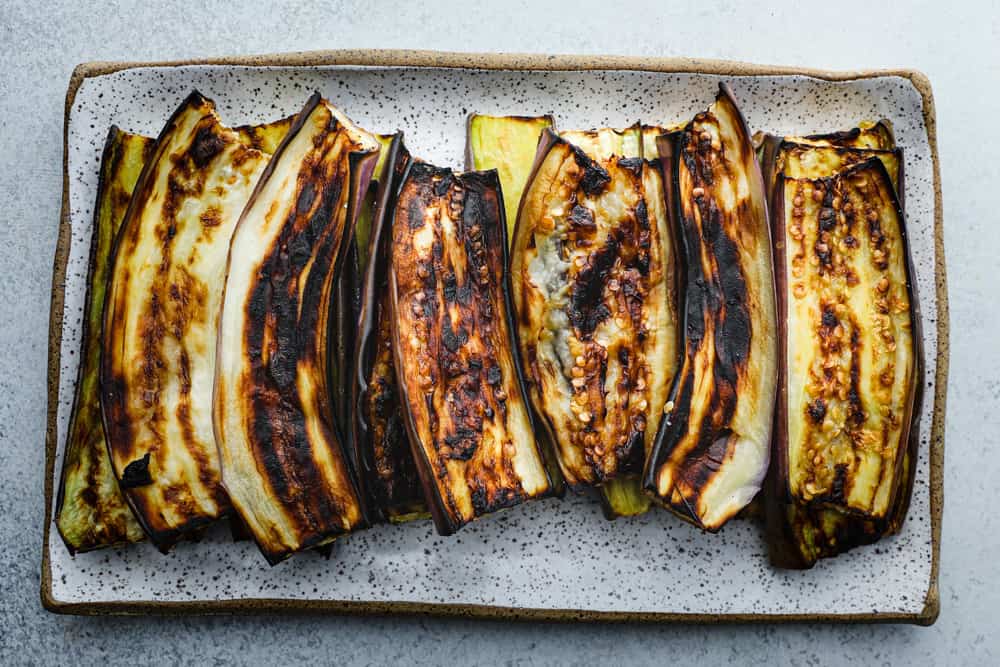 Easiest Garlic Roasted Eggplant
2

medium

fairytale or Asian (Japanese, Chinese) eggplant

2-3

tablespoons

extra virgin olive oil

1

teaspoon

kosher salt

,

(or 1/2 teaspoon sea salt)

2

garlic cloves

,

, pressed in garlic press (no garlic press? grate with microplane or mince with a knife)
Preheat broiler and place an oven rack about 6'' from the top. Slice eggplant into 3'' long and 1/4'' thick slices (see above for a quick video on how to do this).

Spread eggplant in one layer onto baking sheet lined with foil. Season with 1/2 teaspoon kosher salt and let sit for at least 10 minutes, up to 30. The salt will bring out excess moisture in the eggplant (see above for why to do this).

Place olive oil and minced/crushed garlic in a tiny bowl.

Pat eggplant dry with a paper towel or clean tea towel. Using a brush or a spoon, brush garlic oil onto eggplant. Be quite generous- you can always add more oil if you run out- be sure to do both sides of the eggplant.

Broil eggplant. Place eggplant on top rack (6'' from top) and broil under just charred on the top, about 3-6*** minutes/side. Once charred, pull eggplant out and use tongs to flip each eggplant slice. Broil other side until charred, about 3-6 minutes. ***When broiling watch semi-closely- I've found broilers can vary greatly, so that's why I have a range. It's better to be safe than burn them!

Serve immediately. Store in airtight container in the fridge for a few days (I've found they are best within 3 days).