My goal: An eggplant parmesan that's full of flavor and cheese, but just a bit lightened up. The key is roasting, rather than frying, the eggplant, before layering it.
While you certainly can use store bought tomato sauce, I recommend taking the extra bit of time to do this simple tomato sauce- a slow and low cook develops lots of flavor. Finish this off with a combination of cheeses and a topping of pine nuts (Trust me on it). Perfect for leftovers too!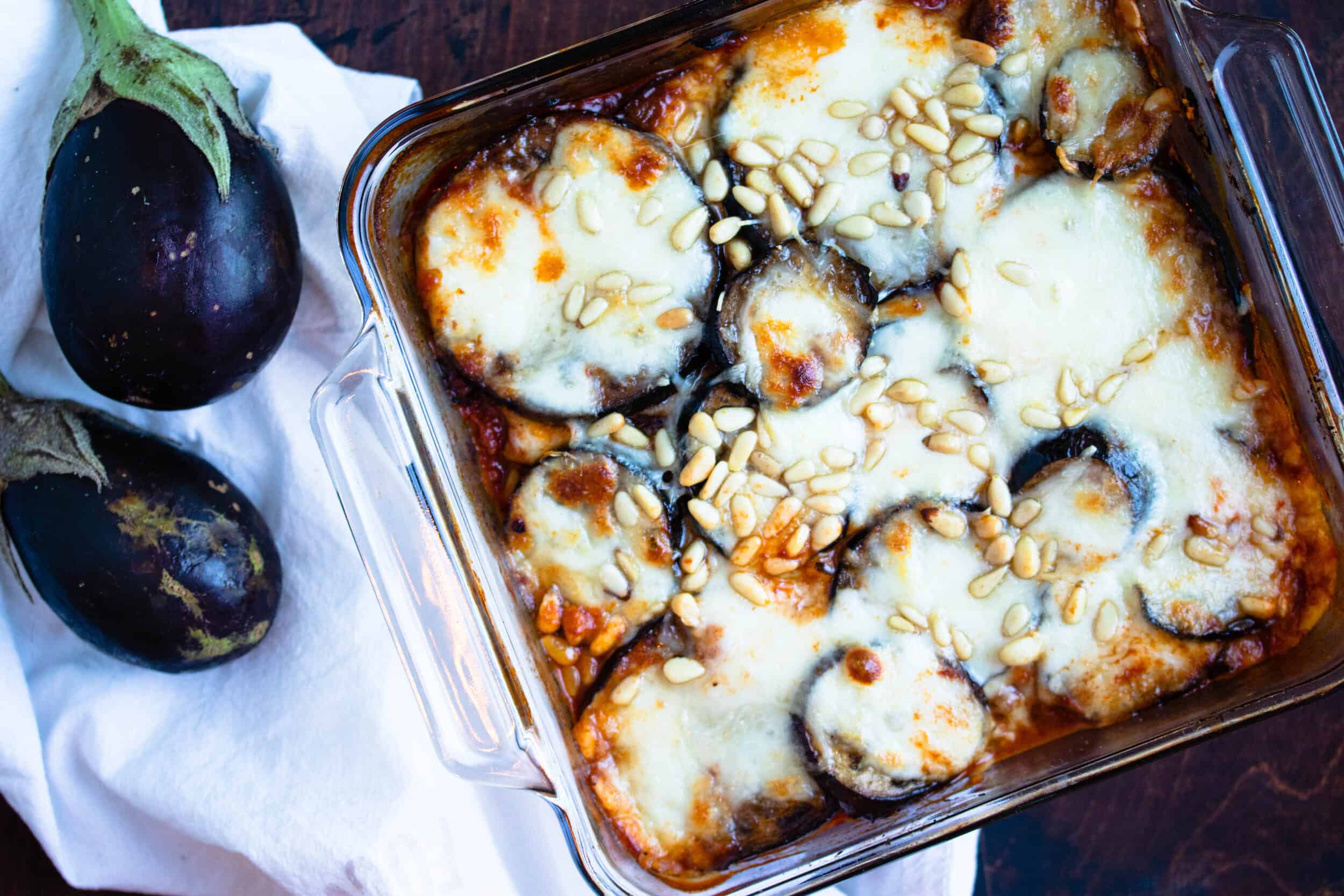 Roasted Eggplant Parmesan
3

small or 2 medium Italian or fairytale eggplants

,

just over 1 pound- 1 pound 2 ounces, sliced into 1/4'' thick circles

3

cups

tomato sauce

,

see recipe below

1

eight ounce ball mozzarella

,

sliced thinly

heaping 1/2 cup

,

(5 ounces) shredded part-skim mozzarella

1/4

cup

(2 ounces) shredded parmesan

2

tablespoons

pine nuts
Tomato Sauce:
2-3

tablespoons

olive oil

1/2

yellow onion

,

chopped

1

teaspoon

salt or to taste

3

cloves

garlic

,

chopped

2

tablespoon

tomato paste

1 14

ounce

can whole tomatoes

1 28

ounce

can tomato puree
Directions for Tomato Sauce:
Heat a medium saucepot over low to medium heat. Add in olive oil, enough to generously coat bottom of pan.

Add in onions and saute until lightly browned, about 7 minutes. Add in salt, garlic and tomato paste and stir to coat onions in tomato paste. Saute until tomato paste is a dark brick red, about 2 minutes.

Add in tomato puree and whole tomatoes (including the juices). When adding in whole tomatoes, gently squish them so they break down- be careful- they will squirt out juice and ruin whatever you are wearing if you aren't gentle. Trust me 🙂

Bring to a boil and then simmer for 30-35 minutes, until the tomato sauce is thick and flavorful.
Directions for Eggplant Parmesan:
Preheat oven to 425. Toss eggplant in oil and arrange on baking sheet in an even layer. Bake until golden brown at 425, about 15-20 minutes. Flip halfway through.

In a 9×9 inch baking pan, layer the eggplant, tomato sauce, and cheese in this order three times for 3 layers.

1. Tomato sauce (~1 cup/layer)

2. Eggplant (1/3 of the total amount/layer)

3. Mozarella (1/3 of the sliced mozarella/layer)

4. Repeat.

Top with shredded mozarella and parmesan on top, and lastly the pine nuts.

Cover and Bake at 375 for 30 minutes, until cheese has melted. Uncover and bake for 15 additional minutes until the cheese is slightly browned- you can broil for a minute or two at the end to help the cheese brown.