Sometimes ideas for recipes like this Miso Leek & Corn Hash with Scallops come from necessity. Specifically, the necessity of cleaning out my fridge. While my initial idea was always corn-focused, I only added leeks when looking at my fridge and realizing they had been sitting there for a solid week. As part of the allium family, I decided to give it a go and use it in place of the shallots/onions I had originally conceptualized as part of the dish.
Midway through the small of caramelizing leeks and I knew I made the right choice. The combination of leeks and corns is slightly unusual and creates a sort of hash that has all sorts of complexity going on- buttery, salty, and sweet. This is a classic example of why I enjoy being part of a CSA (community-supported agriculture- see more below if haven't heard of it before!). Sometimes you get something that you either don't normally cook with. Or maybe occasionally eat, but not a whole lot. For me, leeks didn't seem that seasonal in the summer. But it came in the box. So I tried it out. And clearly didn't regret it.
One other thing I love about this Miso Leek & Corn Hash with Scallops- simplicity at its finest! All you need for this hash are leeks, corn, butter/oil, and miso. Yup, four ingredients. While you can serve the hash as a side dish on its own, you can also make this a full dinner by reserving some miso butter to sear some scallops at the end. Scallops are only an occasional dinner for me- about once every few months. While more expensive, I enjoy them a fun treat AND more importantly, I can cook them in about 5 minutes. You could also try this with a white fish, although I haven't tried that on yet.
Behind the Recipe: Miso Butter Scallops with Leek & Corn Hash
Miso: The first time I made Miso Leek & Corn Hash with Scallops, I added in some other flavors like garlic and sesame oil. The next time, I decided to really honor simplicity and kept it to just butter and miso. Miso is such a strong flavor on its own that it really can play solo here. P.S. Love this combo of miso and corn? It's not my first rodeo… check out this miso butter grilled corn.
Salt & Butter: I don't normally highlight salt here, but because there are so few ingredients going on in this hash, properly seasoning with salt is key. If you find this at all bland, it's because you didn't add enough salt. Go add some more.
A combination of butter & oil: While you can go all butter if you prefer, I personally just find I don't feel that great when I have that amount of butter in a sitting. While normally I would just opt for a bit of butter, the leeks need a good amount of fat to really caramelize. Adding in some oil helps this while limiting the amount of butter.
What's a CSA?
Feel free to google and read here to learn more, but some farms have this system- you pay a monthly fee for a box of seasonal produce/week. With each location/farm I've done this program, there has been variations in the size of the box, price, and frequency. There's usually not much say in what you get, so it encourages you to be creative. I never would have thought of this Miso Leek & Corn Hash with Scallops if it hadn't been for the leeks randomly added to my CSA. If you're in a food rut, like seasonal foods, and enjoy thinking outside the box with your meals, I highly recommend it! You can google CSA and your location to see if there are any in your area.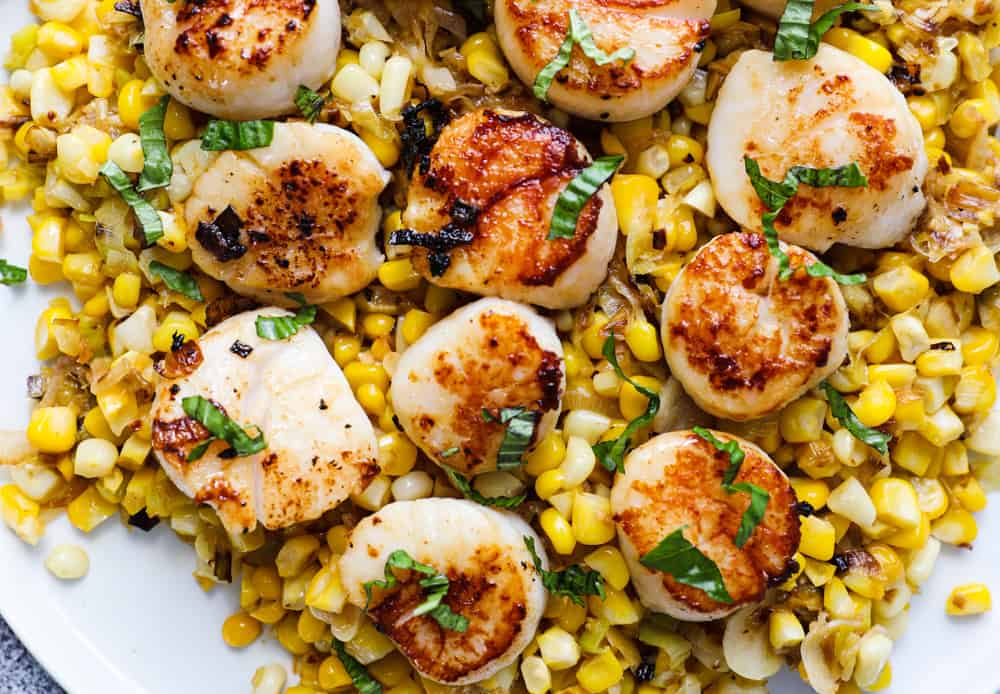 Miso Butter Scallops with Leek & Corn Hash
2

leeks

,

sliced

2

ears corn

,

corn kernels

1 1/2

tablespoons

extra virgin olive oil

,

(use 2 tablespoons if also doing scallops)

1/2

tablespoon

unsalted butter

,

(use 1 tablespoon if also doing scallops)

2

teaspoons

white miso

kosher salt

,

to taste

1

pound

scallops

,

, cleaned
Vigorously mix together extra virgin olive oil, unsalted butter, and miso together with a fork. Try your best to dissolve the miso as best as you can.

Place a large saute pan over medium heat. Add in about 3/4 of the oil/miso mixture into the pan. Once hot, add in leeks. Saute leeks over low to medium heat, stirring occasionally, until quite caramelized, about 7 minutes.

Add in corn and continue to saute over medium heat, stirring occasionally, until leeks are almost charred/burnt, about 3-5 more minutes.

Remove corn/leek hash from pan- it's reedy to serve!

If doing scallops, no need to clean the pan. Pat scallops dry with a paper towel and season generously with salt. Add in the remaining oil/miso mixture and turn up heat to medium/high. Once pan is hot, add in scallops. Let sear and don't touch for a solid 2-3 minutes, until brown. Then flip and repeat on the other side. Serve immediately.