Corn brings out some of my strongest childhood memories related to food. As I pulled the husks off of just a few ears for this recipe, the memories just flooded back. We'd be at the beach, sitting outside on the stairs shucking two dozen corn (can never have enough). Shucking was the job no one really wanted to do, but almost became a bonding experience. Chatting in the salty, humid air with a hint of a breeze.
As far as eating went, corn on the cob slathered on with butter and guaranteed to result with some silk stuck in your teeth used to be the only way. As a kid, I'd happily load up the butter, eat two ears, and pass up on the rest of the meal.
While I still wanted to keep the essence of a traditional corn on the cob, I've evolved this a bit by 1) grilling the corn- I now find corn to be a bit too sweet for me and the smoky char balances it out (it's also insanely easy to do- literally just pop the corn on the grill, no oil or anything) and 2) adding some miso to the butter. Just mix butter and miso in a 2:1 ratio. Spread miso butter on and sprinkle with flaky salt before eating.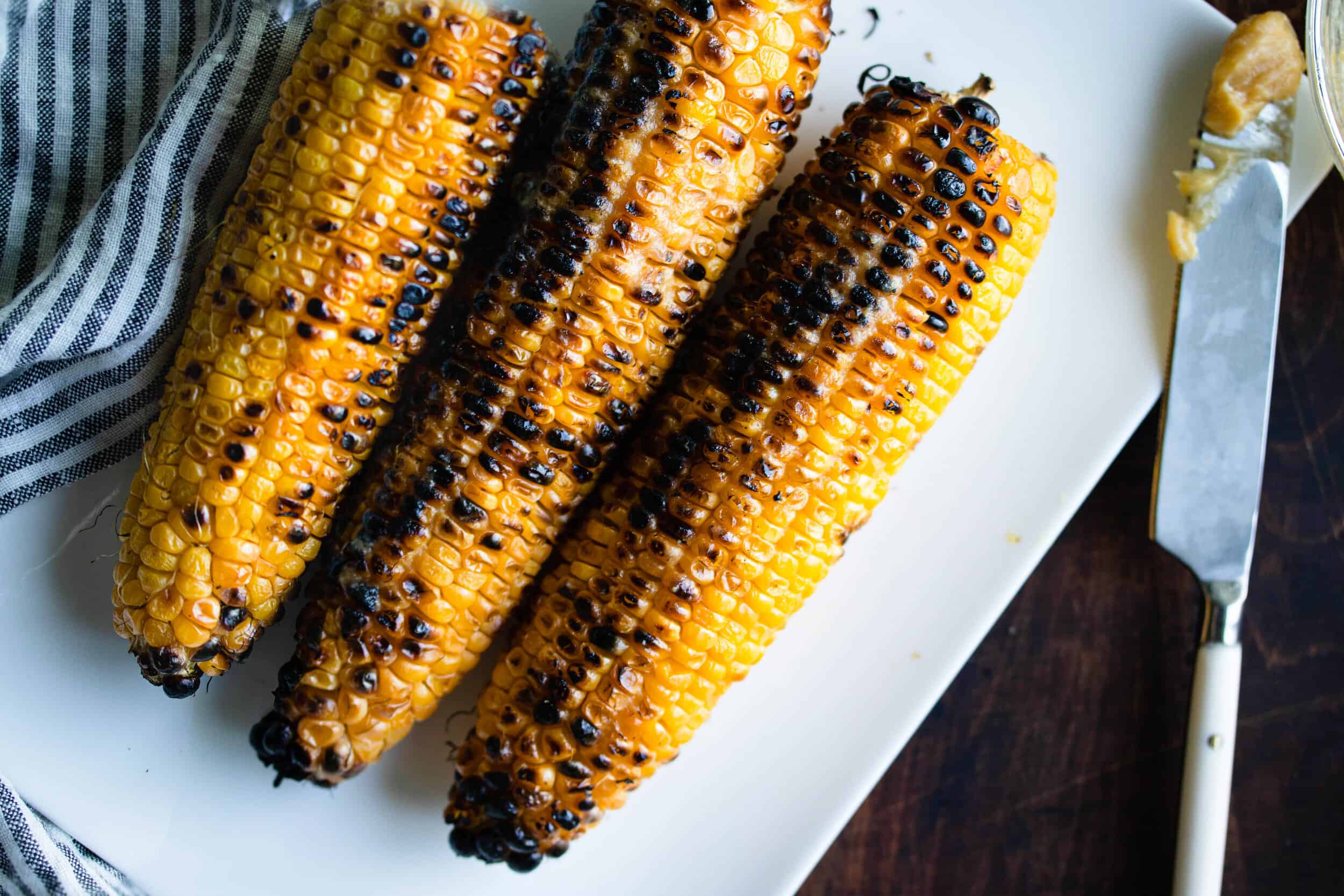 Grilled Miso Butter Corn
This makes enough for a generous tablespoon of butter per ear of corn. This can easily be doubled or halved. The key is a 2:1 ratio of butter:miso.
4

ears of corn

,

husked

1/4

cup

unsalted butter

,

soft and at room temperature

2

tablespoons

white miso paste

,

soft and at room temperature

flaky sea salt
Mix butter and miso until creamy and well mixed. Make sure they are both at room temperature when doing this!

Preheat grill to medium/high. Place corn directly on grill- I spray the grill with some oil, but don't oil the corn. Let sit on grill, rotating every few minutes, until charred and brown to your liking.

Spread miso butter on corn and sprinkle with flaky sea salt before serving.