If you could recreate any ice cream flavor you've had, what would be it be? For me: the marscapone and berries gelato from Dolcezza. Their salted caramel comes in second (only as an afagato, with espresso poured over it), but a pretty distant second to this one, especially on a hot summer day.
Last time I had this was last summer walking on the Wharf with Matt. We attempted to branch out and each got an extra scoop of another flavor, but I ended up devouring my marscapone and berries half and then proceeded to hog Matt's half of marscapone and berries as well. Whoopsies. True love at its finest, right?
There's something about the combination of berries with the creamy and slightly tart marscapone that gives this a lot of balance and depth of flavor. Luckily making my own turned out to be easier than I initially expected. I essentially used my favorite ice cream base and just whisked in some marscapone at the end.
P.S. This blackberry compote is delicious on it's own too! I had an extra tablespoon and just licked it off the spoon. So if you're not looking for an ice cream or only have limited time, make this blackberry compote and then add it to yogurt or chia pudding for a great snack, breakfast, or dessert.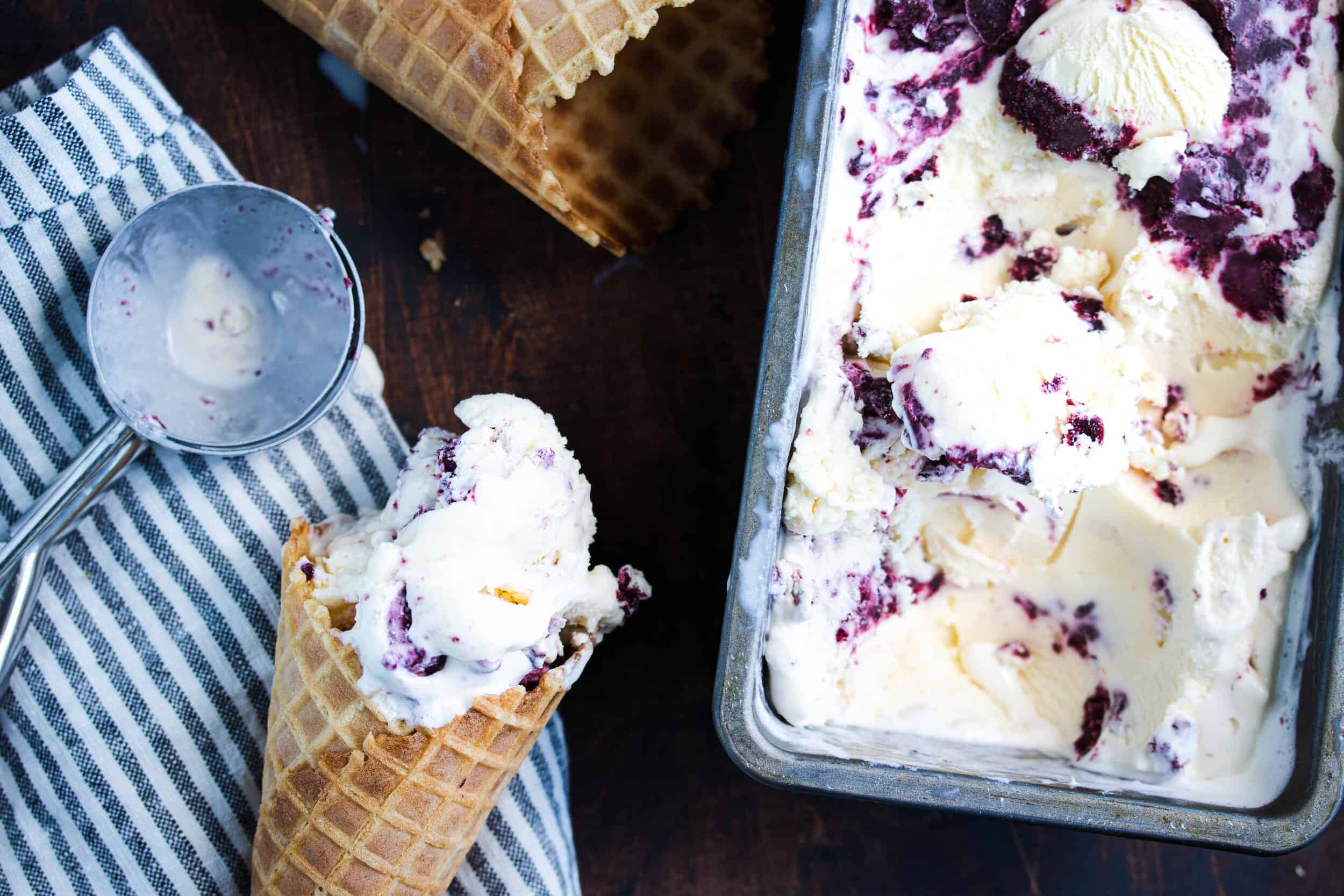 Blackberry Marscapone Ice Cream
Fills one small bread loaf pan (1 pound)
Marscapone Ice Cream
2

cups

whole milk or coconut milk

,

480g; just over 16 ounces

4

egg yolks

,

72g

Scant 1/2

cup (90g)

white sugar (honestly I think it could even do with 1/3 cup of sugar, but I like things on the less sweet side)

8

ounce

marscapone

Zest of 1/2 lemon

1/2

teaspoon

vanilla extract

Directions:
Blackberry Compote
1

cup

8-9 ounces; just a bit over a pint blackberries

1

tablespoon

white sugar or evaporated cane juice

1

tablespoon

fresh lemon juice

,

about 1/2 lemon

Zest of 1/2

lemon

Pinch

sea salt
Make the Ice Cream Base:
In a sauce pot, add milk, sugar, and vanilla. Heat over low flame and stir to dissolve sugar, about 2 minutes.

Vigorously whisk egg yolks in a separate bowl until they are light in color, about 1-2 minutes. Add 1/2 cup of the milk mixture into bowl and whisk in with egg yolks (this step is needed to temper egg yolks so they don't curdle). Then pour the egg yolks into the sauce pot.

Heat sauce pot over low heat until mixture reaches 170 degrees.

Off heat, whisk in marscapone. Place in a bowl or tupperware. Cover and let chill in fridge for a few hours before mixing in ice cream mixer.
Make Blackberry Compote:
Place all ingredients in a saucepan and place over medium heat. Once mixture is vigorously bubbling, lower heat and simmer for 10-15 minutes. Occasionally stir and crush the blackberries with a spoon or spatula.

Remove from heat and let cool completely before layering with ice cream.
Assembly/Churning:
Before churning ice cream, place a bread loaf pan in the freezer. Then place marscapone mixture in ice cream machine and churn marscapone according to ice cream machine directions (this takes about 25 minutes in my Kitchen Aid mixer).

Make sure you have everything out (spoons, blackberry compote, small spatula) to layer the ice cream before the ice cream has fully churned. The layering process needs to be quick or it will become melty and messy quickly.

Once the ice cream has churned, place 1/3 of the churned ice cream in the cold loaf pan. Using a spoon, dollop in 1/3 of the blackberry compote. Use a the tip of knife to draw through the dollops and make a swirl pattern. Add another 1/3 of the ice cream on top, then more blackberry compote. Repeat until all ice cream and blackberry compote is used.

Place plastic wrap over the ice cream- make sure there is no air between the plastic and the ice cream (that's how freezer burn happens). Place in freezer until it hardens, generally about 6 hours. Patience!