Salads for lunch: I'm here to tell you that they if you do them right, they're something you'll look forward to and don't have to be boring or repetitive. Recently I've been focused on making "monster salads" for lunch.
What qualifies a monster salad?
It has to be filling and stand alone (or close to alone) as a whole meal. Meaning it's big.
It has a cohesive combo of anywhere from 3-7 veggies/fruits. Generally the more the merrier, but with a loose structure/theme in mind that ties them all together into a cohesive bowl, rather than a mish mash of randomness.
It has the key elements of any good salad: a crunch, something creamy, and something refreshing. Often times something just a touch sweet too.
In particular, I've been exploring different combinations or ways to present familiar ingredients to keep it interesting and a bit different each day. Here, I surprised myself with an unusual combination that really worked. As I started to add the ingredients, I saw this gorgeous color would bring the whole thing together and it just flowed.
So here are the key elements:
The crunch: the orange pepper and marcona almonds.
The creamy: the avocado.
The refreshing: the cucumber and the lime vinaigrette.
The sweet: cantaloupe and peach.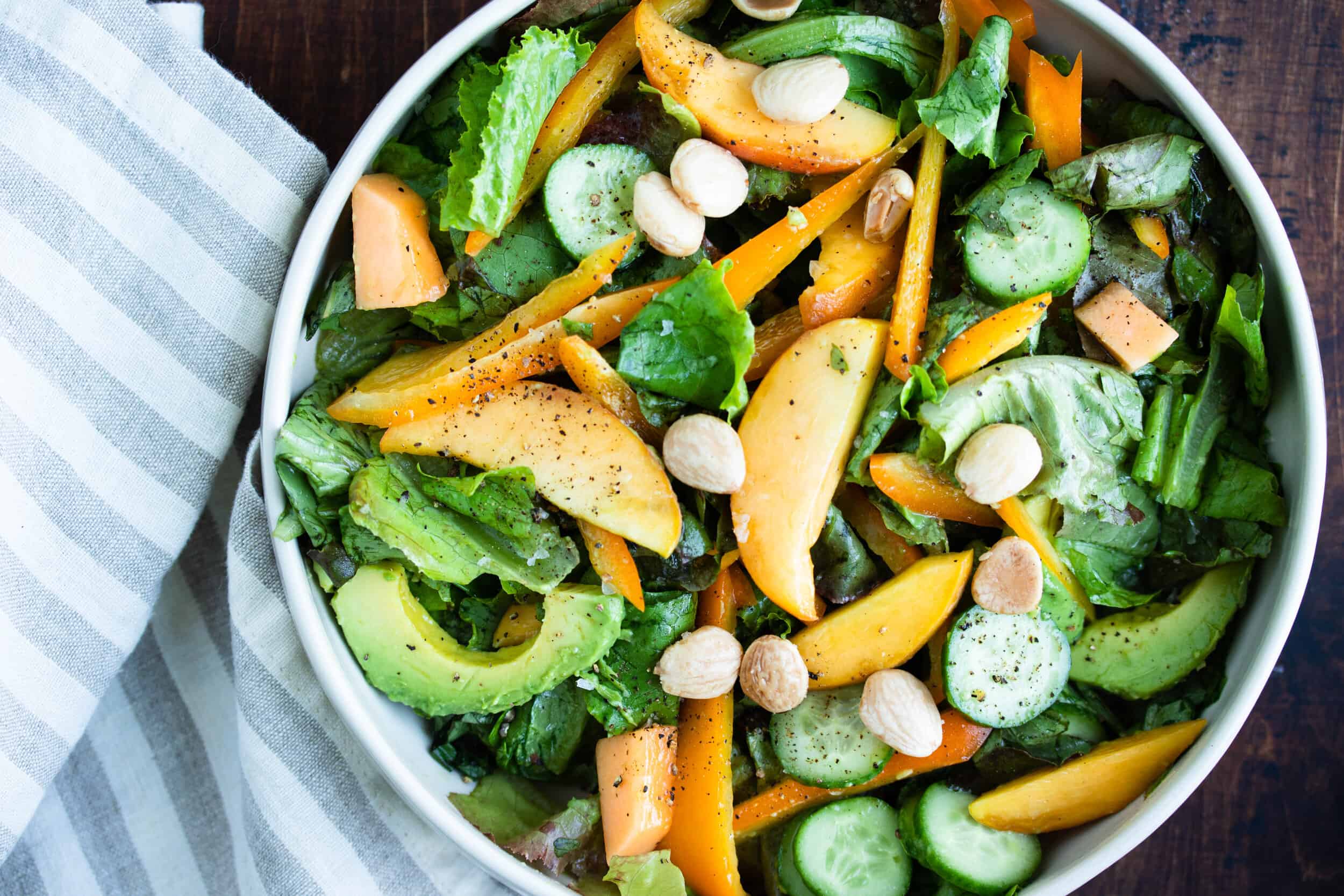 Sunset Orange Peach, Avocado, & Cantaloupe Salad
Makes 1 Monster Salad or 2 Smaller Salads
1/8

cantaloupe

,

sliced

1/2

peach

,

sliced

1

orange bell pepper

,

sliced

1/2

avocado

,

sliced

1

baby cucumber

,

slice

2

tablespoons

marcona almonds

2

cups

red or green leaf lettuce

,

chopped or torn into bite size pieces

Easy Lime Vinaigrette

,

see below
Combine all ingredients except marcona almonds and vinaigrette in a bowl. I usually put the heavier veggies in first and end with the lettuce, so the dressing mostly goes onto the lettuce.

Pour vinaigrette over until lightly coated and toss. Add marcona almonds. Season with salt and pepper before eating.