There's few better ways to celebrate the tomatoes in season right now than with this galette. The beauty is its simplicity of ingredients: roasted & caramelized tomatoes are front and center, with a backdrop of a perfectly flaky parmesan pie crust. The more colorful the tomatoes, the better.
While the end result and ingredient list is simple, I'll be honest in that I consider this more of a weekend baking project because the pie dough requires some time and attention to detail. The tomatoes are actually quite simple: slice and then let sit in just a bit of salt to remove excess water from the tomatoes to prevent a soggy crust. I've lowered the amount of salt because we found it to be a bit too salty last time- it's all about the balance.
However, this galette has the appeal that it can eaten at anytime and lasts at least a few days in the fridge (it never makes the whole week with me, so I can't tell you exactly). So make it over the weekend and enjoy it over the week- as a snack, lunch, maybe even dinner.
This recipe is adapted from Bon Appetit- I actually made it last year, but never posted my recipe with adoptions to make the pie dough whole grain. Here I used a combination of rye and spelt flour to add more depth of flavor.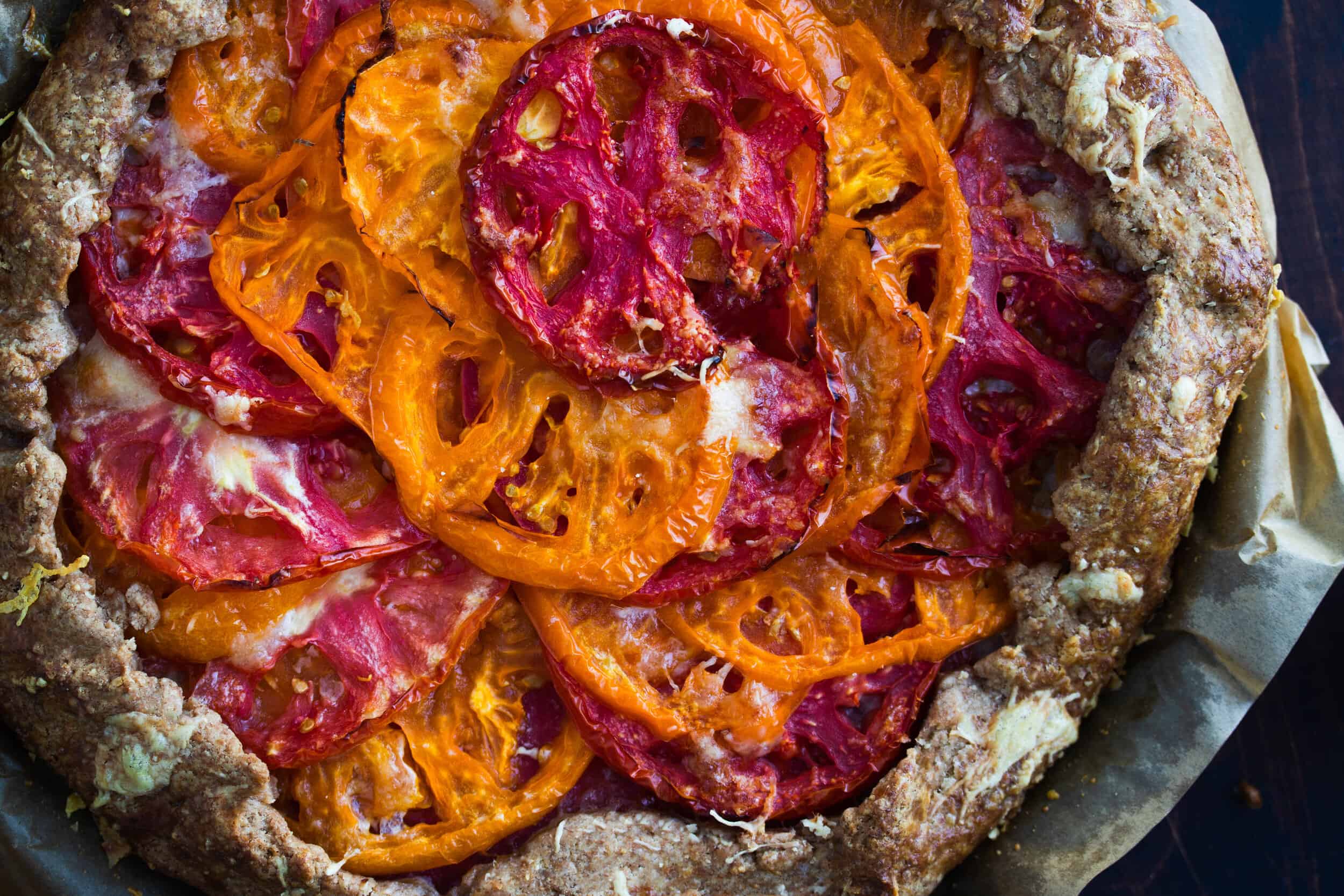 Spelt & Rye Tomato Parmesan Galette
Spelt & Rye Pie Crust
1

cup

(128g) spelt flour (can also sub in all purpose flour- 1 cup; 120g)

1/2

cup

(60g) rye

1/2

cup

(60g) all purpose

1

teaspoon

sea salt

1 1/2

sticks butter (6 ounces)

,

very cold and diced into 1/2'' cubes

1/4

cup

ice water + 1 teaspoon vinegar
Tomato Filling
1.5

pounds

heirloom tomatoes

,

(about 4-6 tomatoes), sliced thinly (1/4'' or so)

1/2

teaspoon

salt

3/4

cup

(1.25 ounces) freshly grated parmesan cheese

1

egg

,

beaten (for egg wash)
Make the pie dough:

1. Combine flours and salt in a food processor or large bowl.

2. If using a food processor, add in dice butter and pulse to combine until butter is the size of a small pea. If using a bowl, cut butter into flour using a pastry cutter.

3. If using a food processor, drizzle in about two tablespoons of ice cold water into the food processor while it is running (if using just a bowl, lightly drizzle in and combine with pastry cutter). The dough should be coming together slightly, but still dry. At this point, I find that removing the dough from the food processor gives me more control over the water and dough, so I finish adding water onto a table surface. Pour onto table surface and lightly drizzle water in dry/crumbly areas and press dough onto itself using a bench scrapper. The dough should be coming together in one ball and not be crumbly or dry. Dust lightly with flour if it is sticking a lot to the counter or your hands.

4. Bring dough together in a ball and then flatten into a disc. Place in fridge for at least one-two hours (two is better).

Preheat oven to 400.

Remove pie dough from fridge and let sit on the counter for about 20 minutes to come to almost room temperature.

Begin working on the tomatoes: slice the tomatoes thinly (about 1/4'' thick) and place onto baking sheets lined with paper towels. Lightly douse in 1/4 teaspoon salt and let sit while you work on rolling the pie dough out (about 5-15 minutes).

Place dough on a parchment- transferring it often has led to problems for me, so doing it directly on the sheet takes any issues out of the equation. Starting from the center and moving out, roll into a 12'' disc. Be patient and don't push down too hard on the dough, or it will crack.

Sprinkle about 1/2 of the cheese over the dough, leaving a 1'' border on the outside.

Remove any excess water from the tomatoes before placing them onto the dough. Take another paper towel and press firmly over the tomatoes to remove any excess moisture and excess salt. I will even press each tomato slice between two paper towels before placing it onto the dough. If there is moisture left, the dough will get soggy. Arrange the tomatoes in a circlular pattern, leaving a 1'' border.

Gently fold the outside border over the tomatoes to enclose them.

Brush outside crust with egg wash and sprinkle the whole tart, especially the edges, with leftover cheese.

Place in freezer for 10 minutes before baking. Then place in oven and bake for about 55-60 minutes, until crust is golden and the tomatoes are just beginning to brown. Let cool a bit before serving.