I'll take any excuse to make this focaccia dough. I posted the recipe for the bread earlier this summer- this is a variation of it with spelt flour (from @seyloubakery) and peaches to make it seasonal and with a hint of sweetness. It requires just a bit of planning with the timing, but the beauty of this recipe is that the dough does all the work. Even though I've made it countless times, I still get excited coming back to a fully risen dough. It never gets old.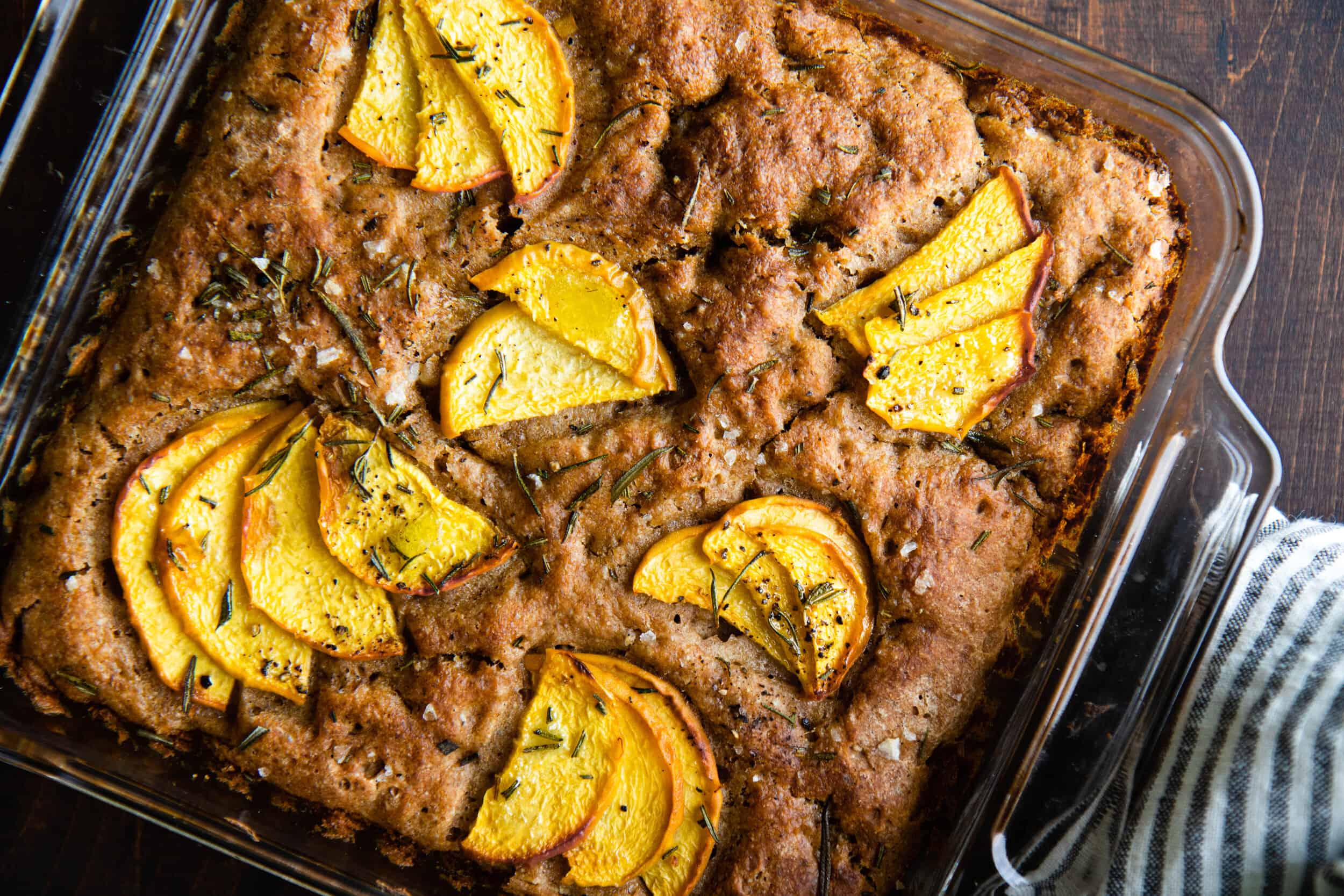 Rosemary Peach Spelt Focaccia
1 1/8

teaspoons

(2.5g) active dry yeast (half 1 1/4 ounce envelope)

1

teaspoon

(7g) honey

10.5

ounces

(1 cup + 3 tablespoons) warm water (115 degrees or so)

2.5

cups

(280g flour)

,

(I did half all purpose and half spelt; you can also do just all-purpose or use whole wheat flour in place of spelt- some all purpose is needed to keep it light and not too dense though)

2

teaspoons

sea salt

~1/4 cup olive oil

,

divided throughout the process

2

peaches

,

thinly sliced

1

tablespoon

fresh rosemary

,

chopped finely
Place yeast, honey, and water in a medium bowl. Whisk well to combine and let sit for 5 minutes. You should hear and see some fizzing, which means your yeast is activated.

Add in whole wheat flour, all purpose flour, and salt. Mix using a wooden spoon or spatula until dough is shaggy and flour is incorporated.

Get a large bowl and place about 1-2 tablespoons olive oil (enough to coat the bowl generously). Place dough into that bowl and lightly rotate and toss the dough with your hands to coat in oil. Cover with wrap and let sit until doubled in size and quite bubbly, about 3-4 hours at room temperature (you can also do this in the fridge for 8 hours-1 day).

Get a 9×9 square baking dish or a 9-10'' deep cast iron skillet and coat well in oil- this is important- The first time I did it I was too skimpy on this and it stuck to the bottom- coat it well!

"Punch" down the dough by using your first two fingers to gently lift up the edges of the dough and bring to the center. Rotate bowl and repeat two more times. Place dough in baking dish and let sit in a warm spot until doubled in size, about 2-3 hours.

After 2-3 hours, preheat oven to 450. Poke lightly with your fingertips to make small indentations (like dimples) in the focaccia. Arrange peaches and rosemary on top and drizzle with olive oil.

Bake until golden brown, about 20-25 minutes.