Grilled corn and blueberries seemed like the perfect combination to savor the last bit of summer. In case you haven't noticed in my stories, I'm a bit obsessed with grilling corn right now. The char adds another dimension to balance out its natural sweetness. It's also super easy- just toss the whole cob right on the grill or under a broiler, rotating occasionally, for about 5-10 minutes.
I topped this with a skirt steak in one of my favorite marinades (equal amounts of balsamic and soy sauce) that packs a punch. To keep the balsamic theme going, I used my maple balsamic dressing that's been a staple of mine for almost a decade.
The crunch: the corn
The creamy: goat cheese
The refreshing: red onion, super thinly sliced zucchini
The sweet: corn & blueberries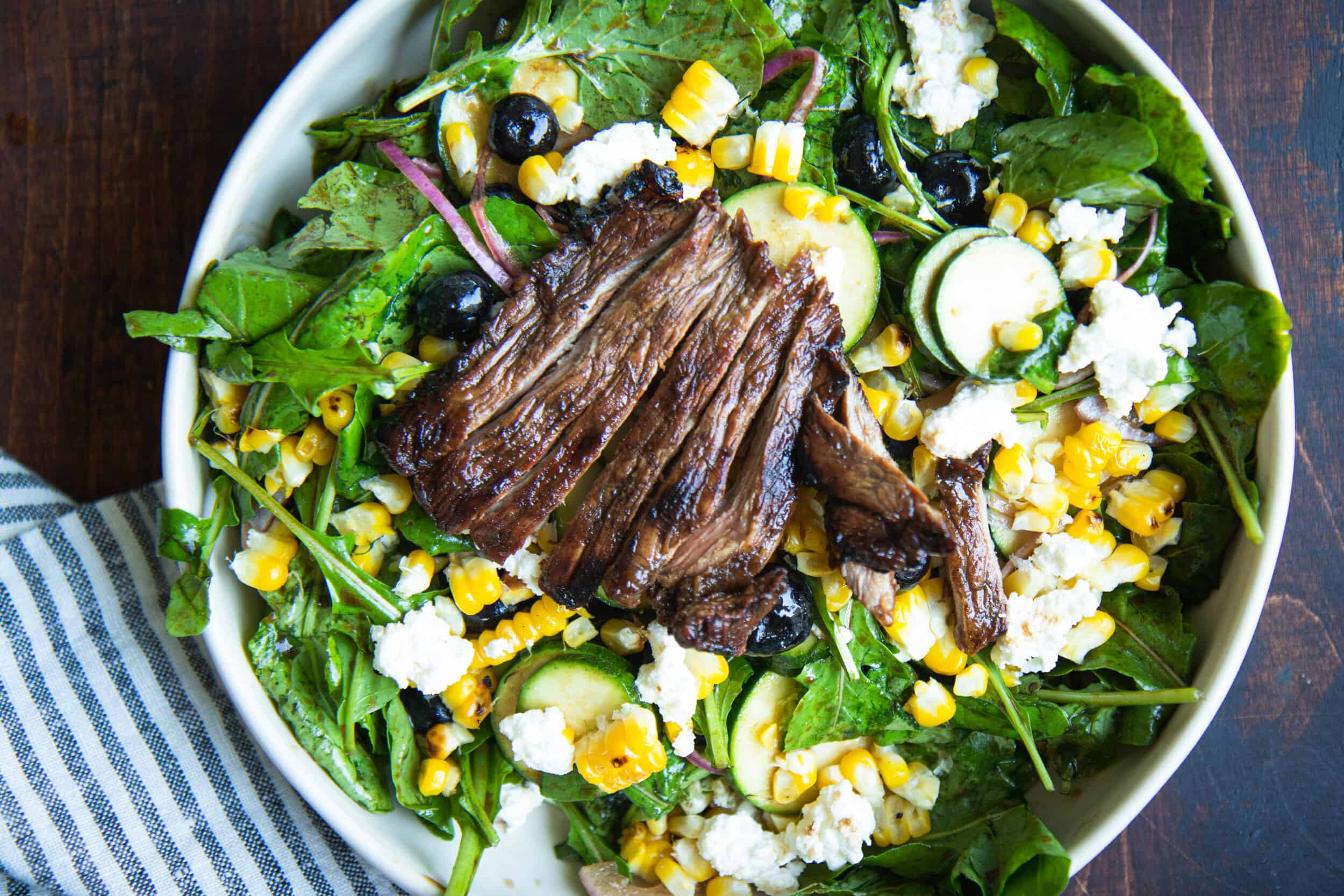 Grilled Corn & Blueberry Monster Salad with Balsamic Skirt Steak
Makes 1 Monster Salad or 2 Regular Ones As always… quantities are really just suggestions. You do you.
1

ear corn

,

husked and cleaned

1/4

cup

blueberries

2-3

cups

spinach or other greens of your choice

1/4

cup

about 1/4 of a small red onion very thinly sliced red onion (I use a mandoline for this)

1/2

small zucchini

,

sliced VERY thinly into coins (I use a mandoline for this)

1-2

ounces

goat cheese

,

crumbled

Balsamic Vinaigrette,

(one of my fav dressings!! worth making and doing rather than a store bought one, I promise)
Preheat grill or broiler. Directly place corn on grill or under broiler for about 5-6 minutes, rotating occasionally for even browning. Let cool slightly and then cut kernels off.

Toss everything together except goat cheese. Normally I like to do this in a really big bowl, putting all the items on the bottom and spinach on top. Then add the dressing and toss. Transfer to whatever bowl you plan to eat out of- all the good stuff (corn, blueberries, etc.) will naturally go to the top. Top with goat cheese.