Milk and cookies? How about 4 ingredient peanut butter cookie? This recipe adapted from the awesome @maggiebakesgrace is the perfect super simple cookie that can actually be made on a weekday. One bowl. 4 ingredients. Also naturally grain- and gluten-free. Any peanut butter lover will be all over this one.
For those that have little ones, this is also a great recipe to make with kids. The majority of the time spent is just on dividing the dough into small portions and rolling them into a ball.
If you're looking for some other fun dessert inspiration, check out Maggie's page. I love how approachable and creative her recipes are- so approachable that her recipes are shared in the caption. So in the spirit of that, here's the recipe: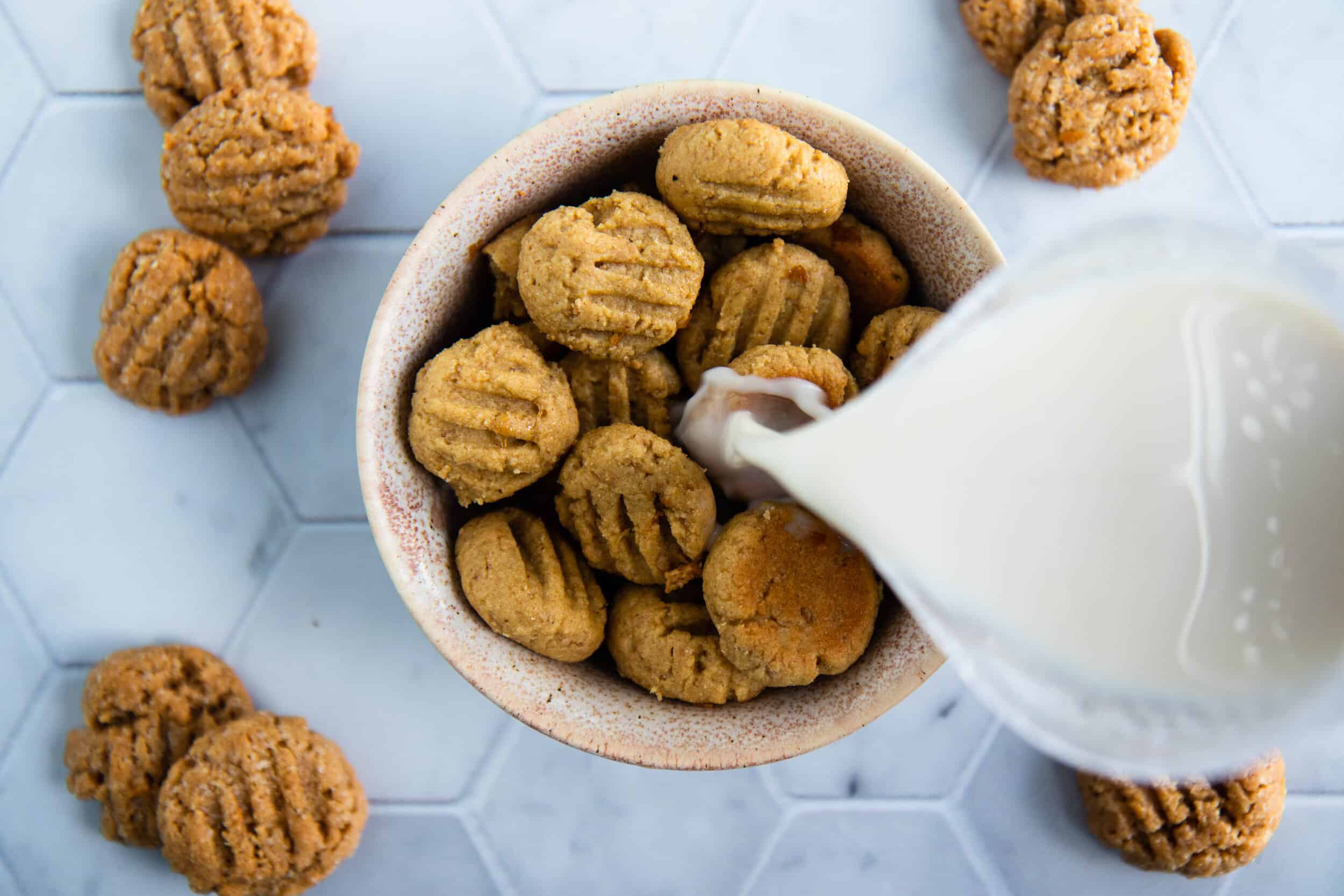 4 Ingredient Peanut Butter Cookies (Gluten and Grain Free)
Makes 16 mini cookies or 10 small cookies (This is definitely a small amount of cookies, so easily double this recipe if you want more!)
1/4

cup

almond flour

1/2

cup

peanut butter

1/4

cup

evaporated cane juice or white sugar

1

egg

Pinch

salt
Preheat oven to 375.

Combine all ingredients in a medium bowl. Add a pinch of salt for a boost of flavor if you want.

Place bowl in the freezer to harden for about 15 minutes so the dough is easier to shape.

Divide dough into about 16-20 tablespoon size portions (for mini cookies) or 10-12 portions (for regular cookies) that are about two tablespoons each. Roll each portion into a smooth, even ball. If you are finding the dough sticky to handle, place in freezer for a bit longer. Place baking sheet bake in freezer or fridge for another 10 or so minutes to harden just slightly.

Using the edge of a fork, lightly press and make indentations into the top of each cookie. You can choose to make a grid or just do one side.

Bake for 13-16 minutes (depends slightly on the size of cookie and how crispy you want it). Let cool completely before eating or moving.