Berries in salads are quite possibly my favorite thing. I could have them every day. A small handful is enough to do the trick, and if you choose some like blueberries or blackberries, you can literally just toss them in (no knife or cutting board needed).
Another one of my favorite fruits: pluots. A hybrid between a plum and an apricot, these are a bit more firm and tart than a typical plum, but sweeter than an apricot. Every late July/August, I get excited about them. I've seen them occasionally in a grocery store, but generally local is where it's at with these beautiful stone fruits.
The crunch: toasted pecans and pluots
The creamy: avocado and blue cheese
The refreshing: green leaf lettuce and white balsamic vinaigrette
The sweet: blackberries, blueberries, and pluots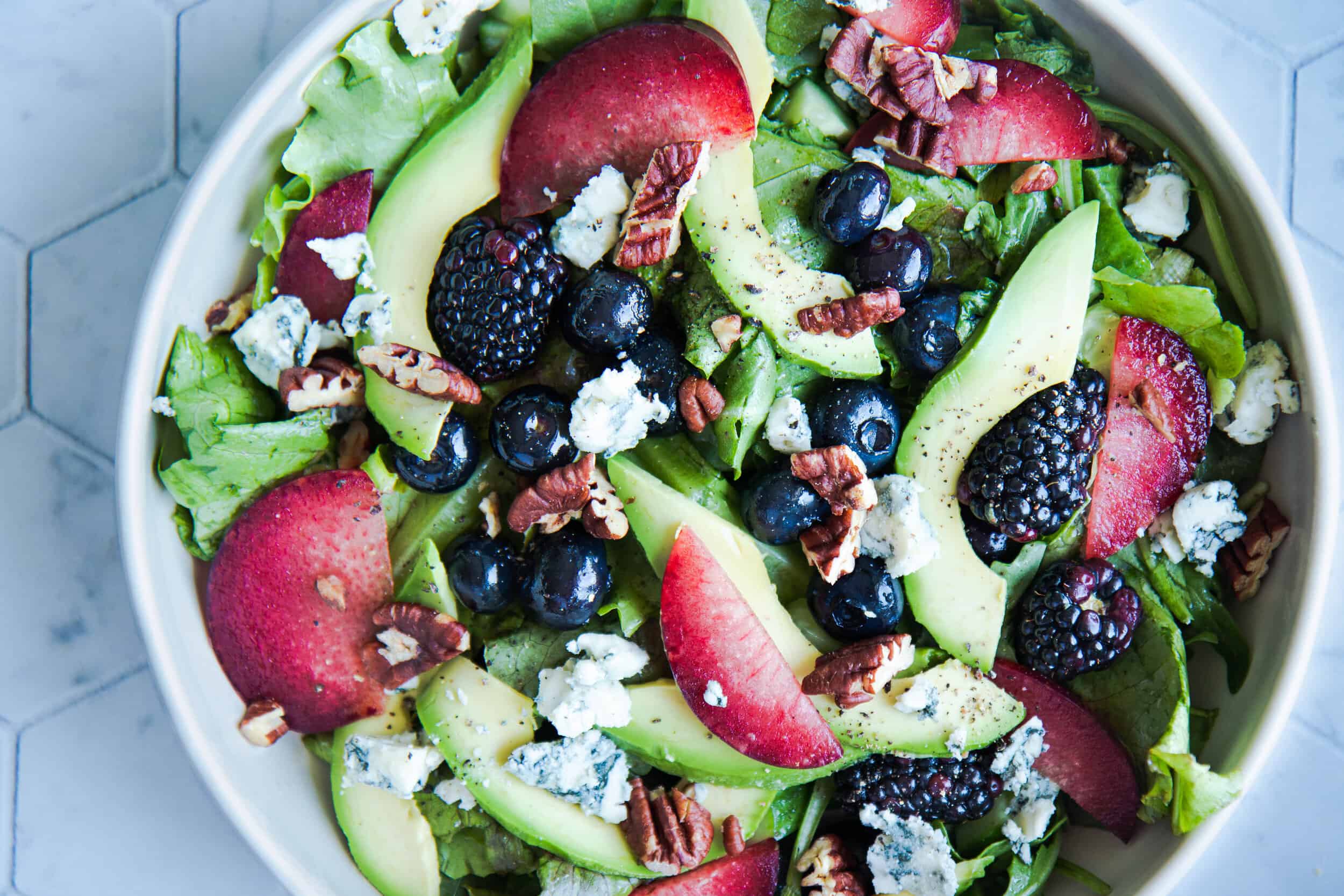 Pluot, Avocado, & Berry Monster Salad
Makes 1 Monster Salad or 2 Regular Ones As always… quantities are really just suggestions. You do you.
1

small pluot or plum

,

pit removed and thinly sliced into half moons

handful of blackberries

handful of blueberries

1/2

avocado

,

sliced thinly

2

tablespoons

toasted pecans *see directions below on how to to toast

1/2

ounce

about 1 tablespoon blue cheese, crumbled

3

cups

or so butter lettuce

white balsamic vinaigrette- see here
Toast pecans: Preheat oven to 375. Place pecans on a baking sheet and bake until fragrant and lightly brown, about 6-8 minutes. Remove and let cool slightly before chopping lightly.

Place lettuce in a large bowl, along with berries and pluot slices. Add in dressing. Top with avocado, blue cheese, and pecans before serving.