If I had to choose one salad to represent fall, this Caramelized Delicata Squash & Apple Tahini Salad would be it. It highlights all the new arrivals of the season in one cohesive, warming bowl. As it gets colder out, my salad needs change. No more refreshing salads of tomatoes and cucumbers. It's got to have some depth.
Technically speaking, that means including vegetables that are less acidic and have less water content. And some form of cooking is key. Roasted delicata squash and cauliflower make this salad robust enough to hold you through the afternoon and add warmth (so you're not wondering why you're eating a salad when it 45 degrees out).
Behind the Recipe: Caramelized Delicata Squash & Apple Tahini Salad
While sometimes I like to branch out and try new flavor combos, this one is a classic to me. It features some of my favorite components to put in a salad. Here's why:
Delicata Squash: Probably my favorite winter squash variety. It's a bit softer, meaning it's both easy to cut (significantly easier than any other squash) and you don't need to peel it. It also roasts fairly quickly (about 30 minutes). Feel free to roast this for the week in advance, although it's best within 2-3 days if possible.
Cauliflower: Another go-to of mine in adding substance, flavor, and nutrition to any meal. Make sure to toss it enough oil so it really caramelizes and browns when it roasts.
Apple: Almost every other flavor in this salad is somewhat nutty and umami-based, so this apple is the juicy and sweet contrast needed to balance it all. Salads like this one are one of my favorite ways to try different apple varieties I spot at the market. It allows you to really get a sense for flavor and texture. Go for one that's slightly tart, mostly sweet, and most importantly: has a good crispness.
Kale: Lacinato kale is my green of choice for the fall. Its heartier and versatile than its relatives. Be sure to cut it into ribbons and rub the dressing into the kale to break it down and make it less bitter/dry.
Tahini Sauce: Tahini goes great with any roasted veggie as well as apples (think about the classic combo of peanut butter and apples; while tahini is technically from a seed, it's the same idea). If possible, try to get a tahini sauce that's on the thinner side (not Artisana- it's very thick! If use that, you may need a bit more water).
How to Cut Delicata Squash
Cut in half lengthwise and scoop out seeds using a spoon.
Place squash flat (cut side down) and cut into 1/2" thick half-moon slices.
Toss in oil and desired spice and roast.
Similar Fall Salad Recipes
Feeling inspired by this Caramelized Delicata Squash & Apple Tahini Salad and want some more? Check out these other fall salads.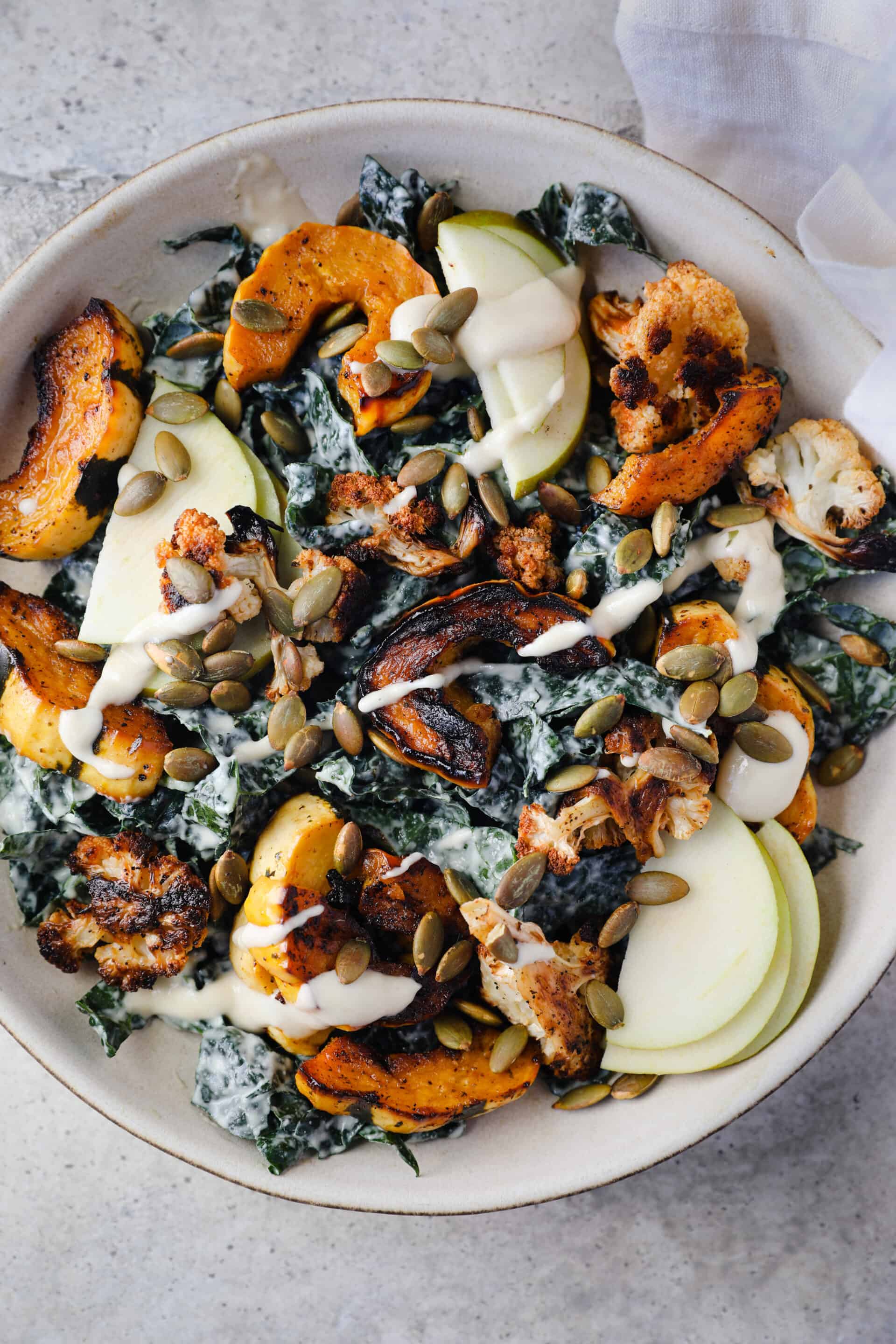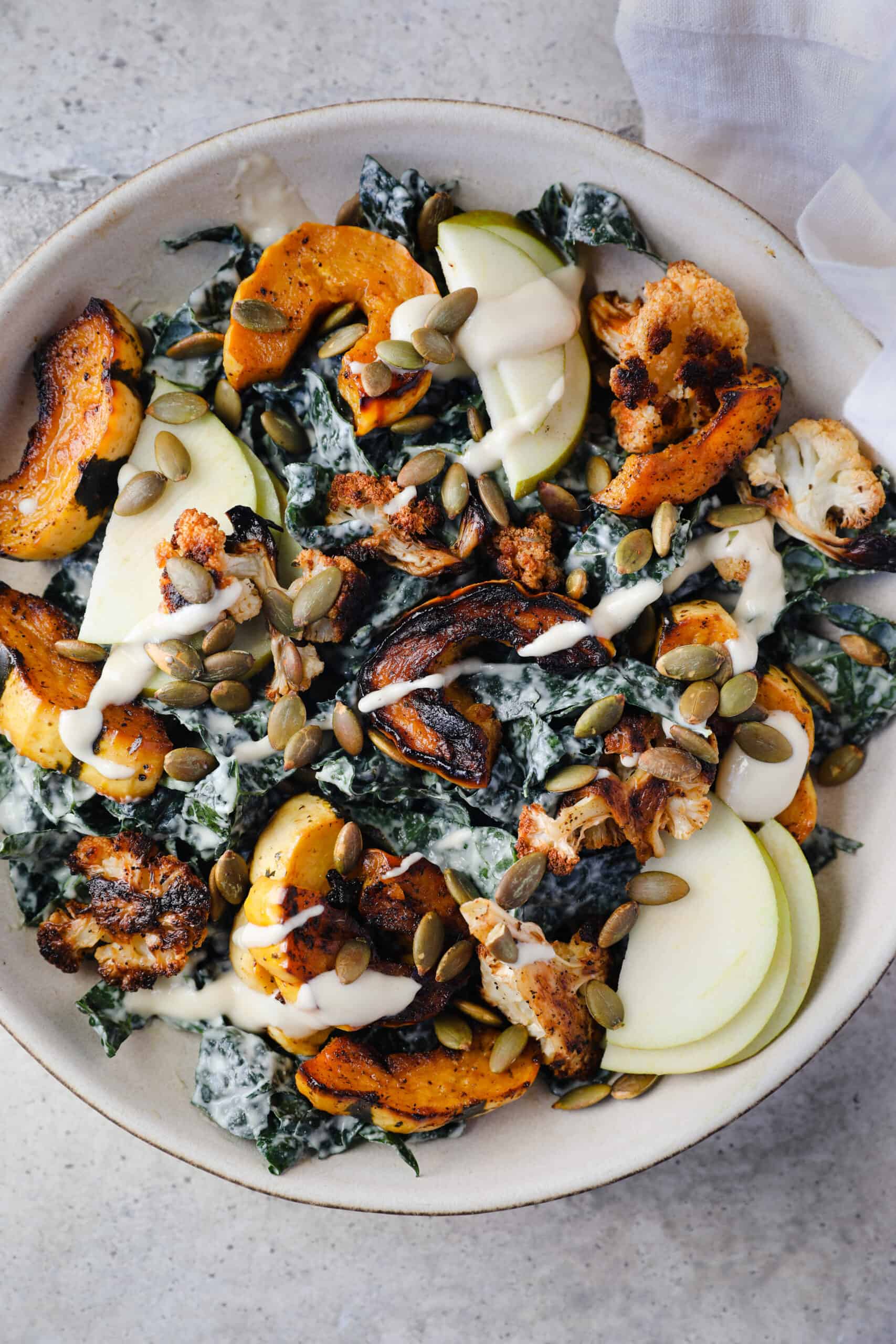 Caramelized Delicata Squash & Apple Tahini Salad
Ingredients
2

tablespoons

extra virgin olive oil

2

cups

cauliflower florets

1

small

delicata squash

, sliced into halfmoon slices (see above for how)

kosher salt

, to taste

1

apple

, sliced thinly

2

packed cups

Lacinato kale

, cut into ribbons

2

tablespoons

toasted pumpkin seeds

(see below on how to toast)

maple tahini dressing

(see below)
Instructions
Roast Cauliflower & Squash
Preheat oven to 400 and line a sheet pan with parchment paper.

Place cauliflower and squash onto pan and drizzle with olive oil and salt. Toss to thoroughly coat (feel free to add some spices if you'd like).

Roast cauliflower and squash until deeply brown, about 30-35 minutes. Check after 20 minutes and toss lightly.
Assemble Salad
Place kale in serving bowl. Add in a tablespoon or two of tahini dressing and massage dressing into kale.

Add cauliflower, squash, apple, and pumpkin seeds. Drizzle with just a bit more tahini dressing and serve.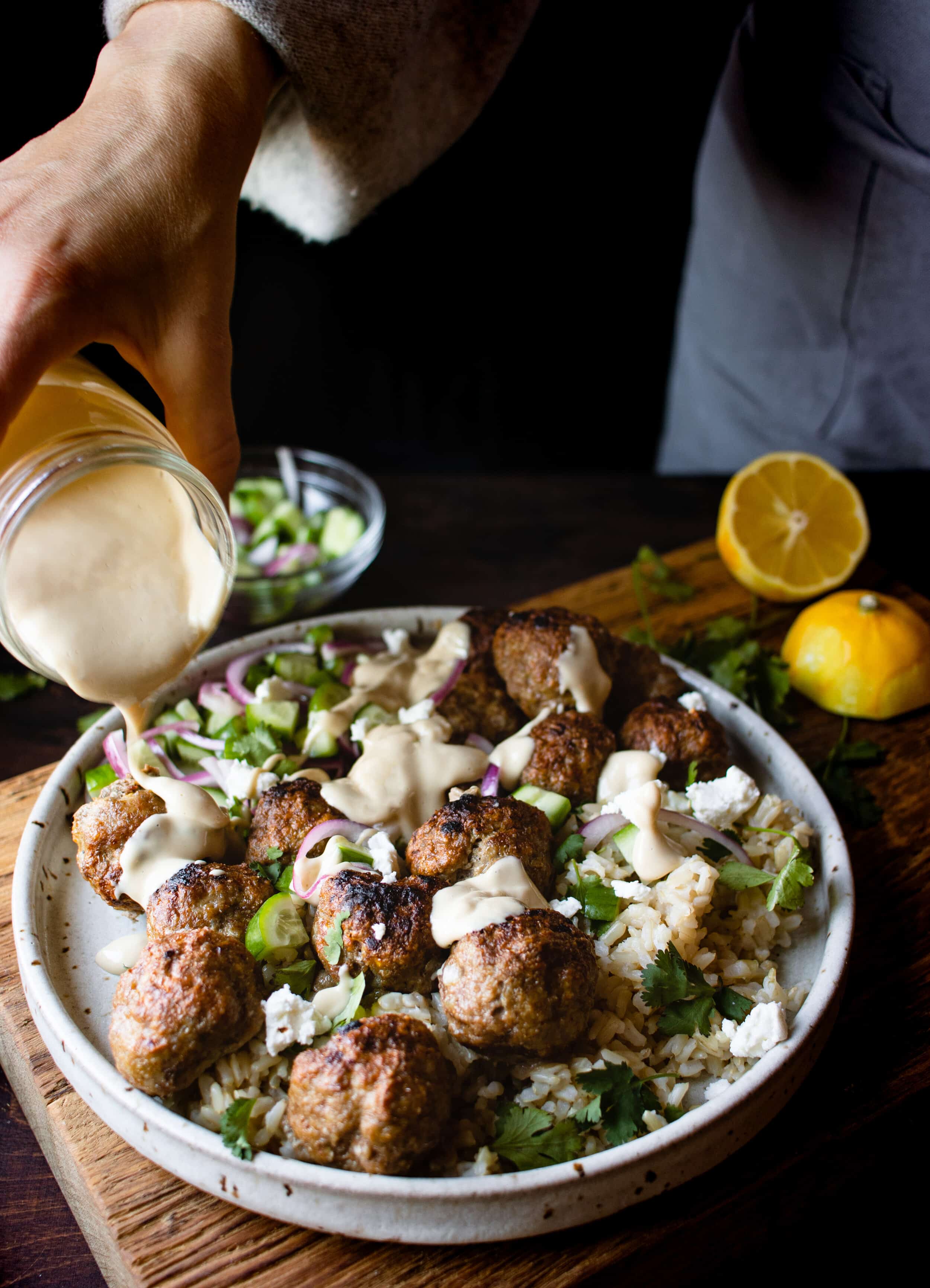 Maple Tahini Sauce
Brands of tahini can greatly vary in their consistency. From my experience, most are on the thinner side- this includes Soom and Whole Foods 365 brand. These types of tahini are best for this recipe. If you find a much thicker tahini- one that is more like a cashew butter or almond butter (like the brand Artisana), you will have to add more water to thin it out.
Ingredients
6

tablespoons

tahini

*see note above for brands/type

2

tablespoons

rice vinegar

(start with 2 tablespoons- taste and add more if you want more acidity- vinegars can really vary in how strong they are!)

scant 1/4

cup (1.5 oz)

extra virgin olive oil

1.5

teaspoons

kosher salt

1

tablespoon

maple syrup

2

tablespoons (1 ounce)

water
Instructions
Mix everything together in a bowl and small blender until smooth.

Store in airtight container for up to 2 weeks. Add more water if it gets too thick in the fridge!
Nutrition
Serving:
2
tablespoons
|
Calories:
120
kcal
|
Carbohydrates:
4
g
|
Protein:
2
g
|
Fat:
12
g
|
Polyunsaturated Fat:
4
g
|
Monounsaturated Fat:
6
g
|
Sugar:
2
g