Note: I wrote this recipe "One Pot Green Rice with Poached Eggs & Coconut" as part of a bigger feature in Edible Boston's Winter 2021 issue. The feature focused on vegetarian recipes that are straightforward, easy, and feature local winter produce. You can see the feature here on Edible Boston, as well as an edited version of the article published in their print magazine below- in particular, I feel like understanding the "why" behind this recipe was key AND how I hope it's used/read.
It's just not as easy to love local produce in the winter. The glamour of tomatoes and peaches is hard to compete with. But if you explore and get creative, winter produce can be just as colorful, rich, and delicious. I wanted each recipe to be like a blind date: a time to get to know a single vegetable- and maybe in a way you hadn't considered before. (P.S. This recipe: all about the hearty greens. In particular, I wanted to utilize their stunning green color to infuse both color and flavor into rice.)
In my early days of cooking, I felt obligated to strictly follow recipes, even if that meant buying spices that just collected dust in my pantry. Over time, I began to think of recipes more like a template with suggestions. If a recipe calls for a bunch of different herbs, it's okay if I only have a couple of them. While this philosophy was somewhat born out of practical constraints, it also made cooking less stressful- to the point of being fun. I had room to play and be creative.
So I encourage you to see these recipes as a starting point. Try swapping out a spice or two based on your personal taste. You may create something even better (and other times not- but it's just a single meal and still worth trying). As a teacher, I know that some dive into this flexibility and experimentation, while others find it daunting. If you find yourself on the "I follow a recipe to a T" end of the spectrum, be sure to read the description for each recipe. I give specific suggestions and ideas on where there's wiggle room to experiment. The more you make it your own, the more likely you are to make it again.
"Will you make it again?" is always my first question when assessing a recipe and my ultimate goal. It sounds obvious, but this question considers both the final product and the experience of making it. Have you ever finished a recipe, only to stare and wonder if a tornado just went through your kitchen? For me, the final straw was a stuffed pumpkin. After an inordinate amount of steps, the pumpkin was finally in the oven. And then I stepped back and saw the number of bowls and utensils to clean. Even if it was delicious, I knew I probably wouldn't make it again, or at least not anytime soon.
Luckily, a recipe can have minimal ingredients, equipment or steps while still being creative and bold in flavor. While we often have our go-to flavors, I've found the key to consistently cooking most nights and not getting in a rut is mixing it up. So enjoy this collection of cozy vegetarian recipes that features a wide variety of flavors, textures, and aromas while also fitting into your busy schedule.
Recipes in this Feature:
Cabbage Fritters, Two Ways
One-Pot Cilantro Lime Rice with Poached Eggs
Fried Cheese & Roasted Beet Salad
Caramelized Cabbage & Orzo Risotto
Roasted Squash with Toasted Sesame Seeds & Yellow Raisins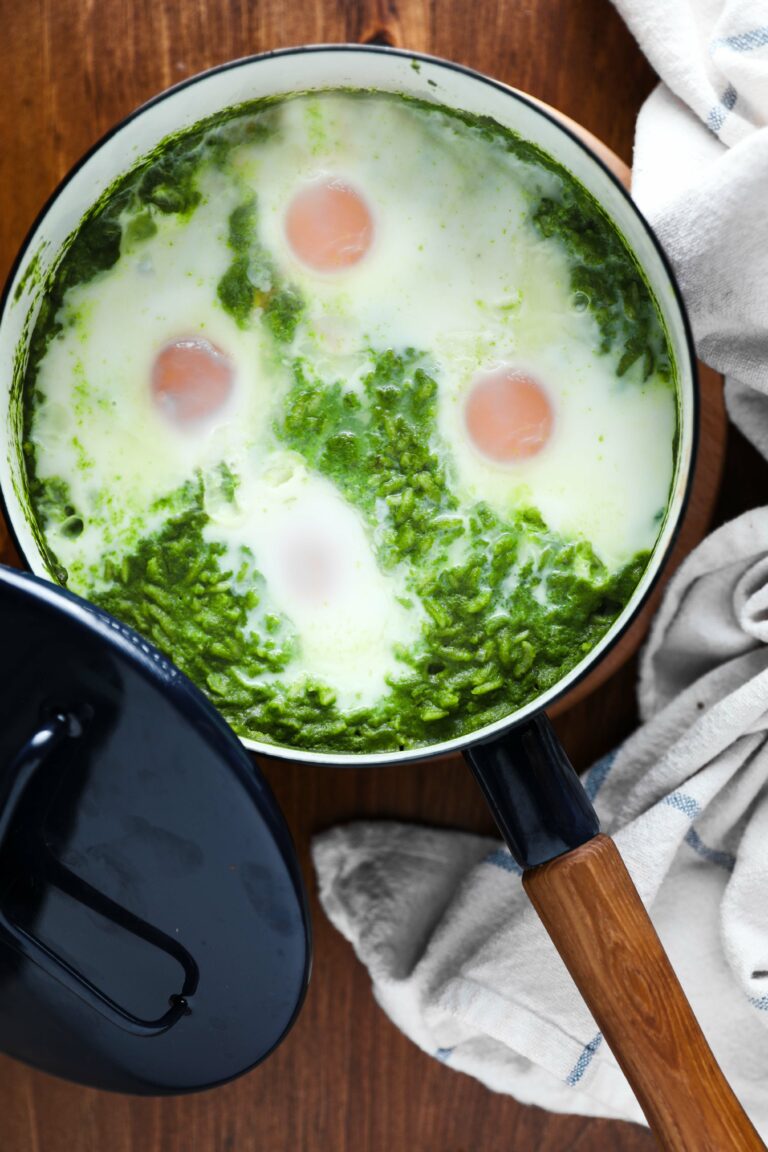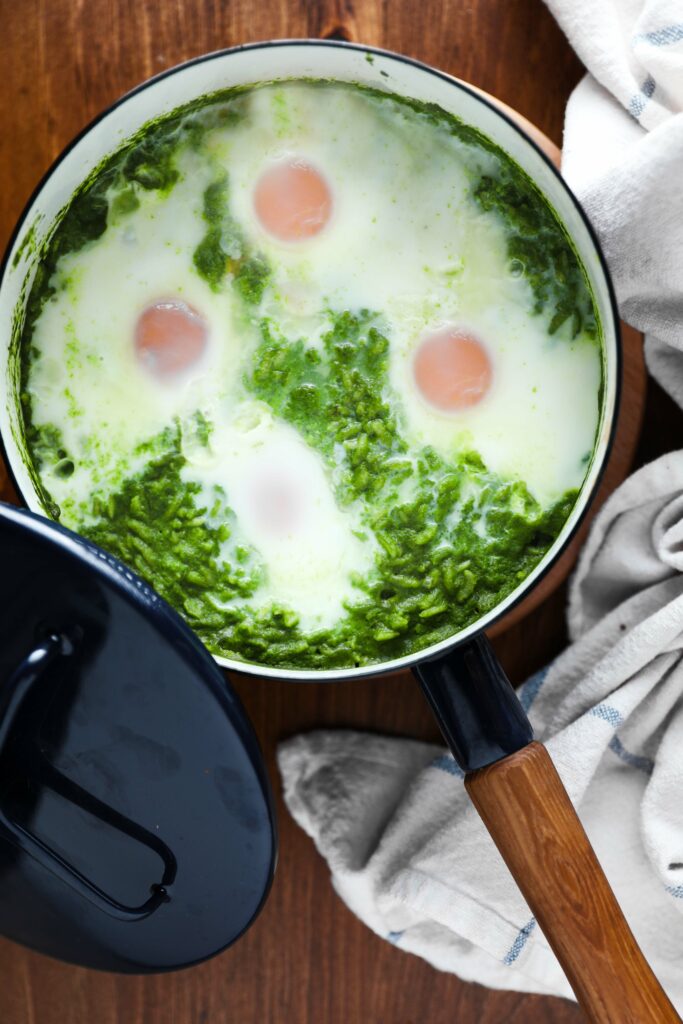 And now to this recipe… One Pot Green Rice with Poached Eggs & Coconut
If you're a fan of Shakshuka and bold herbs, this one-pot meal is for you. Rice and greens are cooked together in cilantro coconut milk and then topped with perfectly poached eggs. Feel free to mix up the herbs or use a combination depending on what you have around. You can also substitute spinach for the kale/collards, but reduce the water added from ⅔ cup to ½ cup.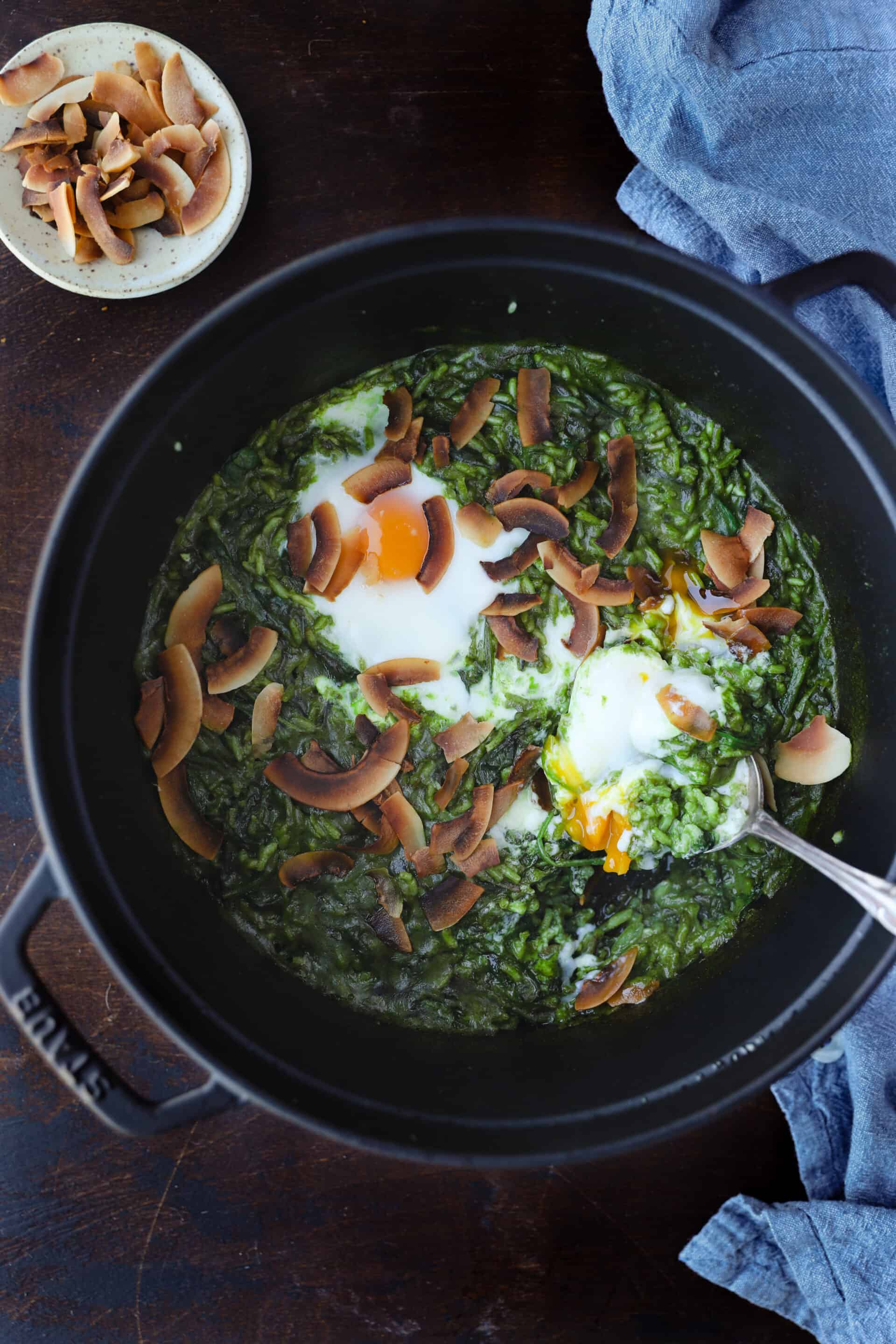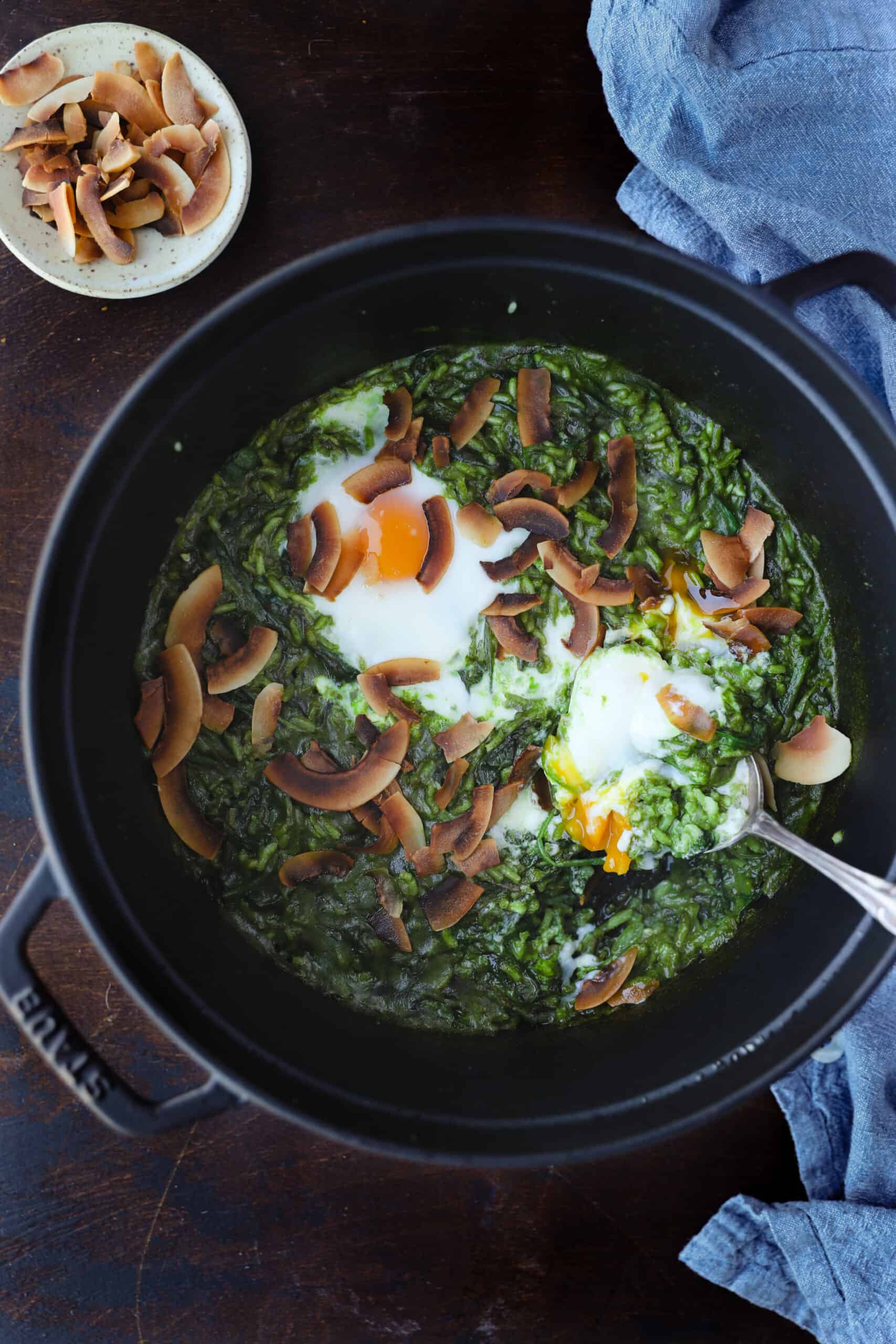 One Pot Green Rice with Poached Eggs & Coconut
This recipe was featured in Edible Boston, Winter 2021.
1

can

coconut milk

,

(full fat)

1

bunch (1 oz)

cilantro

,

 leaves and thin stem included

1

bunch (4-5 oz)

lacinato kale or spinach,

,

stems removed and cut into ribbons

1''

piece

ginger

,

peeled and grated (about 1 teaspoon)

2

garlic cloves

,

(1 whole, 1 grated/minced)

1

lime

1.5

teaspoons

diamond kosher salt (if using any other salt, use half the amount)

,

, divided

2

tablespoons

olive oil

1

large shallot

,

, sliced

optional: ½ large

kohlrabi

,

, peeled and diced into ¼'' cubes

1

cup

white basmati rice

4

eggs

optional:

toasted coconut

,

(unsweetened)- just dry toast in a cast iron skillet for about 5 minutes
In a blender, combine 2/3 cup water with coconut milk, cilantro, collards, ginger, one garlic clove, zest of one lime and ¾ teaspoon diamond kosher salt (or just under ½ teaspoon sea salt). Blend until smooth.

Heat a medium dutch oven over low heat. Add in olive oil, shallot (and kohlrabi, if using). Saute until just beginning to turn brown.

Add in the grated garlic clove and saute until brown, about one minute. Add in rice and remaining salt. Stir to coat rice in oil. Add in coconut milk mixture.

Bring to a boil, then reduce heat to a simmer. Simmer, covered, until rice is cooked, about 15 minutes. If you notice that there is still excess liquid, simmer uncovered for an additional 5 minutes.

Make 4 small indents and crack each egg into the indent. Cover pan and cook until egg whites are mostly opaque, but egg yolks are not fully set, about 5 minutes.