I've made some variation of this recipe dozens of times over the last couple of years. It has all of my long-time favorite flavors and ingredients. When I was younger, I always preferred Asian cuisines over American, Mediterranean or Middle Eastern cuisines. While I've branched out more, I still find myself going back to my "comfort zone" when I'm in need of a dish that I know I'll love. I consider this Baked Sesame Soy Salmon Bowl as a trusty weeknight dinner staple.
This recipe is actually very similar to my Cedar Plank Salmon, but this can be done all year round and is even simpler to prep. It can be made in under 15 or so minutes and is super versatile. It's also quite similar to my Miso Glazed Salmon, one of my most popular recipes.
Tips on Buying Salmon
Type: My personal favorite is Atlantic Farmed Salmon because I think it has the best taste and value. I generally get mine at Whole Foods where it is about $9-10/pound.
Size & Amount:

Individual 5 Oz Portions: If cooking for just myself or two people, I will often get the pre-portioned 5 oz filets at Whole Foods. I find that they are quite uniform in thickness, so they are easy to cook, and one filet is a great portion for one person. It's a great option if you aren't cooking for a lot of people.
Whole Filet: If cooking for more than 3 people, I go for a larger filet of salmon. You can generally fit up to 1-1.5 pounds of a filet onto a whole plank. This looks really nice for presentation as well. My rule of thumb is about 4-5 oz. a person, depending on who I'm cooking for- so 1 pound for 4 people that includes a person or two who generally eats smaller portions and maybe 1.5 pounds for hungry people 🙂
Baked Sesame Soy Salmon Bowls: What to Add
These Baked Sesame Soy Salmon Bowls are fully customizable based on what grain and veggies you add. Here are some of my suggestions in what you should include.
Rice: The easiest and cheapest way to bulk up this meal, especially if making it for a few people. Both white and brown are delicious here!
Stick to the oven: Roast veggies. I personally like doing a starchier that caramelizes and browns like sweet potatoes or winter squash plus a lighter green one like asparagus or broccolini.
Stir Fry Style: Do a high-heat saute of veggies. Here I have mushrooms, snow peas.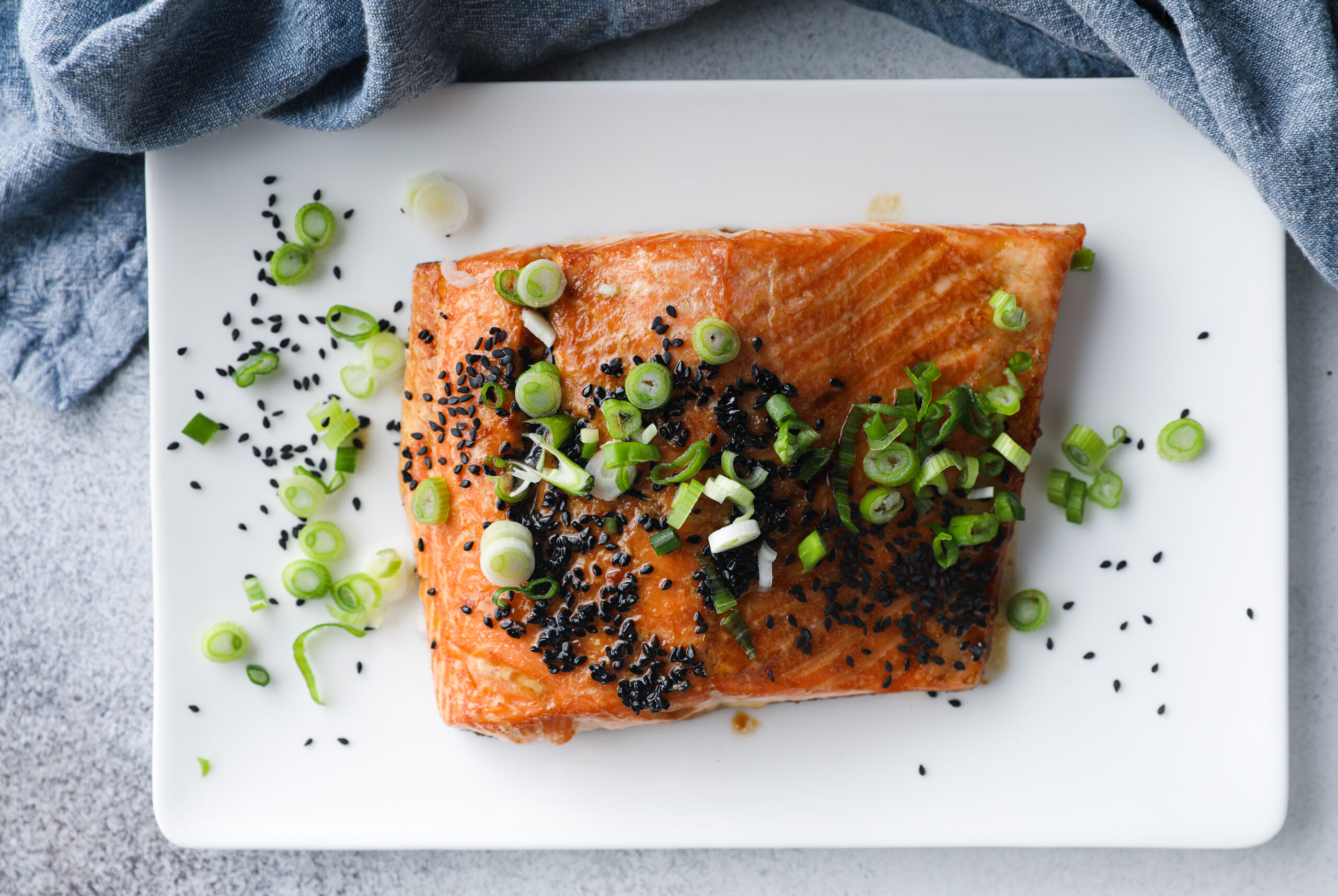 Baked Sesame Soy Salmon
1

pound

salmon

2

tablespoon

shoyu or soy sauce

1

tablespoon

mirin or sake

,

can omit and add additional teaspoon of honey if needed

1

tablespoon

sesame oil

1

tablespoon

rice vinegar

1

tablespoon

fresh grated or pureed ginger

1

teaspoon

maple syrup or honey

diamond kosher salt (if using any other salt, use half the amount)

,

, to taste

optional:

sesame seeds and scallions,

,

for topping
Make it a Bowl: Add-Inn
1

cup

white or brown rice

,

, cooked according to package directions

1

small

winter squash or 2 small sweet potatoes

,

, roasted (about 30-40 minutes at 400)

1

bunch

asparagus

,

, roasted (about 15-20 minutes at 400)
Pat salmon dry. Sprinkle lightly with salt (the soy sauce in the marinade will also some salt, so I don't use as much as I would with other recipes here).

Combine all remaining ingredients (soy sauce, mirin, sesame oil, rice vinegar, ginger, and honey) in a small bowl. Whisk to combine.

Place salmon in a ziploc bag or container that can also hold the sauce. Pour sauce over salmon. Let sit until ready to bake. Depending on time, I sometimes will do this for an hour and other times do for 10 minutes. The longer it sits, the more the flavor will infuse into the salmon, but it will still be tasty in a short amount of time.

Place salmon on a foil-lined baking sheet. Bake until the salmon has an internal temperature of 115-120 at its thickest part, about 13-15 minutes.