In case it hasn't been clear- I'm all about the citrus right now. Over the last few years I've become obsessed with adding citrus flavors in desserts- not sure why I didn't enjoy it when I was younger, but don't worry- I've more than compensated for it. And lemon tarts are high up on the list because of their slightly puckery yet sweet flavor and the contrast of textures between a silky smooth curd and a crisp, slightly crumbly crust. In particular, I loooooove a good homemade curd, and this blood orange tart takes that one step further by using blood oranges for a stunning color.
Behind the Recipe: Blood Orange Tart
This recipe is on the more technical side, but still approachable, I promise! Here are some tips to help you out:
Give yourself a half day to make this. There are two (and maybe three, if you choose to do a meringue) components and the shortbread dough requires refrigeration. You can also do this over the course of a few days to break it up (see below for timeline).

Day 1: Make shortbread dough.
Day 2: Bake shortbread dough into tart pan; make curd.
Day 2 or 3: Serve.

Shortbread Dough: This recipe is adapted from Claire Saffitz's Dessert Person and has been one of my favorites over the past year or so. It's not finicky and doesn't need to be rolled out- you literally just press the dough right into the pan.
Blood Orange Curd: This recipe is adapted from my Foolproof Lemon Curd- one of my absolute FAVORITE recipes of all time. I doubled it, added in some blood orange juice, and reduced the sugar just a bit since orange juice is sweeter than lemon.

There are a variety of blood oranges out there- I've found that the darker ones are best here to get that dramatic color.
Pans to Use
You can use a variety of pans and shapes to make this tart. Ideally, use a tart pan that you can easily pop out the bottom, but this can still be a variety of shapes. Do a 8" or 9" circular tart, a 8" or 9" square tart, or several mini tarts. This recipe is designed for a 9" square, which is the largest one, since I think it's better to have a little leftover dough than not enough.
My preference? The 9" square tart. It's easy to press the dough into and also lends itself to cutting the tart into easily servable squares.
For the mini tarts, I love these silicons molds.
Blood Orange Tart: FAQs
I'm short on time. Can I skip refrigerating the shortbread dough? Sorry, but no- this is a key step to allow the dough to hydrate, which helps with both texture and flavor. You may think you're making it easier, but it will actually be more difficult to handle and results in a less superior product.
Why the almond flour in the tart? This adds to the rich, buttery flavor of the tart.
Can I use just blood orange juice? No- it will be overly sweet. Using half lemon juice is key to making this still have a tang.

Why the arrowroot/cornstarch? This helps the curd set since these are supposed to be bars. Otherwise, you risk having the curd be a bit runny and it will be challenging to cut, serve, and eat each bar.

What do I do with all these egg whites?

Use them to make a meringue to top this with to use them immediately.
You can also use them in the following recipes. You can store the eggwhites in a closed container in the fridge for up to a month- this is actually preferred for a recipe like macarons.

Can I use this recipe to make a lemon curd tart? YES! Just add in 2 tablespoons extra of sugar when making the curd.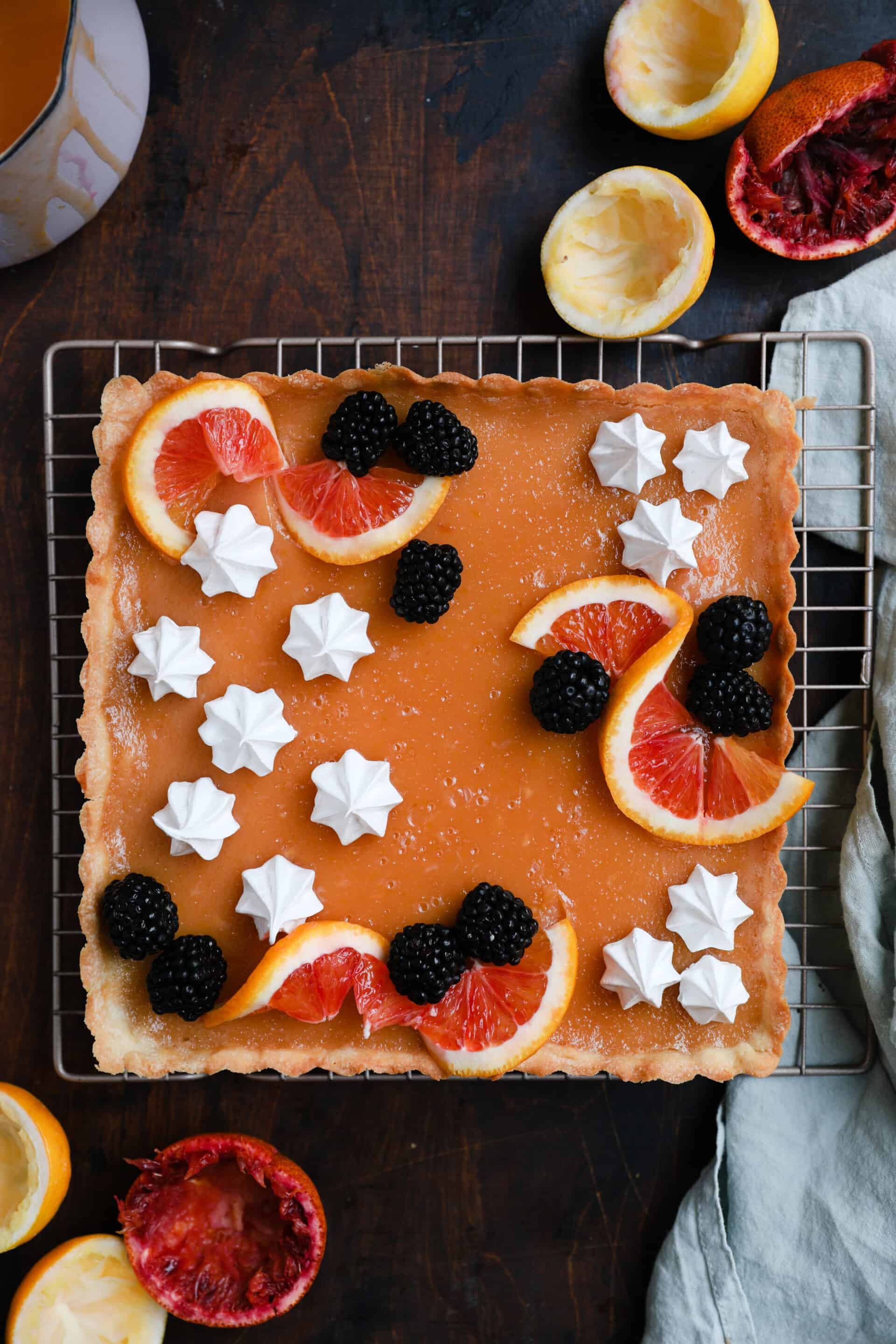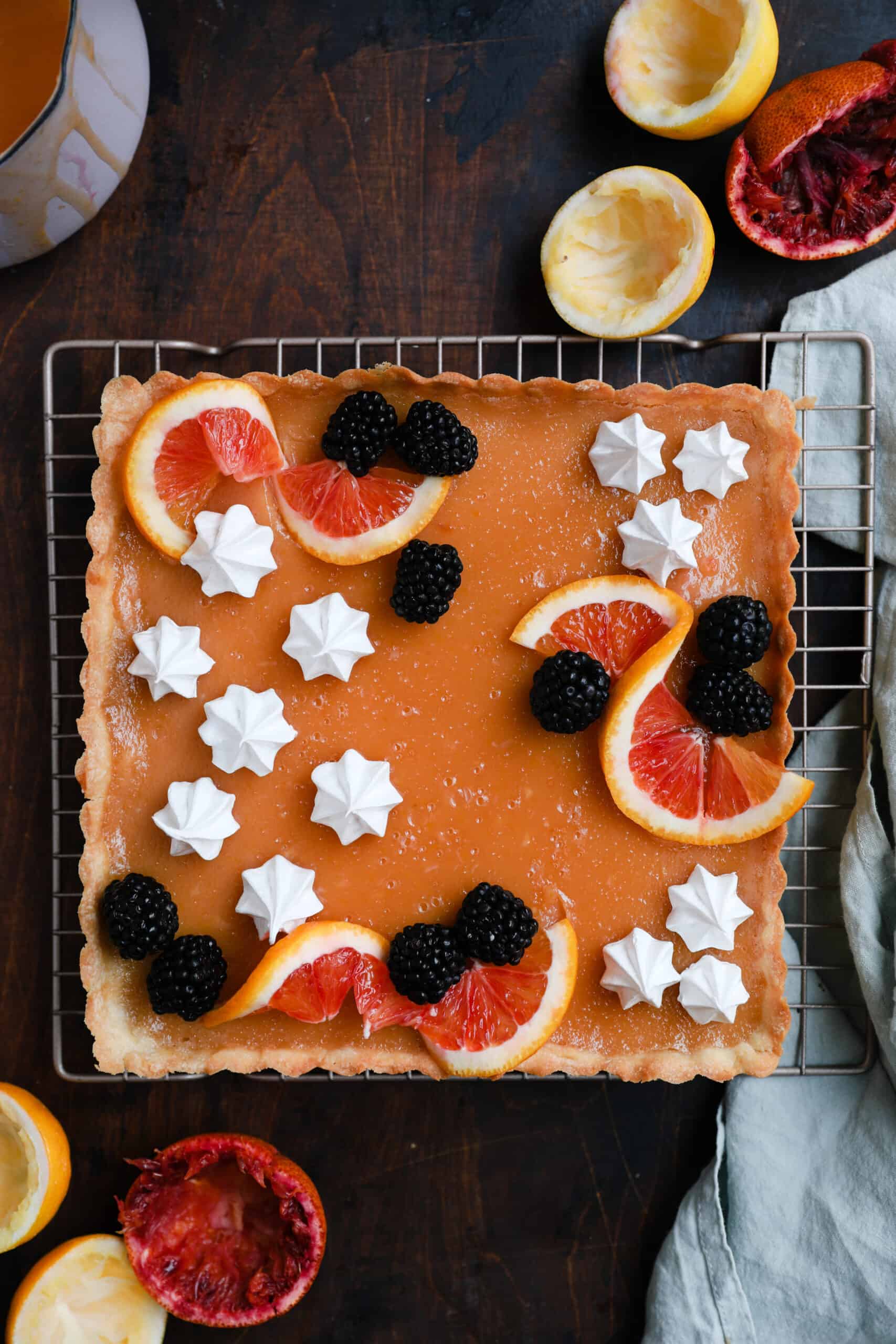 6

tablespoons (80-ish g)

lemon juice (juice of about 1 1/2 to 2 lemons)

,

(from 2-3 lemons)

6

tablespoons (80-ish g)

fresh blood orange juice

,

(from 2 or so blood oranges)

6

egg yolks

2

eggs

1

cup (200g)

white sugar

, I have used half monkfruit sugar and half regular sugar and it's worked well!

1

teaspoon

arrowroot or cornstarch

2

sticks

unsalted butter

,

diced into cubes and at room temp
Shortbread Crust
1/2

cup (56g)

almond flour

1

cup (128g) + 1-2 tablespoons (8-14g)

all purpose flour

1/4

cup (30g)

confectioners sugar

1/2

teaspoon

diamond kosher salt (if using any other salt, use half the amount)

1

stick

unsalted butter

,

, cold and cubed

1

egg

1/2

teaspoon

vanilla extract
Shortbread Crust
Place almond flour, all purpose flour, and salt in a small food processor. Pulse to combine.

Add in butter and pulse until butter are very small pieces, just a bit smaller than a pea. This will require about 30-40 pulses- be patient.

Add in egg and vanilla extract and pulse until combined and dough has congregated into a mass. At this point, check to see how sticky it is- if it is sticking to your hand significantly, add in a tablespoon of flour at a time until it is less sticky.

Shape dough into a ball and then into a disc. Wrap in plastic wrap and place in fridge for at least 2 hours, up to 1-2 days.
Assembly
After shortbread dough has been refrigerated, press dough into tart pan. To do this, split the dough in half. Take one half, and split it into four quarters (for the edges). For each side, roll out the dough into a small log and then press into each side. Then take the other half and press this into the center. The dough should be pressed until it is quite thin- this is ideal! Don't worry.

Bake crust until lightly golden brown, about 20-25 minutes. Let set aside and cool.
Blood Orange Curd
In a medium bowl, place eggs and egg yolks. Whisk to combine. Set aside.

Place lemon juice, orange juice, arrowroot, and sugar in a small sauce pot. Heat over low to medium heat, stirring frequently with a whisk, until it boils. Right after it boils, immediately remove from heat and pour into bowl with eggs, whisking the eggs while you pour- the key is to incorporate this hot mixture into the eggs off heat and whisking continuously so the eggs don't cook, but start to get warm. A quick shock of heat is not good for the eggs- a more gradual increase of heat will result in a better consistency.

Pour this egg mixture back into the saucepan and put over a very low heat. Whisk the ENTIRE time until the mixture thickens, about 3-8 minutes and the temperature registers around 160ish. Some notes here if you want the perfect curd and minimize error:

1. DON'T LEAVE THE POT and whisk the whole time. Seriously. I'm the biggest multitasker ever when it comes to cooking and I don't leave this pot. The likelihood of accidentally cooking the egg is too high)

2. Technically the end temperature should be higher but after doing this about 10 times, I found that 160 works best. I've also found a huge discrepancy in how long this takes- sometimes it happens immediately, sometimes it takes longer.

3. Pay attention to whisk the corners and sides of the pot, as it's easy for egg to get stuck here and then cook. At end, change to a wooden spoon or spatula so you can get a better sense for how thick the mixture is. The texture/consistency you want is that it sticks to the spatula and when you run your finger through the back of the spatula, it doesn't run.

Remove from heat and add butter, a few cubes at a time, stirring until fully incorporated. Once smooth, add into cooled shortbread crust.

Lower oven temperature to 300 degrees. Bake until the center of the curd is set but still has a slight wobble to it, about 30-35 minutes.

Let tart cool completely. Place in fridge for at least an hour before slicing and serving.