This Orange Sesame Grilled Skirt Steak is about as easy as grilling gets: season, grill, and then let it rest in a marinade of fresh orange juice, soy sauce, and toasted sesame oil. It's quickly become one of Matt's favorites. I always test a recipe about four-ish times before publishing, so normally I stretch my trials out over a few weeks so it doesn't get too repetitive. But because I needed to fit this one before I left for Boston and didn't have access to a grill (also Matt appreciates steak a lot more than me), this one went on the fast track. Let's just say Matt was more than ecstatic to have this twice a week for 2-3 weeks.
Even better: I felt confident in telling Matt that even with his busy schedule, he could make this on his own. It comes together in about 20ish minutes and requires minimal prep and work.
While I'm not a huge steak person, I've started to enjoy skirt steak more over the last year or so-solely due to this amazing recipe– an absolute must-try! This recipe is similar in that it's quick and packs a punch with minimal flavors. Of course, Matt has been super happy about that and this Orange Sesame Grilled Skirt Steak has turned into one of his favorite dinners! Good thing it's an easy one.
Behind the Recipe: Orange Sesame Grilled Skirt Steak
This recipe is adapted from Ali Sagle at NY Times. I've kept most of the major ingredients in the originally recipe- citrus, rice vinegar, and soy sauce- but added in toasted sesame oil because it makes everything better (and works well with the other ingredients here) and boosted up the ginger and garlic. I also simplified the directions a bit.
The biggest part that Ali Sagle's recipe taught me: a new method of marinating. It's had me rethink my whole concept of marinating skirt steak. Maybe I'm a traditionalist, but I've always considered a marinade as something that happens before the cooking process. So the idea of marinating and infusing flavor AFTER cooking the steak blew my mind. I was skeptical when trying out the original recipe from NY Times, but couldn't believe the amount of flavor the steak had with this method. It does help to have a large dish/container with a 1" wall to let the steak rest in and serve in. Don't just let the whole steak rest in the marainde, cut also let the cut steak rest in it too.
Surf & Turf Option: Orange & Toasted Sesame Grilled Skirt Steak & Shrimp
Okay as stated above… I'm not the biggest steak person. While testing out this recipe several times, I started just adding some grilled shrimp for myself. Turns out, this marinade works great on shrimp too. Reserve a bit and marinate the shrimp for about 20 minutes before grilling. Then grill with the steak. Done and done!
How to Make it a Full Meal
As far as grains, this Orange Sesame Grilled Skirt Steak definitely goes best with some rice. It soaks up the extra marinade and is the most obvious pairing here.
For veggies, you have some options:

Keep it to the grill: Grill some other veggies while you grill the steak. This works great with zucchini, asparagus, or green beans.
Keep it fresh and a grain/salad bowl: Serve with white rice, leftover orange segments, avocado, & arugula (of course, you can add some grilled veggies if you want to up the veggie factor).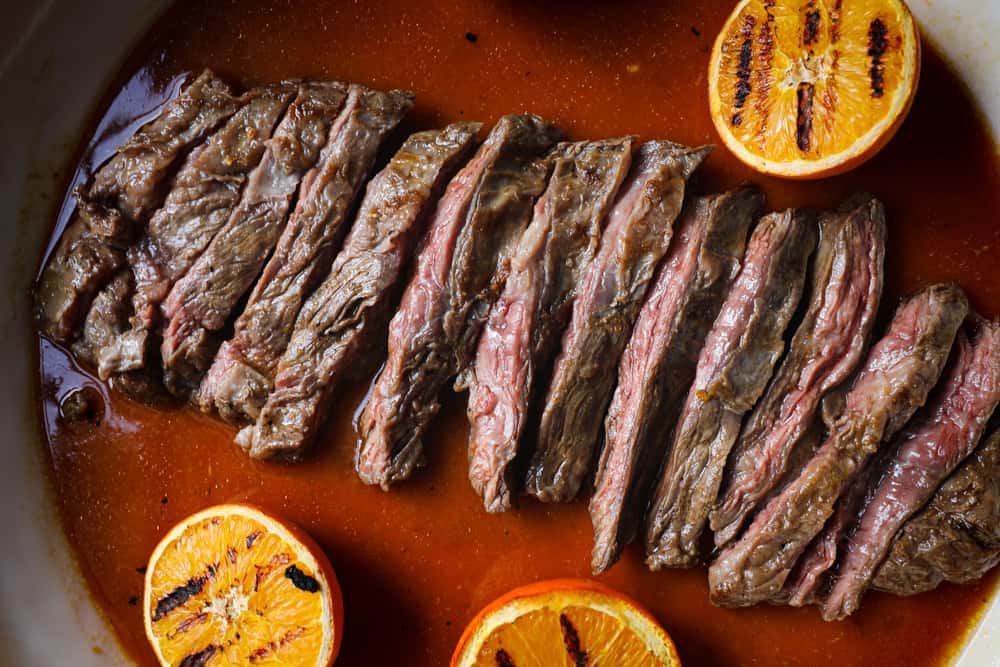 Orange & Toasted Sesame Grilled Skirt Steak
Adapted from Ali Sagle/NY Times
1.5

pounds

skirt steak

,

, if one large piece, divide this into 2-3 pieces- it's more manageable to flip on the grill

1

tablespoon

extra virgin olive oil

1.5

teaspoons

kosher salt

2-3

medium oranges

,

* see note

2

garlic cloves

,

crushed

2

tablespoons (.27 oz)

sesame oil

2

tablespoons

rice vinegar

2

tablespoons

shoyu, tamari, or soy sauce

1

tablespoon

ginger puree

,

(or grated ginger)

optional: 1

tablespoon

red miso

,

(This adds a nice extra umami flavor, but not worth buying if you don't already have it IMO)
Preheat grill to medium-high.

Pat steak dry. If it is a particularly large piece, consider cutting it into large portions (a single 1.5 pound piece can be a lot to handle/flip and cook properly- I prefer 3 pieces). Season with kosher salt. Let sit for about 10ish minutes while grill preheats.

Juice oranges to produce 1/3 cup (3 or so ounces). This varies depending on the orange, but usually can be done with 1-2 oranges. Reserve any extra halves of oranges to grill with the steak OR you can supreme them to include some raw orange segments with the steak.

Combine orange juice with rice vinegar, shoyu/soy sauce, red miso (if using), ginger, sesame oil, and garlic. Pour into a serving dish that has a bit of a rim so that you can rest the steak in the liquid once it's grilled.

Lightly oil steak as well as spray/oil grill before placing steak on the grill.

Grill steak, flipping halfway through, until it registers a temperature of 155 (for medium rare), about 4 minutes per side.

Immediately place steak in marinade and let sit and rest for at least 10-15 minutes before slicing.

Slice the steak and place back in marinade. Serve.