Summer squash- especially the vibrant yellow kind- is one of my ABSOLUTE favorite summer finds. I have it almost every day for the months of July and August because it's so versatile and flavorful. Ironically, I have almost no recipes on my blog that feature it. Why? Because normally I just grill it and well… that's not really a recipe. This Grilled Summer Squash with Cotija & Pepitas is one step above my typical "just grill it" method. It's still simple, but with a few more pops of flavor and texture. Here are a few ways you can serve/use this recipe:
As a side dish for a dinner/dinner party: Serve as an easy and colorful vegetable side dish. It's great for a dinner party or hosting because it looks more impressive and took more time that it really did. My only recommendation is to take just a second of time to arrange how you top the seeds, cotija, and cilantro on top since presentation is key.
As a starting point for a larger veggie bowl: This is how I mainly ate this when testing out this recipe. In addition to grilling the squash, I'd grill up whatever veggies I also had (often green beans, okra, or eggplant) and then add in some greens (spinach, arugula, mesclun) and/or grains (rice, farro, quinoa) to make this more of a full meal. I made my Green Goddess dressing to dress the greens, but used cilantro instead of parlsey.
No Grill, No Problem
To be honest, I can't remember what recipe started my obsession with the broiler, but OMG I'm so obsessed. Especially right now when I'm in an apartment and don't have access to a grill. While if I have the option to grill or broil, I'd grill about 80% of the time, don't underestimate the power of a broiler. It'll help mimic that same charred texture and flavor that grilling gets and will be equally delicious. It's also super simple and quick to do.
The key behind it is to make sure your pan is quite close to the top of the oven (about 6" from the top) and that your broiler gets a bit of time to pre-heat (just about 5 minutes) to also warm up the rest of the oven.
Behind the Recipe: Grilled Summer Squash with Cotija & Pepitas
This recipe is incredibly simple, but with these types of recipes that have such minimal ingredients, each one plays a key role and is worth talking about.
Cotija: This cow's milk-based cheese used in Mexican cuisine has all of the elements I look for in a cheese- primarily salty with a bit of creamy and sweet. I've opted to usually buy it pre-grated (this one from Whole Foods), which I often don't do but tasted just fine and had a great convenience factor. You can also buy it whole and grate it yourself. If you can't find cotija, no worries- just use parmesan. It's not the same, but works.
Pepitas (aka Pumpkin Seeds): The key to making these pop in flavor is the roasting them before hand. I use the same method for all nuts and seeds- bake at 375 for 7ish minutes. Roasting brings out their flavor and aroma. If you're seriously in a pinch and don't want to bake, you can try to dry-toast using a cast-iron skillet over the stoveotop. While it's quicker, it's easier to burn and harder to get an even toast. If I can, I use the oven. Feel free to try out different seeds here to mix it up here too.
Cilantro: A perfect pairing to the cotija since it's also used a lot in Mexican cooking. It adds not only color to the final dish, but a bit of a herby kick. You can omit if you don't like cilantro, or opt for another herb like mint or parsley.
Taco Seasoning/Seasoning for Squash: I've played around with a bunch of pre-made seasoning mixes for this one. To be honest, I've enjoyed most of them. Here are a few of my favs: 1) Everything but the Elote spice mix from Trader Joes 2) Siete Taco Seasoning 3) What's Gaby Cooking Gimme Chili or Taco Fajita Seonirta. I used to be quite anti-spice blends and liked to make my own, but I've come to realize that the convenience can be nice at times.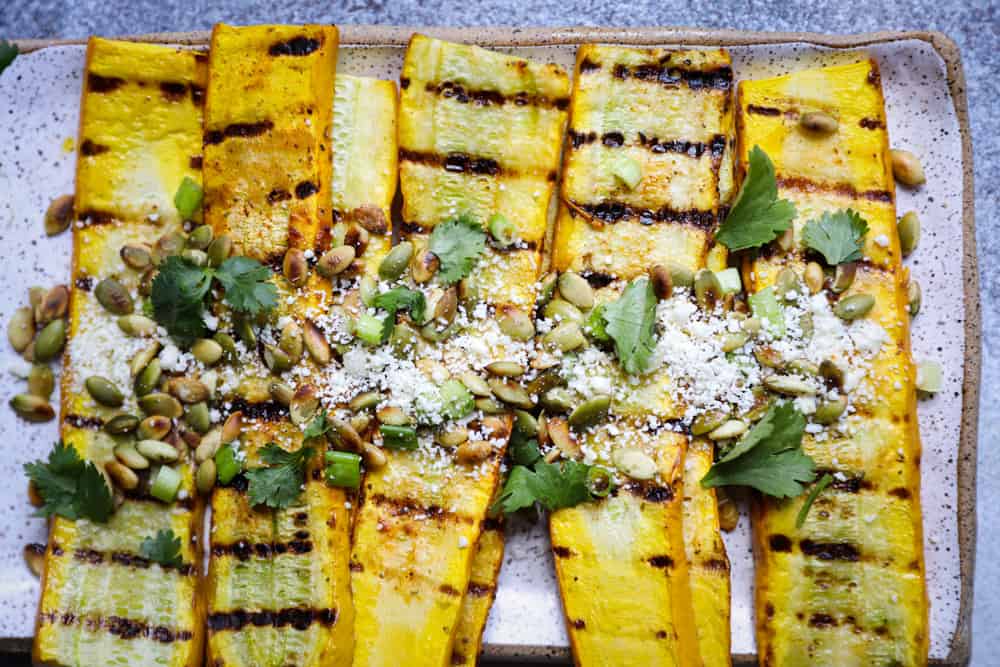 Grilled Spiced Summer Squash with Cotija & Pepitas
2-3

medium

yellow summer squash,

,

sliced into 1/4'' thick planks

1

tablespoon

extra virgin olive oil

1

teaspoon

diamond kosher salt (if using any other salt, use half the amount)

1

teaspoon

taco seasoning of your choice OR Trader Joe's Everything but the Elote seasoning

,

(if you prefer not to use a spice mix, you can combine 1/4 teaspoon each of paprika, chili powder, and brown sugar). See above for brand recommendations

2

tablespoons

crumbled cotija cheese

,

(parmesan works too if you can't find cotija)

1/4

cup

pumpkin seeds

1/4

cup

cilantro leaves
Toast pumpkin seeds (this can be done up to a week ahead of time):
Preheat oven to 375. Place pumpkin seeds on baking sheet. Bake until fragrant and lightly brown, 6-7 minutes.
Grill the squash:
Preheat grill or broiler.

Lay squash into a large baking dish or plate. Drizzle with oil, salt, and seasoning and toss a bit to thoroughly coat squash in oil and spices.

Grill: Using tongs, place squash onto grill over medium-high heat. Grill until charred on one side, and then flip to repeat on other side. Time widely varies depending on grill, but usually this take about 3-5 minutes/side.Broil: Place squash onto a foiled lined baking sheet and place baking sheet about 6'' from top of oven near the broiler. Broil until charred on top. Remove from oven just to flip the squash (using tongs) and repeat on other side. Time widely varies depending on broiler and distance from broiler, but usually this take about 3-5 minutes/side.

Place squash onto serving platter. Sprinkle cotija, pumpkin seeds, and cilantro on top before serving.