I love this recipe because the marinade is literally two ingredients, but they both pack a punch and create a super flavorful caramelization on the outside of the steak. It's perfect for a super easy weeknight meal, especially when it's nice outside and you want to enjoy being outside while grilling something simple.
Soooo I might have posted this almost a year ago in my instagram, but hadn't put it on my blog. Now that it's summer again, we've been going back to this recipe about once every two weeks, so I felt like I had to post it so 1) Others can try it out 2) I don't forget about it (which would be a tragedy). Here's my original post from last August:
WHAT?! STEAK?! It says a lot that I'm posting a recipe that features steak. Ask my family or friends- I haven't eaten steak in around 20 years. While I eat red meat occasionally, I steer clear of steak (it's a texture thing). But this recipe looked too good to pass up (and I figured Matt would eat it all with no complaints if I really didn't like it). Two strong flavors- balsamic and soy sauce (use liquid aminos for whole 30 or tamari for gluten-free)- give this tons of flavor and char nicely. It's also quite easy with a simple marinade and quick grilling time.
While I still won't be eating steak a ton, I found this a nice way to add in new flavors and textures to keep things interesting. Add on top of a salad or grill some other veggies with it for a whole meal.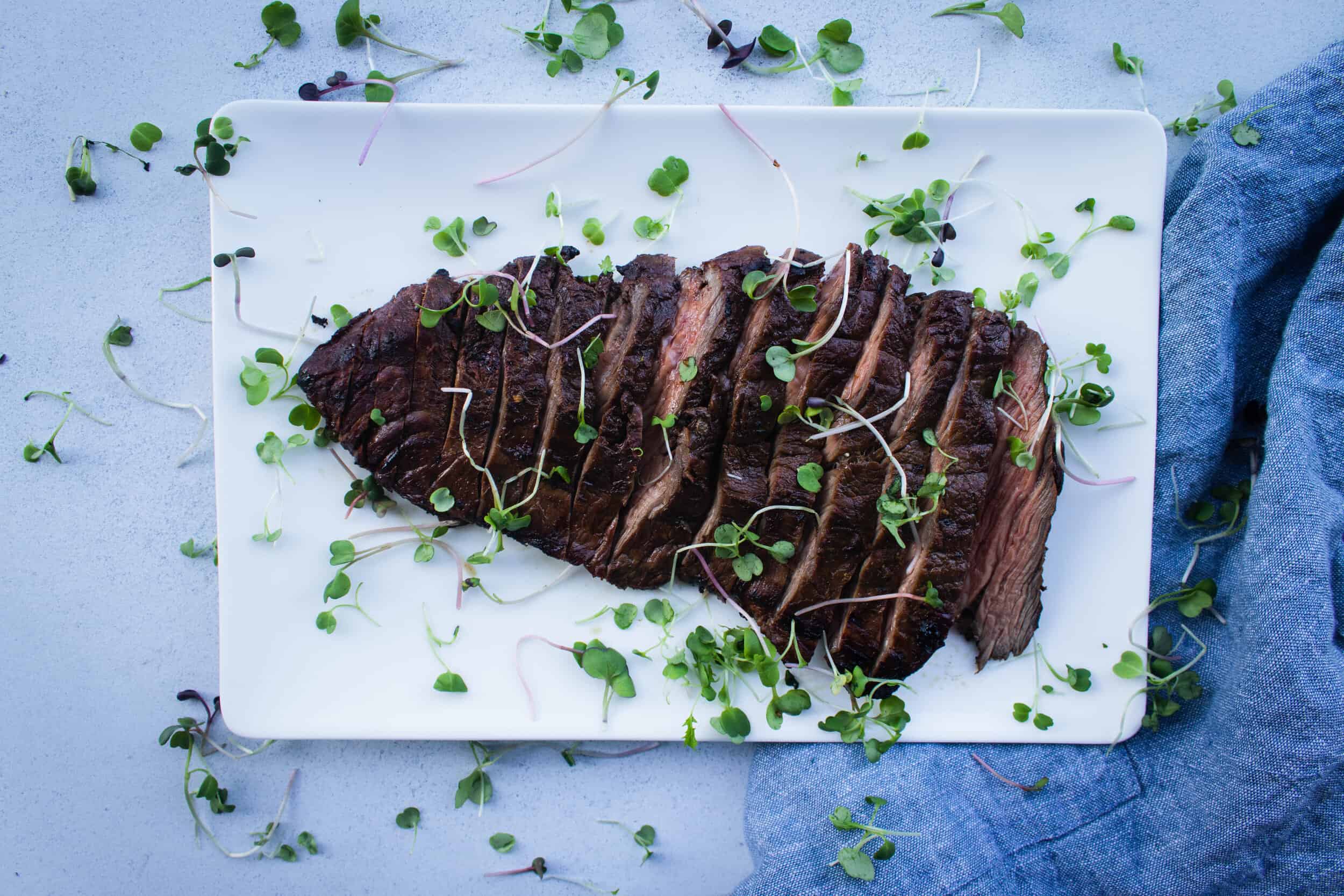 Go-To Grilled Skirt Steak
Adapted from Food and Wine
1 1/4

tablespoons

balsamic vinegar

1 1/4

tablespoons

tamari, shoyu, or soy sauce

1/2

teaspoon

kosher sea salt

1

pound

flank steak
Season steak with salt. Place steak in a large ziploc bag or in a large container. Pour balsamic vinegar and soy sauce over steak. Marinate for at least 30 minutes, up to 8 hours (the longer the marinade, the strongr the flavor). Occasionally turn the steak while marinating to make sure every part of the steak soaks in the marinade.

Preheat grill to about 400 degrees. Place steak on grill and grill until it is done to your liking- we grill it until 145 which results in a medium-rare steak, about 8 minutes. Let rest at least ten minutes before slicing.
Notes
What can you serve this with? For dinner, I've served this with some roasted carrot fries and a salad. See below for the salad I served this with.