This Citrus Roasted Rhubarb may be my new favorite way to enjoy rhubarb- it's so incredibly simple and requires just 30 minutes in the oven. It takes a bit more time than poaching (see that recipe here), but I've found it to be more consistent and foolproof in getting the perfect tender texture with minimal effort.
A quarter cup of sugar does the trick in bringing down the tartness of the rhubarb while still keeping its distinct flavor. While I've put this on top of cakes, I think this goes best with something creamy and with some fat- something like vanilla ice cream, yogurt, or panna cotta.
Behind the Recipe: Easiest Citrus Roasted Rhubarb
More of a visual learner? Me too. See a step by step video for this Citrus Roasted Rhubarb on my instagram or below.
Massaging the zest into the sugar takes about 30 seconds. It literally is just pinching the sugar and zest between your fingers to release the natural oils in the zest. Why do this? It bring sout the aroma and flavor of the citrus. I've done this with both orange and lemon- lemon is probably my favorite.
Prefer to use a different sweetener than sugar? My guess is honey would work well, although you won't be able to get quite the same effect with the zest. I haven't tried it out.
Prefer this to be less sweet? Again, I haven't tried it out, but I think you could get away with 3 tablespoons of sugar, or maybe even 2 tablespoons if you really want to bring the tartness of the rhubarb out. Keep in mind that the sugar here doesn't just play a role in the level of sweetness, but helps coat the rhubarb to keep it from burning.
Other Rhubarb Recipes
If you're like me and equally obsessed with rhubarb, be sure to check out these other recipes.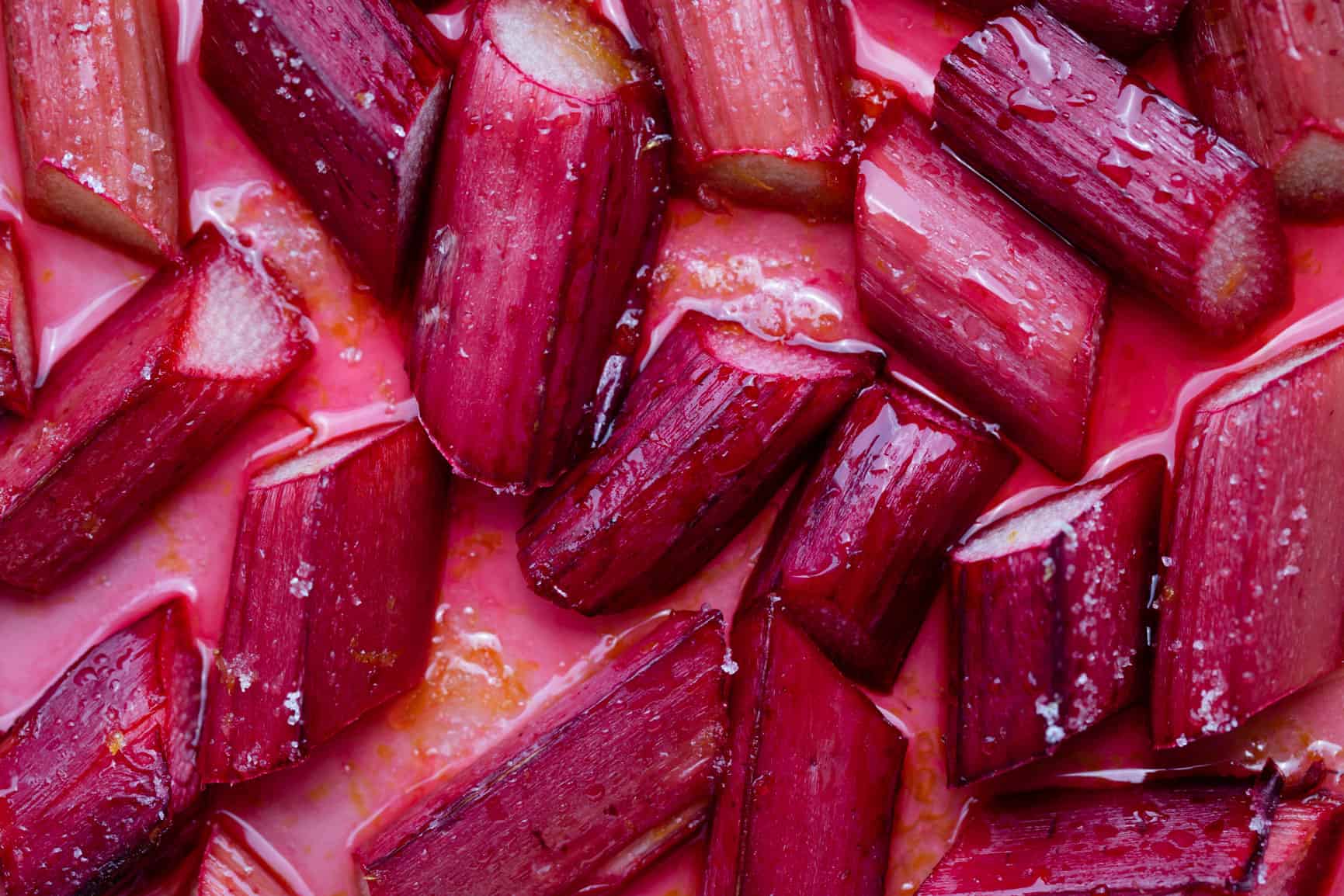 Easiest Citrus Roasted Rhubarb
12

oz

rhubarb

,

sliced into 1'' pieces on a bias

1/4

cup

white sugar

Zest of 1

lemon or orange
Preheat oven to 350 degrees.

Place sugar and citrus zest in a 9×9 baking dish. Massage sugar into citrus zest to bring out the natural oils.

Add in rhubarb and toss. Bake until rhubarb is tender but not falling apart, about 25 minutes. Check halfway through and give a toss. If sugar is sticking to bottom of pan, add just a teaspoon of water.

Serve with yogurt, ice cream, or anything creamy.