I don't like to use hyperboles but seriously… this is one of my favorite recipes I've made in a while. It's insanely delicious and equally insanely quick to make. It also highlights some of my favorite seasonal product right now- radishes.
Baking these tortillas into taco shells might be one of my best discoveries yet. I wasn't sure how'd it go when I first tried it out… Then I was like OMG Why have I not being done this for the past 10 years?! Seriously- it's a game changer and I will be using this for a lot of other recipes.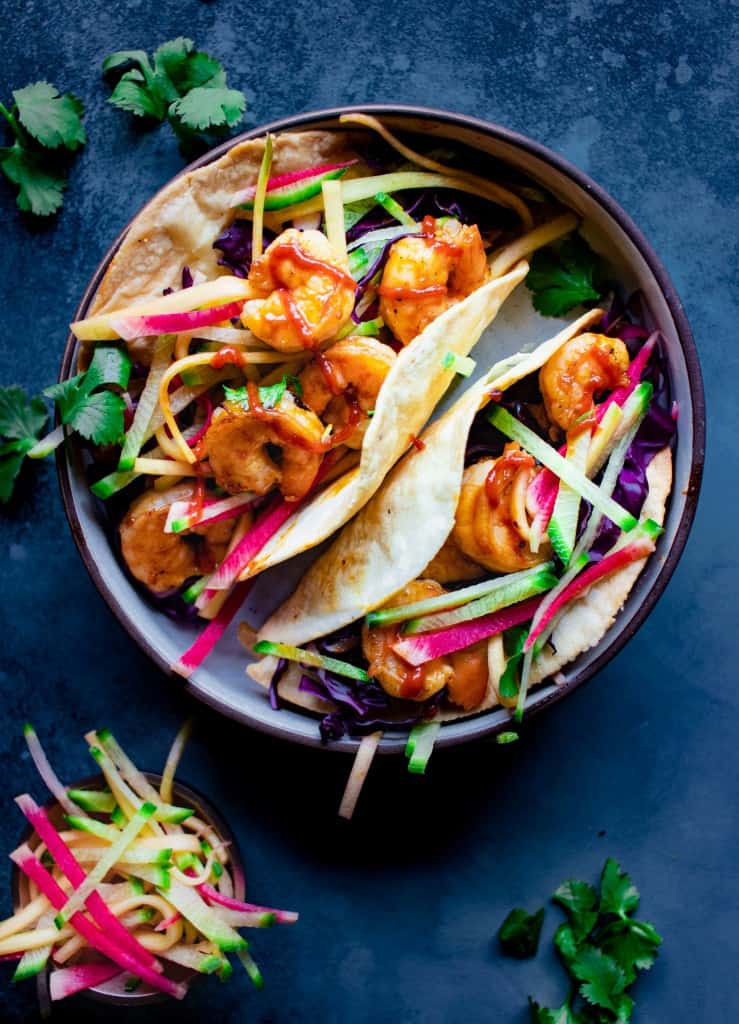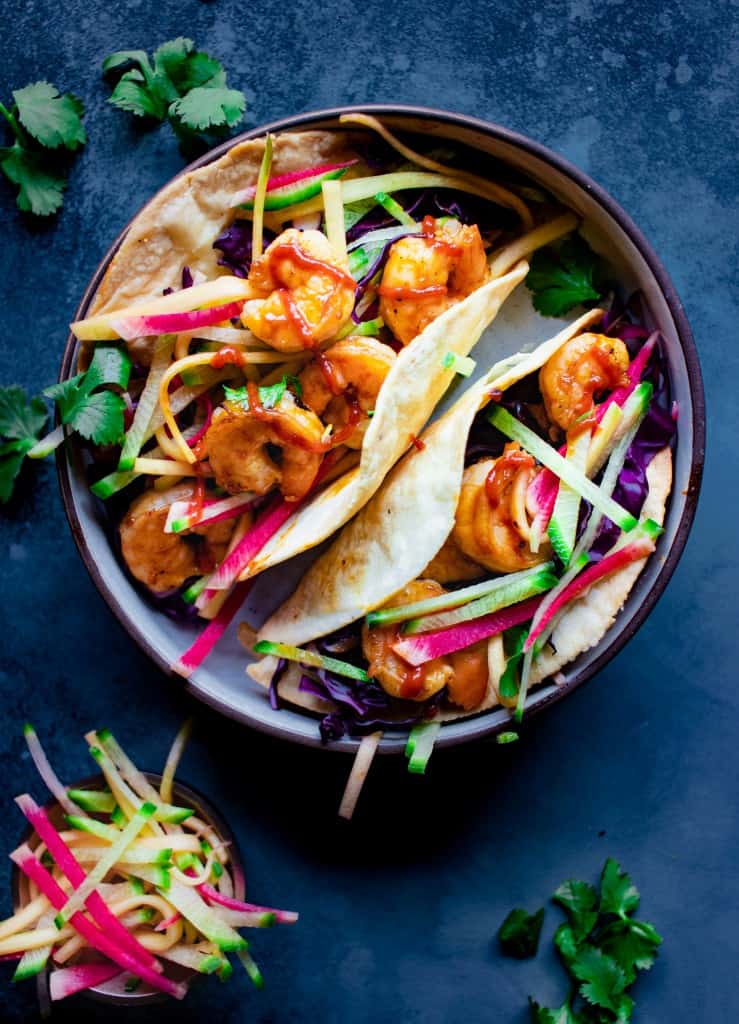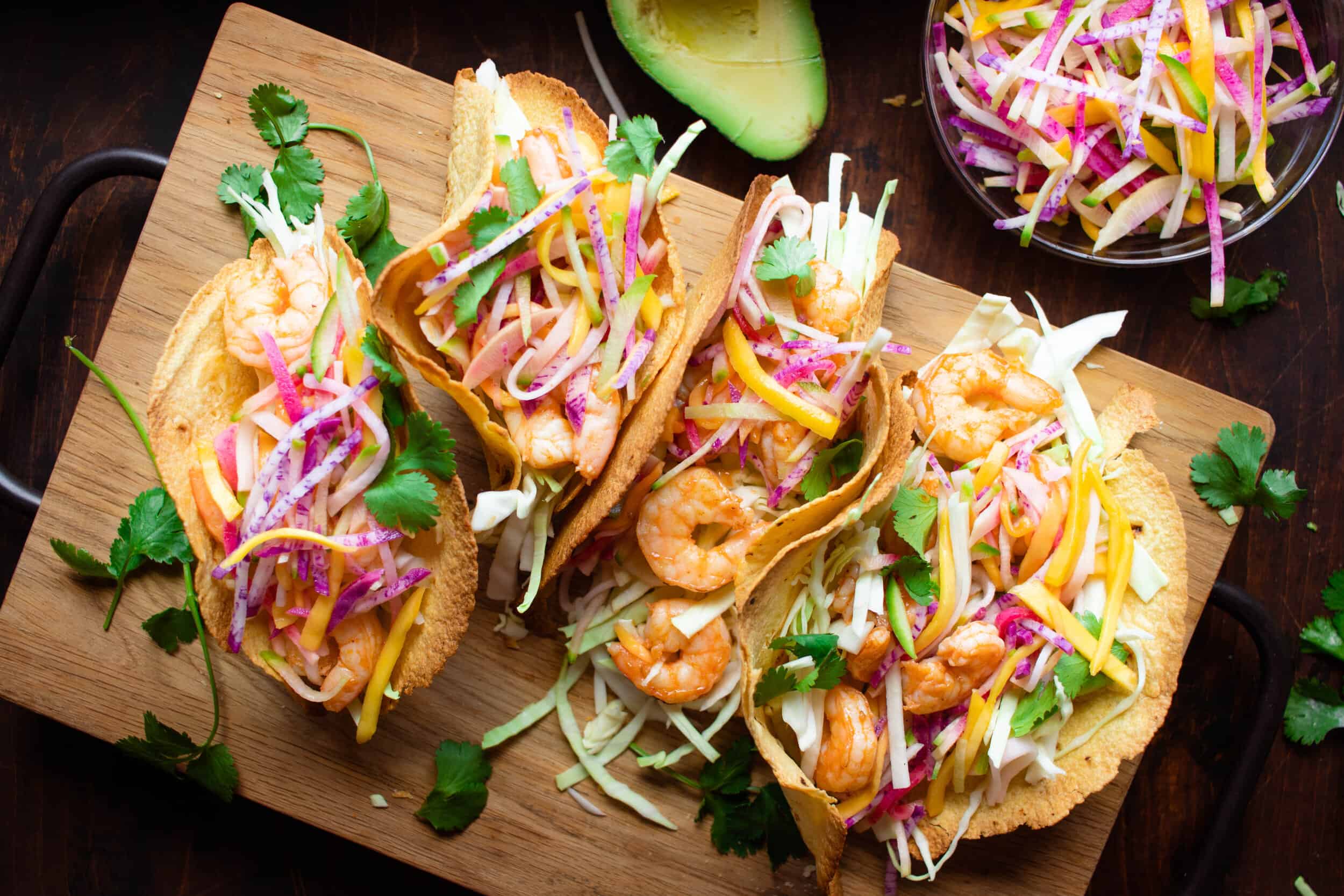 Shrimp Gochujang Tacos with Mango Radish Slaw
Shrimp
1

pound

shrimp

,

26/30, tails removed, cleaned and deveined

2-3

tablespoons

Gochujang Sauce

,

I really like One Culture brand; do 2 if you prefer a lighter flavor, 3 if you prefer a stronger one

1

teaspoon

diamond kosher salt (if using any other salt, use half the amount)

1

tablespoon

neutral oil (grapeseed or canola)

,

, for cooking
Mango Radish Slaw- makes enough for 4 with some leftovers
1

small (4 oz)

mango

,

, julienned

2-3

(about 4 ounces total)

radishes

,

(I used a combination of watermelon, green luobo, and daikon), julienned** (see note below)

optional: 1/2 small

(about 1-2 ounces total)

kohlrabi

,

, peeled and julienned

1

teaspoon

rice vinegar

1/2

teaspoon

honey or white sugar

1/2

teaspoon

kosher salt
Other Ingredients
tortillas of your choice

,

1-2/person

optional: avocado,

,

sliced or mashed

red or green cabbage

,

thinly sliced
Preheat oven to 425.

Make the slaw: Place mango and radishes in a medium bowl and toss to mix. Sprinkle rice vinegar, honey, and salt and toss to thoroughly coat. Set aside while you cook- the longer it sits, the stronger the pickling flavor. This is a super quick pickle, but I like the subtle flavor!

Prep the shrimp: Clean and rinse shrimp. Remove tails. Pat dry and place in a bowl. Toss in Gochujang sauce and let sit while you prep the tortillas.

Prep the taco shells: Microwave tortillas for 15 seconds to soften. Then place on a baking sheet and fold in half to make a taco shell. Place a small lightly crumpled ball of aluminum foil to help keep the tortilla slightly open so you can stuff it once it's hardened. Lightly spray or rub the outside with oil. Place in oven for 8-10 minutes (time varies on brand of tortilla), flipping halfway through, until tortillas are lightly browned and crispy.

Cook the shrimp: Place a large deep skillet over medium heat and add in enough oil to lightly coat the bottom. Add in shrimp in one even layer so they aren't stacked; let sit and cook for about 2-3 minutes per side, until opaque and pink.

Assemble the tacos: I personally like to let people assemble their own tacos- I'll just put out the shrimp, taco shells, cabbage, slaw, and condiments (avocado or guac, sriracha sauce, etc.).