If I had to choose any traditional dessert to eat, it'd probably be pie. I mean, we even served it as a dessert at our wedding (best decision ever). And as far as flavors go, strawberry and rhubarb is probably my favorite combination. Pretty sure I single handedly devoured half a strawberry rhubarb pie on our wedding night. So I knew I needed to do this recipe justice.
A couple of notes on why I like this recipe so much:
The filling. I've adapted it from @bonappetit It has the perfect ratio of strawberry to rhubarb and strikes that balance of sweet and tart. It's plenty sweet that anyone will enjoy (not just myself), but has dimension and depth in flavor thanks to some lemon zest and combination of brown and white sugar.
The pie crust. It takes more than two hands to count the number of different pie crusts I've done. This one I wanted to keep super traditional- no whole grains, no nuts- just all purpose flour. The recipe is from @zoebakes and now having done it several times, I've gotten the hang of it and it's actually quite simple. The addition of butter plus shortening, as well as a bit of vodka in the water, make the crust perfectly flaky and tender. It's now bookmarked as my go to pie dough when I want something traditional.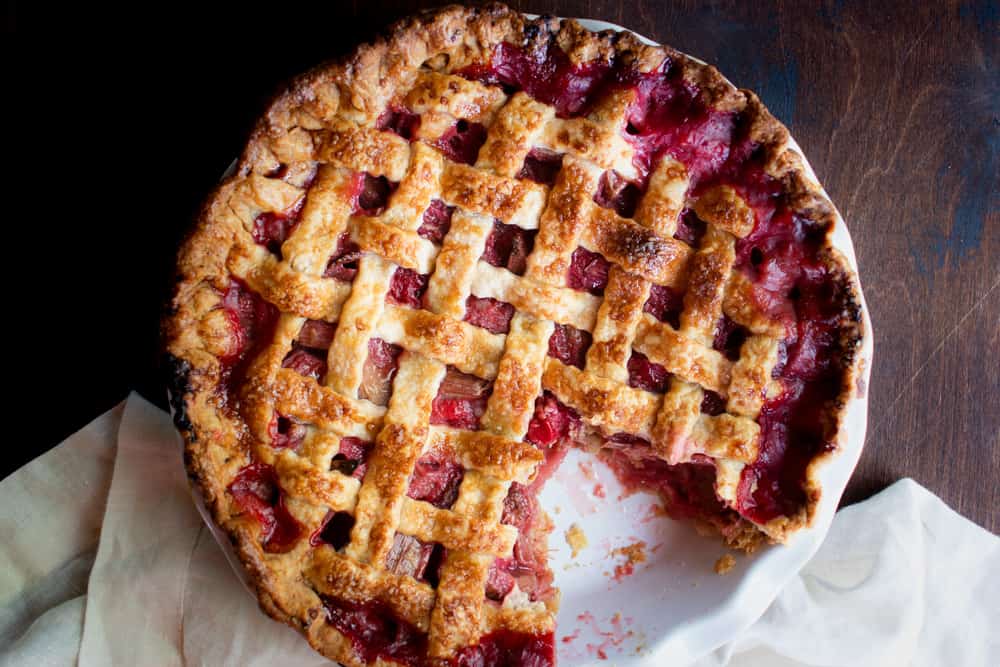 Traditional Strawberry Rhubarb Pie
1 1/4

pounds

rhubarb,

,

cut into 1/2 pieces

1

pound

strawberries,

,

halved (or quartered if large)

1/3

cup

white sugar

1/4

cup

light brown sugar

5

tbsp

cornstarch

zest of 1

lemon

1/2

teaspoon

kosher salt

1

egg,

,

beaten (for egg wash at end)

1

tbsp

turbinado sugar,

,

for sprinkling at end (can also use regular white sugar if needed)
Pie Dough
3

cups

all purpose flour

1.5

teaspoons

kosher salt

2

tablespoons

white sugar

2.5

sticks

very cold unsalted butter,

,

cut into small pieces

1/3

cup

very cold shortening,

,

(I place my shortening in the freezer for 10 minutes right before using)

1/2

cup

ice water

1

tbsp

vodka or lemon juice
Make the Pie Dough:
The key to everything here is keeping everything very cold. Don't take out the butter until you are ready to dice it and when you dice it, minimize how much you actually touch the butter, as the more it touches your hand, the less cold it gets. I also like to put the butter, once diced, in the freezer for about 5 minutes just to chill it even further before adding it in.

Add flour, salt, and sugar in a food processor. Pulse a few times to combine.

Add in the very cold diced butter in the food processor and pulse until the size of a pea, about 30 times. Check by sifting the flour with your hand and checking to see that there are no big pieces of butter. P.S. Do not run the food processor- it will not incorporate in the same way.

Add in the very cold shortening and pulse again, about 10-15 times (a little bit less). The shortening takes less time than the butter to break down

Combine ice water and vodka/lemon juice in one cup. While continuing to pulse the food processor, gradually add the water into the food processor. Don't assume you'll use exactly 1/2 cup- it will be somewhere around this, but can deviate by a tablespoon or two. Instead, here's what to look for: no powdery dough. There should be no leftover and loose flour that hasn't somewhat binded to the dough. It won't come together as a perfect ball yet, but the key is that there is no loose and powedery flour.

Place dough onto a cold and lightly floured surface. Using a pastry scraper if possible (if you don't have one, use your hands, but try to minimize touching the dough with your hands as much as possible), fold dough onto itself- pick it up from the bottom and then fold it to the top to help combine the dough. The dough should come together as one big blob (it won't be pretty, that's okay).

Cut the dough in half (about 15 ounces each). For each half, shape the dough into a disc and cover in plastic wrap or put in a plastic bag. Put in fridge for at least one hour or up to a few days/overnight. Super impatient? You can maybe get away with 45 minutes, but definitely no less.
Make the Pie:
30 minutes before you plan to take the dough out of the fridge, make your strawberry rhubarb filling!

To do this, literally combine all of the filling ingredients listed above- rhubarb, strawberries, white sugar, light brown sugar, cornstarch, and lemon zest in a large bowl and toss to combine.

After you take the dough out of the fridge, let sit at room temperature for 10 minutes to prevent cracking. Roll out the dough into a 12'' disc, about 1/8'' thick.

Some tips:

– Always start with your rolling pin from the center and move out.

– Turn and rotate the dough periodically as you do this.

– Periodically use your hands to cup and round the edges and keep the shape of the dough circular.

– If it is sticking, sprinkle more flour to the surface and to the top of the dough. I usually end up adding a decent amount (probably close to 1/4 cup).

Place 12'' disc into the pie plate of your choice by gently folding the disc in half, place it into the pie plate, and then unfold it.

Add in strawberry rhubarb filling, making sure to prevent any extra juices going into the pie crust. I will usually just use a spoon and tilt the bowl so any extra juices stay at the bottom of the bowl, but you can use a colander here as well. Note: If you haven't made the filling yet, that's fine, but place the ready pie dough in the fridge so it doesn't get too hot while you make the filling.

While you get the other pie dough ready for the top, place this whole pie in the fridge. Then repeat the process from Step 3 to roll out the second disc into a 12'' disc. Using a knife or pastry wheel, divide the dough into strips with even widths (you can eyeball this or measure it out depending on your preference)- I've done this with different widths, but 1'' is fairly traditional. When done, cut off the excess ends of the lattice structure. Crimp pie dough edge as desired

Some tips:

– Start with the longest strips in the center first. Place two strips parallel to each other, and then add in one perpendicular. Repeat.

– The key to having things go smoothly is keeping the dough super chilled. I will actually keep only about 4 strips out and put the rest in the fridge until I need them. If at any point it gets too sticky or wilty, place in the fridge to chill.

Place pie in freezer for 10 minutes or fridge for 30 minutes. Right before putting it into the oven, brush the egg wash onto the top and sprinkle with the turbinado sugar.

Bake at 425 for 5 minutes, and then reduce the oven temperature to 375. Bake until the crust is golden and you can see the filling bubbling and a bit thicker, about 75-85 minutes. Check halfway through and if you see that the crust is getting too dark, cover with foil.

Place pie on a cooling rack and cool for at least 3 hours before serving (Okay I think I've done 2 and it's fine… but the longer you wait, the more the juices will set and not be runny. Your choice!)