In case you missed my stories this weekend, I made @nytcooking Swedish cardamom buns on Friday night. The first attempt… did not go so well. They tasted good, but I felt like the instructions were a bit confusing and not approachable.
Of course, I saw the challenge in front of me and was determined to make these better and create a video for myself (when making it again) and others to make this clearer. 4 times later, a few adjustments on the recipe, and… I think I have itYes, this recipe takes time and is a lot of steps (and I wouldn't suggest for someone who's never baked), but my hope is that my video makes it approachable and fun (that's the point, right?). This might be my favorite baking adventure yet!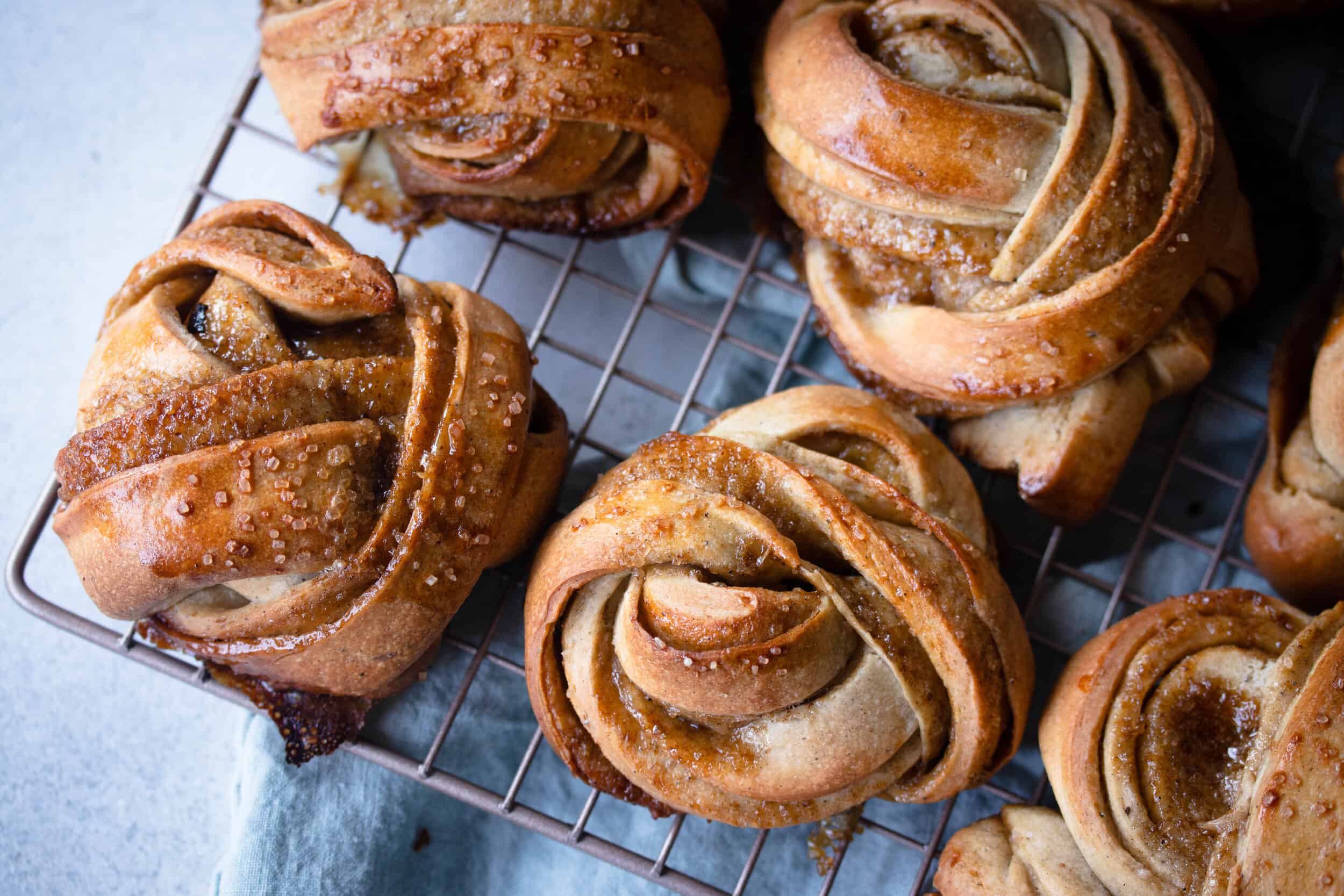 Swedish Cardamom Buns
DOUGH:
1 1/4

cups

whole milk

,

(I tried once with 2% and also worked)

1

active dry yeast packet (1/4 ounce)

4

cups

all purpose flour (510g)

,

(I've also tried with whole wheat pastry and that worked)

60

g

fine cane or white sugar

,

(scant 1/4 cup)

2

tablespoons

ground cardamom (12g)

1

teaspoon

salt (6g)

6

tablespoons

(85g) unsalted butter, slightly softened (I put in microwave @20% for 60s)
FILLING:
~12 tablespoons (5.5 ounces; 160g) unsalted butter

,

slightly softened

7/8

cup

sugar (180g) turbinado or light brown sugar

,

(I also used coconut sugar and did half and half)

1.5

tablespoons

cardamom (9g)

1/4

teaspoon

salt (1.5g)
TOPPING:
1

egg

,

whisked

1-2

tablespoons

turbinado sugar
SEE MY IGTV LINK or the video below FOR A STEP BY STEP VIDEO! I highly recommend this to help guide you through this somewhat complex recipe.
Heat milk in a sauce pan to 110 degrees. Remove from heat and whisk in yeast. It should foam and bubble lightly if yeast is active. Set aside while you combine the other ingredients.

Combine flour, sugar, cardamom, and salt in large mixing bowl (mixing bowl of your standing mixing if using).

Add in butter and milk and begin to mix with the standing mixer using the dough hook. Begin on the lowest speed for 2 minutes. Then slightly increase speed (mine was on a 2 out of 10) for an additional 4 minutes, until dough has come together. It will be slightly sticky, but smooth and easy to handle.

Place dough onto parchment paper or silat and using a rolling pin, lightly roll the dough into a 9×13 rectangle. The dough will be a little elastic and initially return back to its original shape, but as you continue to roll, it will be pliable.

Place dough in fridge for at least one hour (or up to two). At 45 minutes, begin making the filling (it takes about 5-10 minutes to make).

Make the filling: Combine butter, sugar, cardamom, and sea salt in standing mixer with paddle attachment until it is a paste.

Spread filling onto dough in one even layer using an offset spatula. Go out as close to the edges as you can!

Watch video on my below for the next steps, as it is much clearer in video!!

Fold dough into thirds to cover the filling. It will be quite thick at this point, so gently roll out with a rolling pin until 9 (width) by 15 (length). Then cut lengthwise into 1/2'' strips.

Twirl strip into a knot- see video. Place onto a baking sheet lined with parchment paper.

Let sit at room temperature for an hour to rise.

Preheat oven to 450.

Lightly brush egg wash onto each knot and top with a sprinkle of sugar.

Bake at 450 for 8 minutes to get the top nice and golden. The butter will seep out a bit (see pic)- don't worry- that's okay! After 8 minutes, reduce heat to 375 and continue to bake for 12 more minutes. Let cool slightly.