One of my goals in designing this Watermelon & Avocado Salad with Crispy Onions was to make it dairy-free while still having the complexity and layers of many salads that have cheese. I didn't want this salad to feel like it needed or was missing cheese, so playing up other ingredients was key. Avocado adds the creaminess that cheese often would, while fried shallots add the saltiness.
Without cheese, it gave me more freedom to take this Watermelon & Avocado Salad in an Asian-inspired direction with a tangy and umami-packed vinaigrette. It does the trick in rounding out this salad and making it anything but ordinary… BUT still approachable and not too out there! I served this at a dinner party and it went over great.
Behind the Recipe: Watermelon & Avocado Salad with Crispy Onions
Now, I'll be honest. While I had got a spark of inspiration midway through this Watermelon & Avocado salad, it initially didn't start out in quite the same direction. We needed a big salad for a dinner party and two things were clear: we all loved arugula and had a watermelon on hand. Oh and some avocados.
From there, I saw a recipe in Susan Spungen's Open Kitchen for a Vietnamese Watermelon & Tomato Salad and it completely inspired me to take this in a new direction. In particular, her miso dressing piqued my interest. I reduced the fish sauce just a bit and adding more lime juice and used EVOO (and more of it), but I loved these flavor combos. The other thing she inspired me to do- crispy onions! These are gold. While she made homemade fried shallots, I often have grocery-bought fried onions in my pantry as a quick pick me up for any dish and it seemed loads easier.
Easy Tips: How to Dice a Watermelon
While you could prep the watermelon in a variety of ways in this Watermelon & Avocado Salad with Crispy Onions, I think dicing it is best. It keeps the pieces small so you get a bit of everything in one bite.
The knife matters: make sure to use a sharp, fairly large but nimble knife. You need something that can easily cut off the rind but go around the round edges like this Knife from Tuo. It's a great budget-friendly option that does the trick and is beautiful!
Flat side down: Once you cut the watermelon in half, there should always be a flat edge to whatever piece you're cutting. Make sure it's flat side down so the watermelon is stable.
Go small: As a rule of thumb, I will always try to find the smallest watermelon I can. It still yields a ton. I got a fairly small watermelon and had easily 4-5 cups diced watermelon.
Cut off the top, just a bit: You can also see in my pictures that I cut off the round top just a bit to also get a flat side and be able to see where the rind starts and stop. This allows me to make sure I efficiently and easily can slice right where the rind ends to minimize waste.
See the pictures below for a step by step of how to dice:
No Waste: How to Use the Leftover Scraps of Watermelon
Use the scraps: Use the scraps with the rind and make watermelon spa water! All you need to do is put it in some filtered water and place in the fridge for a few hours (the longer it sits, the more intense the flavor). It tastes just like cucumber water you'd have at a spa. Just make sure you've washed the outside of the watermelon first.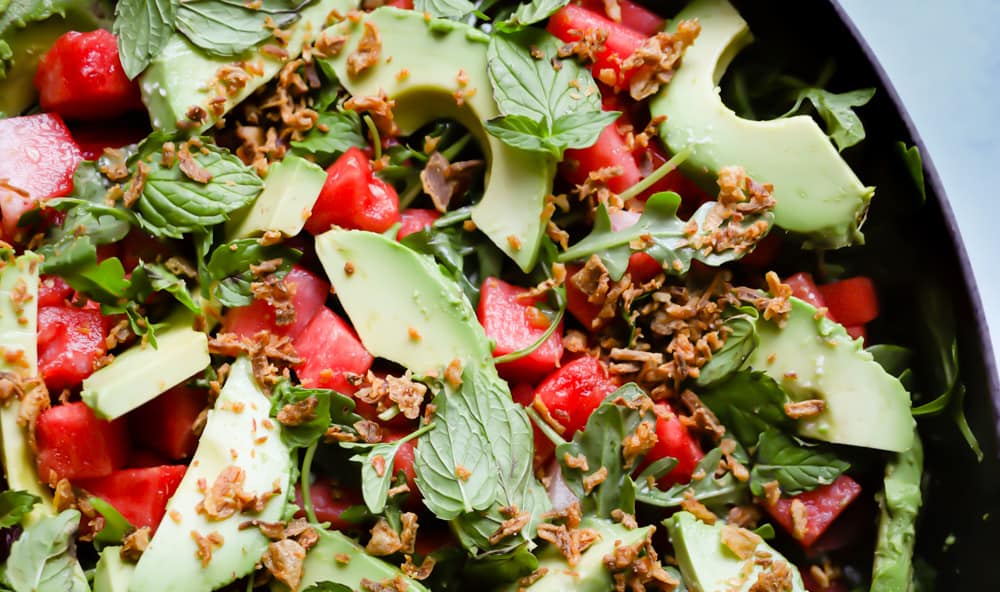 Watermelon & Avocado Salad with Crispy Onions
1

5 oz bag

arugula

,

(about 5 loosely packed cups)

4

cups

diced watermelon

,

(about 1/2 medium watermelon)

2

avocado

,

, sliced

1/4

cup

fresh mint

1/4

cup

crispy fried onions
Miso Lime Dressing
1

tablespoons

white miso

1

teaspoon

fish sauce

juice of 1

lime (2-3 tablespoons)

1

tablespoon

rice vinegar

3

tablespoons

extra virgin olive oil or avocado oil

1/2

teaspoon

kosher salt
Make the dressing: Combine all ingredients in a small blender and blend until miso is thoroughly broken down, about 1 minute. Note: You can do this by hand, but I've found that the miso takes some real work to break down and the blender does it easily.

Assemble the salad: Toss arugula in about 3/4 of the dressing to thoroughly coat. Place in serving bowl. Top with watermelon, avocado, crispy onions, and mint. Pour remaining dressing over salad, season with a bit of salt and pepper, and serve.