These Sweet & Salty Brown Butter Rice Krispie Treats elevate your typical Rice Krispie to a whole new level. Without any additional time. They literally take about 15 minutes to make- no baking required. The first small but seriously impactful change? Browning the butter. This gives a nutty, more complex flavor that the marshmallows soak up. The second change: adding in some salty components. Potato chips and pretzels balance out all of the sweetness of the marshmallows.
This recipe is generally not really up my alley- it doesn't include any seasonal produce. However, there's a time and place for these. I designed this recipe primarily to be done by students, either at home or in the classroom, as a way to learn about brown butter. You can see our video below to not only see how to make this recipe, but also how to brown butter and the science behind it.
Behind the Recipe: The Maillard Reaction
So here's the science in a nutshell: browning butter involves the Maillard reaction, a chemical reaction that is just about ubiquitous in the culinary world. Anytime you "brown" something- so roasting, sauteeing, baking- you see the Maillard Reaction. In this reaction, proteins and sugars are broken down into their smaller parts (amino acids and glucose) and then react to form a variety of flavor molecules. This is why brown butter has so much more flavor and complexity than simple melted butter. You literally are creating flavor molecules when you brown it! Curious to learn more? Check out the video.
After having made simple brown butter rice krispie treats several times (based on a recipe from Smitten Kitchen), I still wanted just a bit more flavor and complexity. Immediately my mind went to salty additions. I'm a sucker for pretzels in any type of dessert and then the potato chips just somehow seemed to be a fun and slightly adventurous addition. The result: Sweet & Salty Brown Butter Rice Krispie Treats that are just divine. And so easy to make.
If you like these and are looking for a cookie variation, be sure to check out my Seriously Addictive Cornflake Krispie Cookies which use marshmallows and cornflake cereal.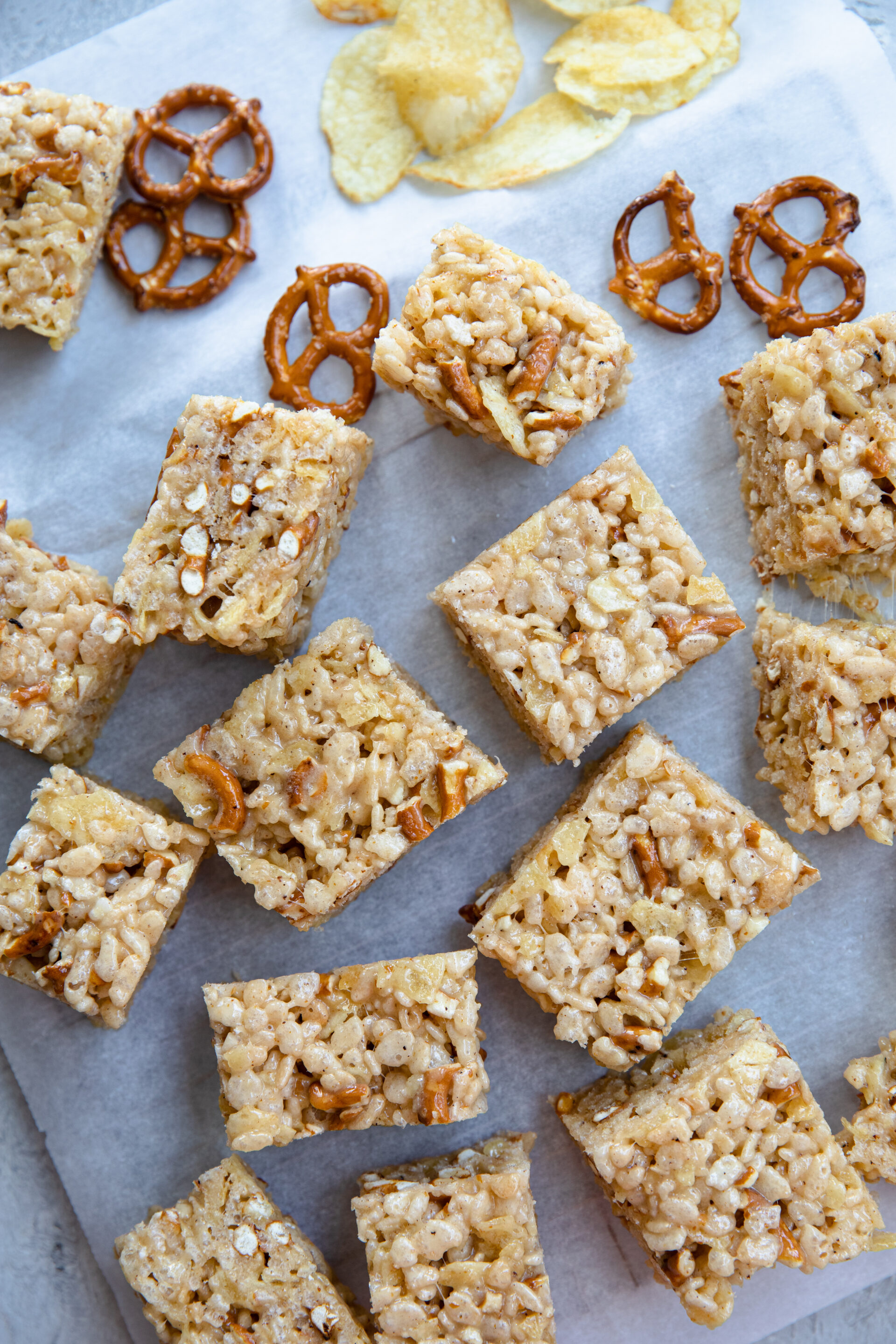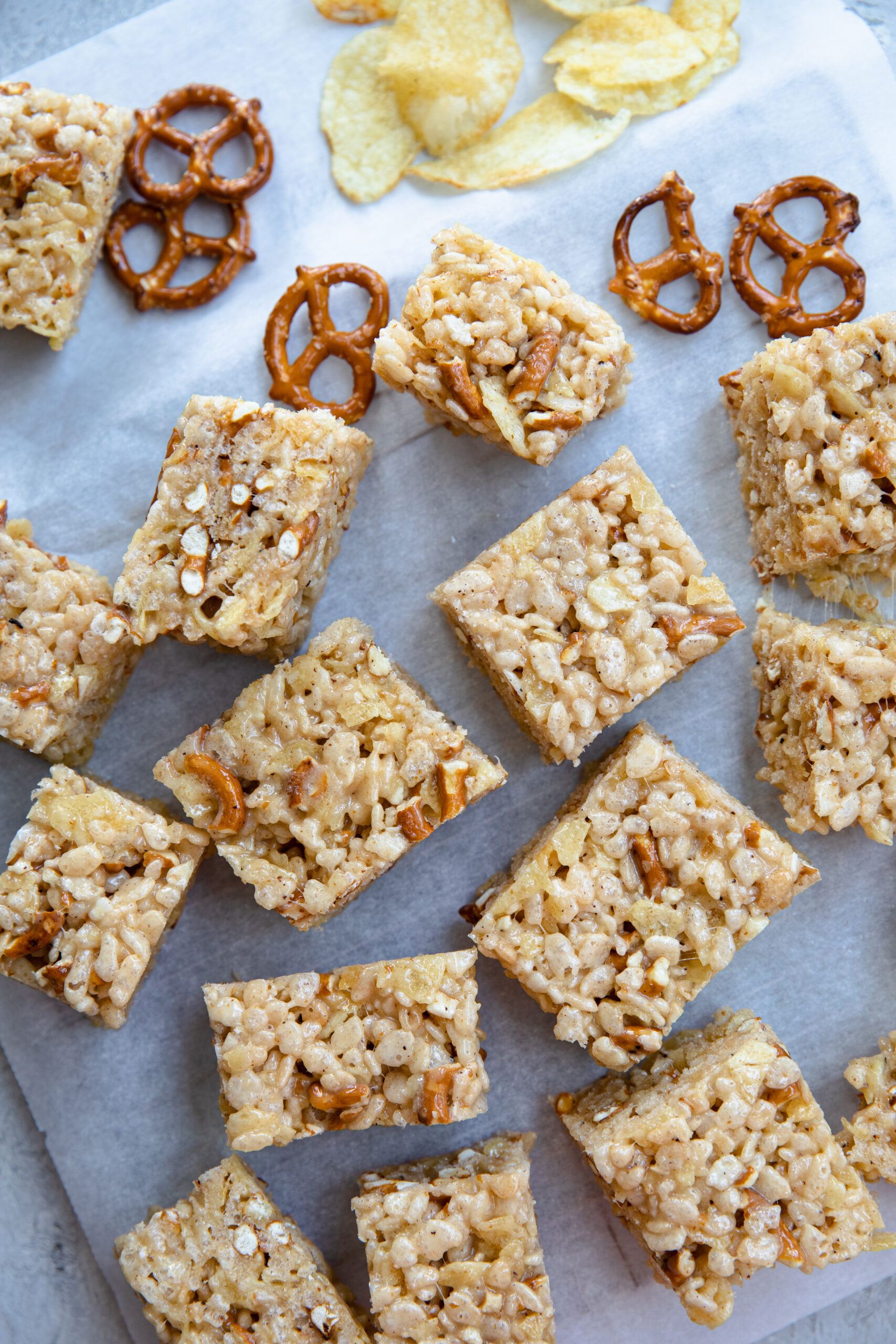 Sweet & Salty Brown Butter Rice Krispie Treats
1

stick (4 oz)

unsalted butter

1

10-oz bag

large marshmalllows

5

cups

rice krispies

1

cup

crushed potato chips

1

cup

crushed pretzels
Prepare a 9'' pan by spraying with oil or rubbing with butter and adding a piece of parchment paper to act as a sling.

Crush up pretzels and potato chips by placing in a large ziploc bag and either crushing with your hands or using a rolling pin. Crush until they are about the size of the rice krispies.

In a medium saucepot, add butter. Saute over medium heat to brown butter, until butter is a deep golden brown and has some light brown specks, about 5 minutes.

Turn heat off and add in marshmallows. Stir with a spatula until butter and marshmallow are a homogenous, combined mixture.

Add in rice krispies, potato chips, and pretzels. Stir to combine thoroughly. Pour into prepared 9'' pan.

Let cool slightly before removing from pan and cutting into squares.

To store, wrap in plastic wrap or place in an airtight container for up to 5 days.