I've been working on this Instant Pot Tomato, Vegetable & Beef Stew for quite some time- like literally years. When looking at the recipe, you probably won't appreciate the time it took to perfect, but that's the beauty of a really good, simple recipe! My goal was to mimic my grandma's tomato vegetable soup that I grew up loving as a kid. It was a tomato-based broth with some beef, lots of veggies, and always served with a large side of saltine crackers. It was one of my absolute favorites.
I wanted to change up the way it was prepared and thought the Instant Pot was the perfect way to cook the beef quickly. In general, it's my method of choice when it comes to stew meat because it's consistent and quick in creating perfectly tender meat. The only key when using the instant pot is that you don't have control over to incrementally add other ingredients. Everything will cook at the same rate. Cutting the veggies into large pieces is key to making sure your veggies aren't overcooked. I saw a
This recipe is definitely on the simple side, but that's why I love it. There are no spices or aromatics, but that's how I remember this as a kid. If you prefer bolder flavors, you could probably add in some spices like paprika.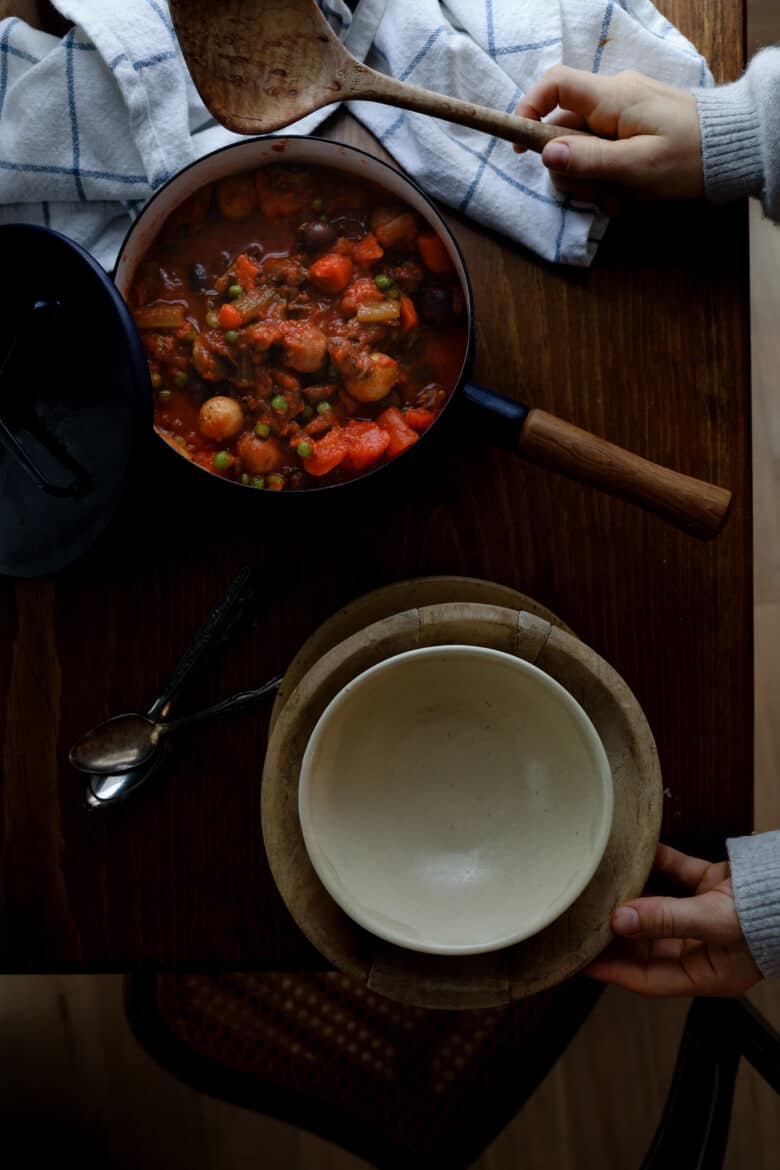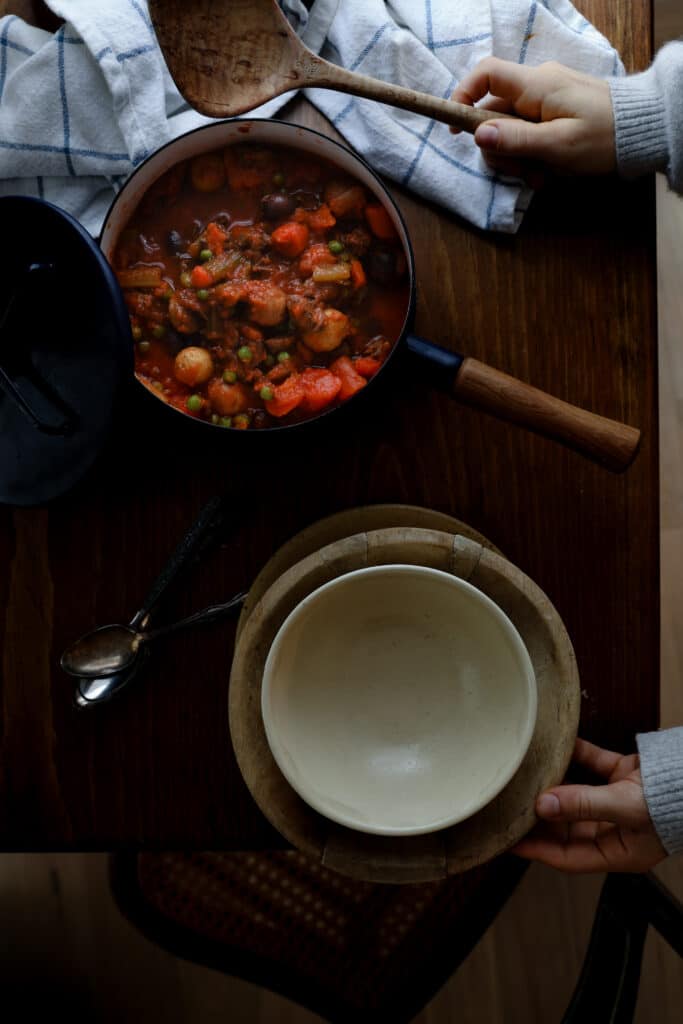 Behind the Recipe: Instant Pot Tomato, Vegetable & Beef Stew
Use cut up beef chuck: To minimize prep and not have to worry about another knife/cutting board to clean, buy beef chuck or stew meat already cut up. Many times the butcher at the counter will do this for you if you ask.
Potatoes: Using tiny potatoes is another shortcut that's super effective. No knife needed. Just add them in whole!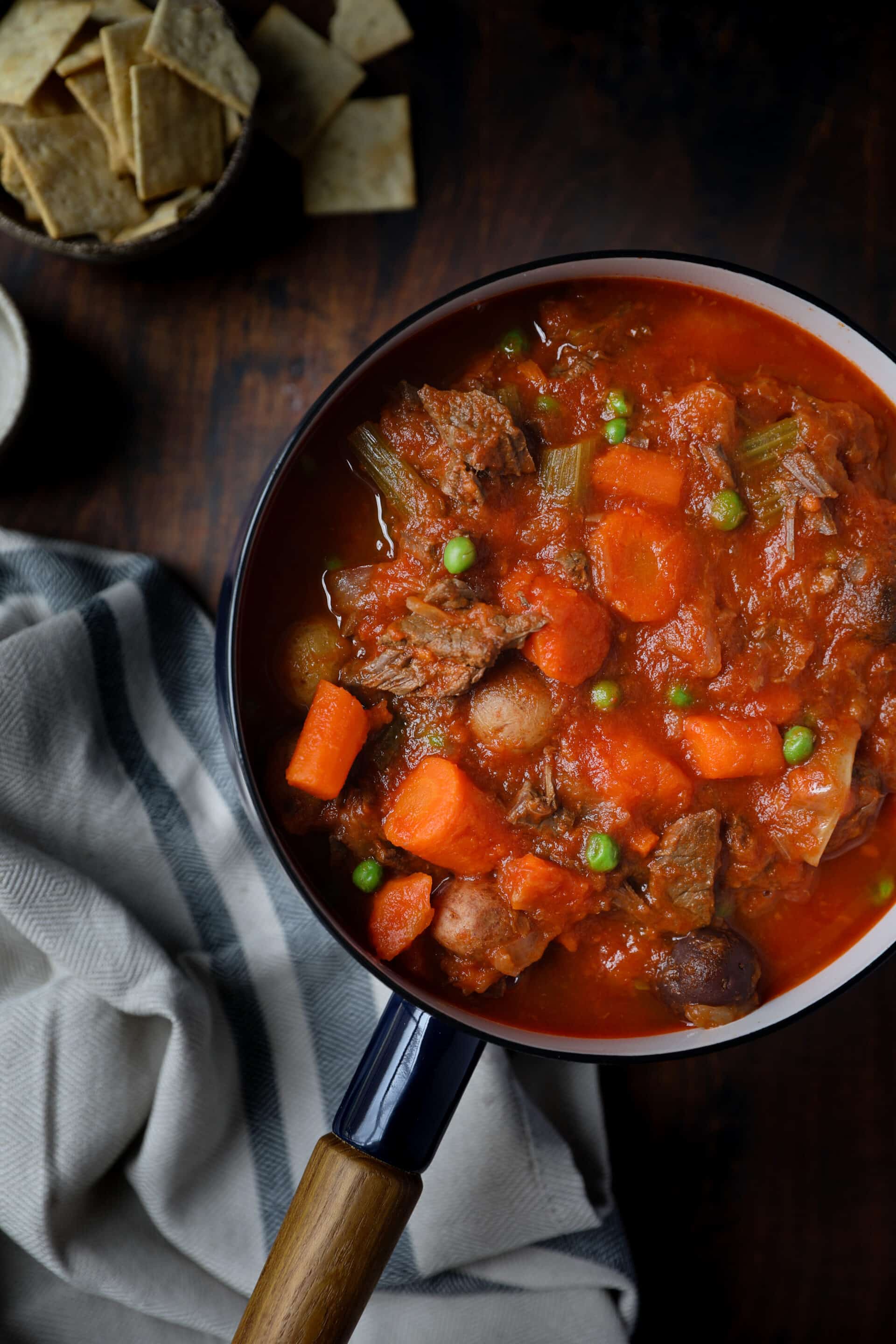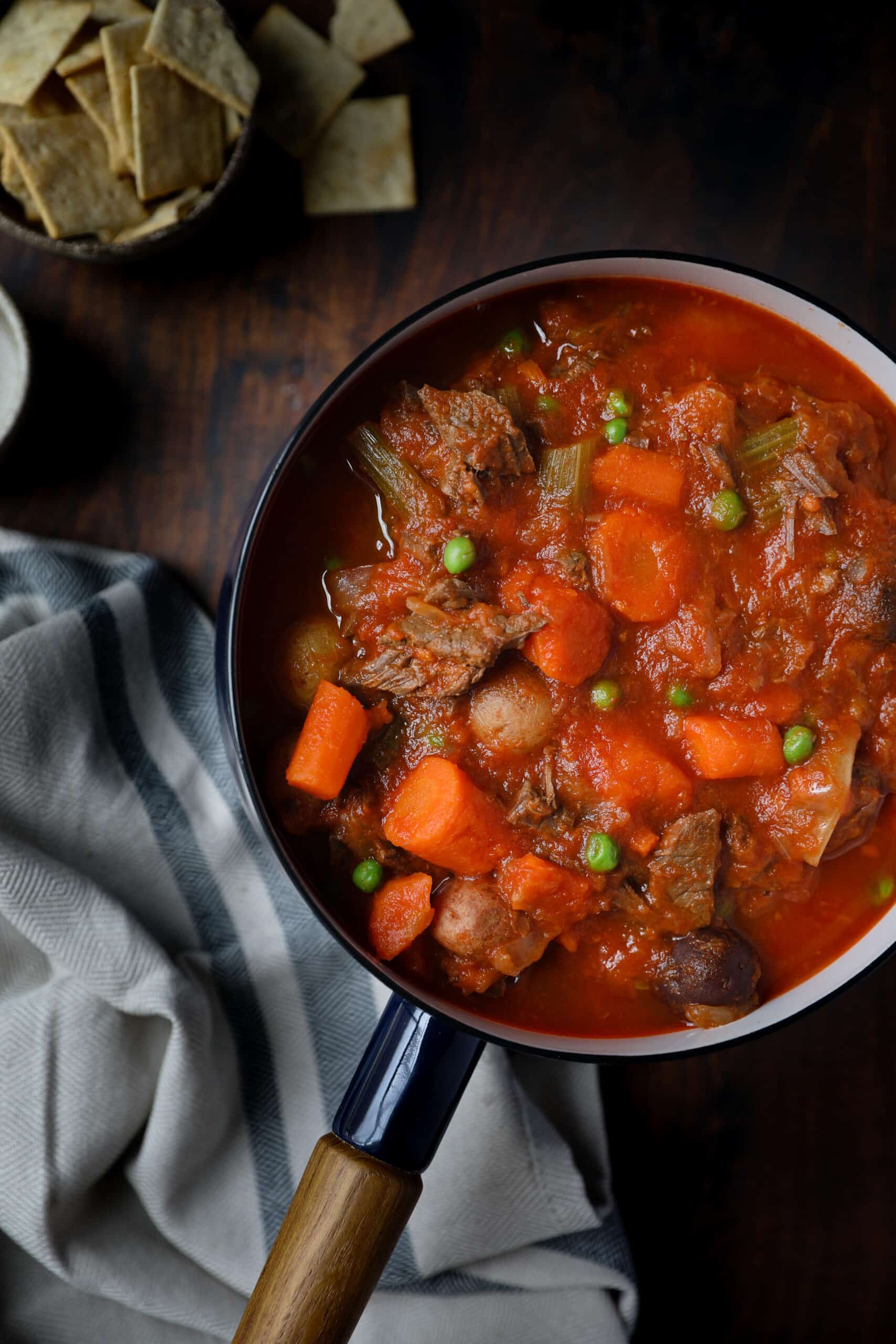 Instant Pot Tomato, Vegetable & Beef Stew
1

14.5 ounce can

crushed tomatoes

,

(you can also do 28 oz can for more tomato flavor; I've done both and enjoyed both!)

2

tablespoons

tomato paste

1

cup

water

1

tablespoon

kosher salt

1

pound

baby potatoes

4-5

celery stalks

5

carrots

,

, chopped into large pieces

1

pound

beef

,

, chopped into large bite sized pieces

2

cups

frozen peas
Add water, tomato paste, crushed tomatoes and salt into instant pot. Stir. Add in remaining ingredients except peas (carrots, potatoes, celery, beef).

Set on high pressure for 35 minutes. Let sit 10 minutes before releasing pressure.