This simple riff on the classic is one of my favorite salads to whip up as a side for lots of dinners- in particular with tomato-based pasta or pizza. And if you're thinking to yourself "I'll pass because I'm not a vegan," wait! I promise this Avocado & Kale Vegan Caesar Salad is still for you. It's just the easiest way to get across the fact that this dressing doesn't include dairy. I personally am not a vegan myself and I don't think I've actually served this to a single vegan. And everyone loved it. I just personally don't love using a ton of mayo and this dressing shows you can have an equally delicious dressing without it.
See my instagram reel for a quick how-to on how to cut the kale into ribbons for this salad. This method is easy and foolproof!
Avocado & Kale Vegan Caesar Salad: Why you must try this ressing
This is not the first time I've highlighted this dressing- and that's because it's one of my favorites! It's easy and completely worth taking a bit of time to make. The excerpt below is from the original post where I debuted this dressing (Summer Kale Caesar Salad with Corn & Tomato).
I've tried a lot of "alternative" caesar salad dressings. Like a lot. And to be honest, most of them just don't taste like a caesar dressing. Many recipes use tahini to make it vegan, but tahini's flavor is too powerful and strong to mimic the traditional flavor.
Then I tried this dressing by Becky Hughes at NYT Cooking. I was blown away. It ACTUALLY tasted like caesar salad. Cashews take the place of tahini here by adding a creamy body to the dressing. I use cashews a lot in other recipes for a similar function. so I knew it'd work. I was a bit more skeptical about the other ingredients, like caper brine, nutritional yeast, & nori. Then I realized that these were the key to that briny, salty flavor that we see in the classic.
The recipe below is adapted from the NYT Cooking one with a few changes. I simplified the dressing down a bit to use ingredients I normally have in my pantry already and then the bigger change was eliminating nutritional yeast. From my experience, people either love or hate it. And I have a lot of family members who hate it. While it adds "cheesiness", it can be overpowering. Eliminating meant that other ingredients had to get a bit of oomph, so I increased the amount of miso in particular.
Caesar dressing packs a punch and this one is no different. Key ingredients like dijon mustard, white miso, lemon & garlic are the flavor bombs that tie everything together. Caper brine adds a salty dimension and is great if you have it, but I'll be honest- I'm not a caper fan so I don't normally have this on hand. I often make the recipe without it and it's still delicious.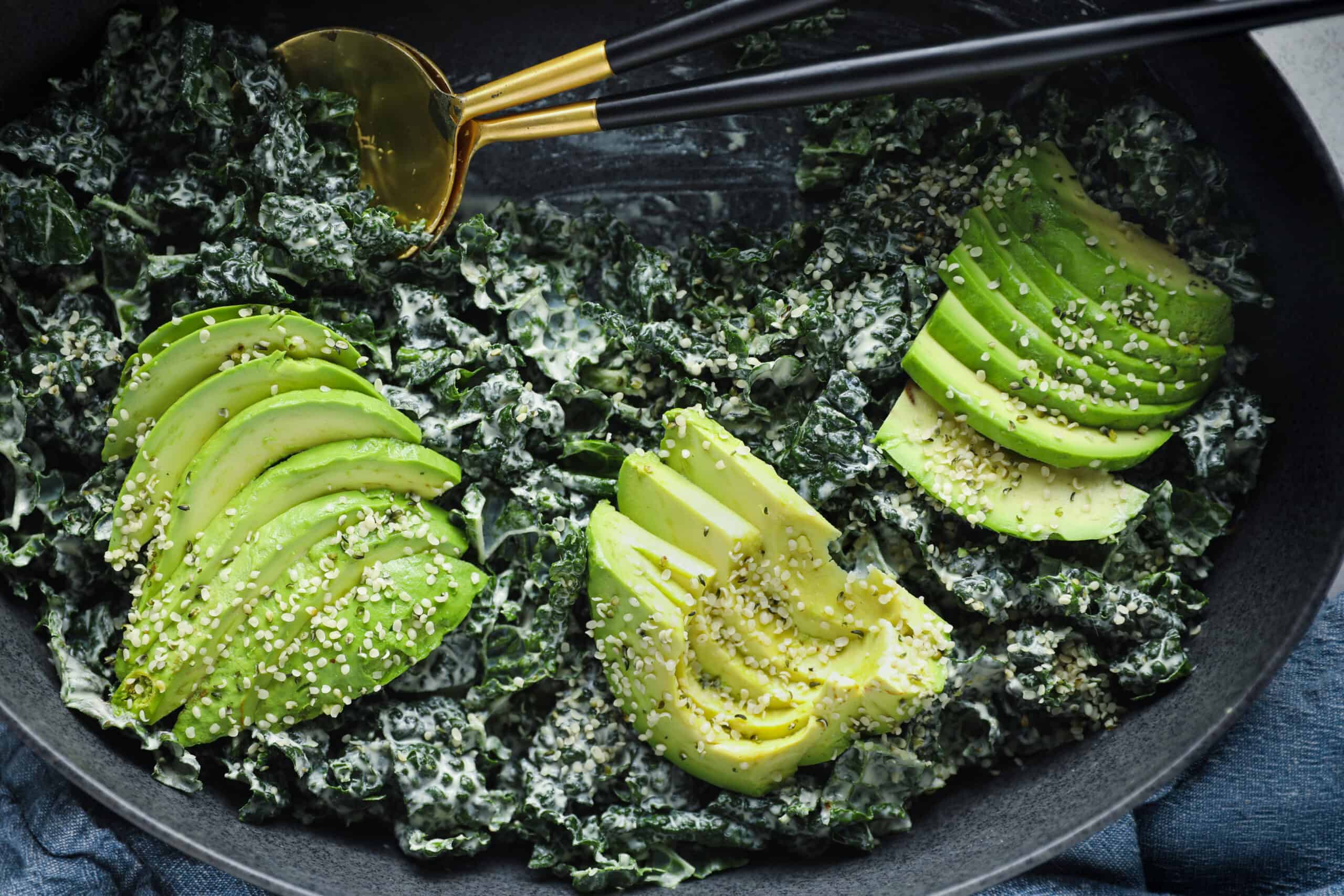 Avocado & Kale Vegan Caesar Salad
1

bunch

lacinato kale

,

cut into ribbons (see above for a video on how to do this!)

1

avocado

,

sliced thinly

3-4

tablespoons

cashew caesar dressing

,

recipe below

optional: 1-2 tablespoons

hemp seeds or sesame seeds
Make cashew caesar dressing (requires a few hours for cashews to soak so plan in advance).

Place kale in large bowl. Drizzle in about 1/2-3/4 of the dressing and massage dressing into kale until it is completely coated in the dressing and less crunchy. Add in avocado and sesame seeds. Drizzle with the remaining dressing and serve.