Maybe it's just me, but I used to stay inside the box when it's come to caesar salads. My variations would play around with the type of greens or the dressing. I don't want to knock the classic, but why can't we branch out from it? Why it is so often just served with greens and no other veggies? Why not add in some other ingredients or flavors that work well with a creamy dressing? This Summer Kale Caesar Salad with Corn & Tomato shouts it loud and clear: we should be thinking outside the box.
So I've been obsessed with this cashew-based caesar dressing for some months now- since May to be exact. And while I was originally having it with more "traditional" caesar salads, I enjoyed the dressing so much that I began to realize it was silly to not add to other salads. While its strong flavor doesn't work with everything, tomato and corn hold their own while also complimenting the caesar flavor. Crunchy corn nuts take the place of croutons. If you've never had them- you're welcome. I invite you to be equally obsessed with them (I've been adding them on top of everything recently).
Cashew Caesar Dressing: A Must Try
Yes, I'm obsessed with this Summer Kale Caesar Salad with Corn & Tomato. But also equally obsessed with this dressing. I've tried a lot of "alternative" caesar salad dressings. Like a lot. And to be honest, most of them just don't taste like a caesar dressing. Many recipes use tahini to make it vegan, but tahini's flavor is too powerful and strong to mimic the traditional flavor.
Then I tried this dressing by Becky Hughes at NYT Cooking. I was blown away. It ACTUALLY tasted like caesar salad. Cashews take the place of tahini here by adding a creamy body to the dressing. I use cashews a lot in other recipes for a similar function. so I knew it'd work. I was a bit more skeptical about the other ingredients, like caper brine, nutritional yeast, & nori. Then I realized that these were the key to that briny, salty flavor that we see in the classic.
The recipe below is adapted from the NYT Cooking one with a few changes. I simplified the dressing down a bit to use ingredients I normally have in my pantry already and then the bigger change was eliminating nutritional yeast. From my experience, people either love or hate it. And I have a lot of family members who hate it. While it adds "cheesiness", it can be overpowering. Eliminating meant that other ingredients had to get a bit of oomph, so I increased the amount of miso in particular.
Caesar dressing packs a punch and this one is no different. Key ingredients like dijon mustard, white miso, lemon & garlic are the flavor bombs that tie everything together. Caper brine adds a salty dimension and is great if you have it, but I'll be honest- I'm not a caper fan so I don't normally have this on hand. I've done the recipe without it and it still was delicious.
Behind the Recipe: Summer Kale Caesar Salad with Corn & Tomato
Kale: The type of kale does matter here. Lacinato or dinosaur kale, which is flatter, is going to be much better for texture. To prepare the kale, remove the tough stem by just pulling with your hand. Then julienned the kale into thin strips. See below for a step by step in pictures.
This method of preparation will help tenderize the kale.
Tomatoes: Juicy and sweet, these add a brightness to the salad. While I'll certainly get a box of colorful heirloom baby tomatoes if I can find them, any small tomato will do.
Corn: I love grilling or broiling corn to get a bit of char and intensify the corn's natural flavor. It takes about 5-10 minutes. If you're pinched for time, you can also add it raw.
Blistered Green Beans: If you're going to broiling corn, you might as well toss in some greens. At least that was my thinking when adding these in. Another one of my staples that I've been adding to about 75% of my dishes recently.
Corn Nuts: OMGGGG. I can't say enough about these. They add the perfectly salty crunch to top off this salad. You'll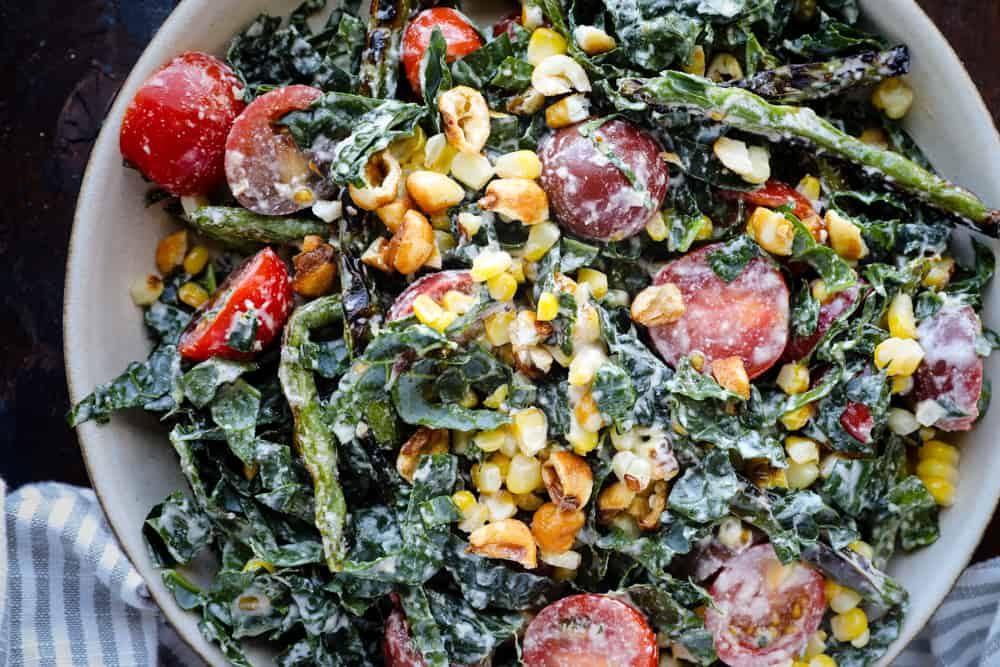 Summer Tomato & Corn Caesar Salad
Ingredients
1

large bunch

Lacinato kale

, stem removed and julienned

1

cup

baby tomatoes

, halved

2

ears

corn

, husked

1/4

cup

corn nuts

, chopped roughly

caesar dressing (see below)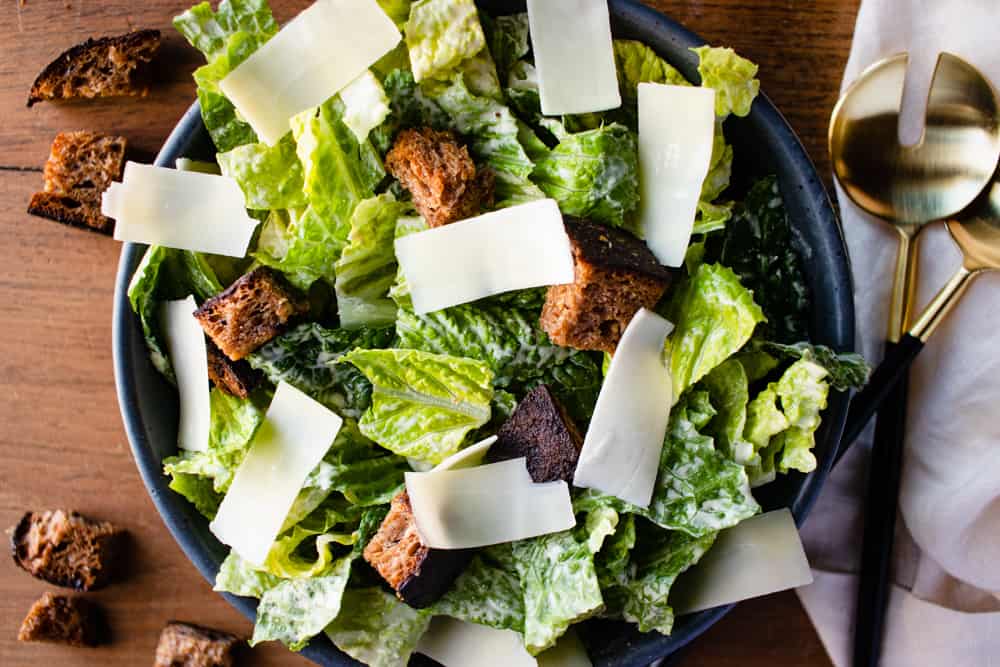 Cashew Caesar Dressing
Ingredients
3/4

cup (82g)

cashews

1

teaspoon

dijon mustard

* see notes

1

tablespoon

white miso

1

teaspoon

kosher salt

, or 1/2 teaspoon sea salt

Black pepper

juice of 1

lemon

, ~1 to 1.25 ounces (2 tablespoons and 1 teaspoon); closer to the higher amount-1.25 ounces- is better here!)

1

large garlic clove

1/2

cup (4 oz)

water
Instructions
Place cashews in almost boiling water and let sit to soak for at least 30 minutes. This helps blend the cashews so they are super creamy!

Drain and rinse cashews. Place everything in a blender and blend until completely smooth. Store in airtight container in fridge for a week- the dressing will thicken up in the fridge but just add a bit of water to thin it out.