Nothing beats combining quintessential summer fruits with a tangy feta cheese and crusty, slightly charred bread. One of my favorite ways to switch up salads is by playing around with how I cut up the produce. Here, I kept the tomatoes in large slices and watermelon in large triangles. It sounds simple, but it makes a difference! Take it one step further and serve this on a large flat plate for presentation that'll feel fancier, but takes no additional effort.
Both the tomato and watermelon are quite sweet, so basil, feta and crusty toasted bread is key for balance. I call this a panzanella, although my ratio of produce:bread is definitely leaning toward the produce. I find just a handful of toasted bread does the trick.
Last small, but oh so important, detail: flaky sea salt on top. It'll make all the flavors pop. Season your salads just like you would anything else. It's what all the chefs do. It may seem weird if you're not used to it, but trust me on it!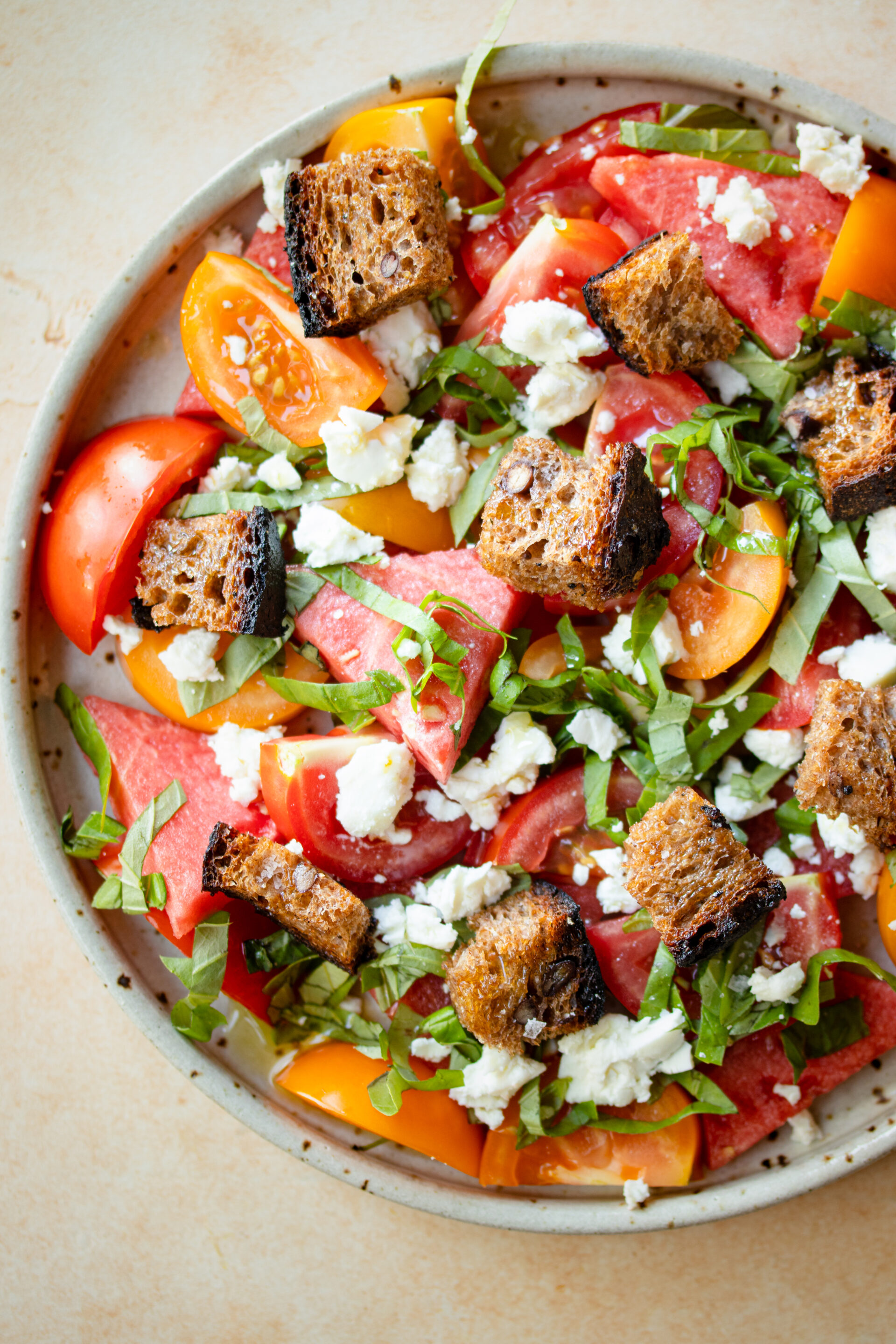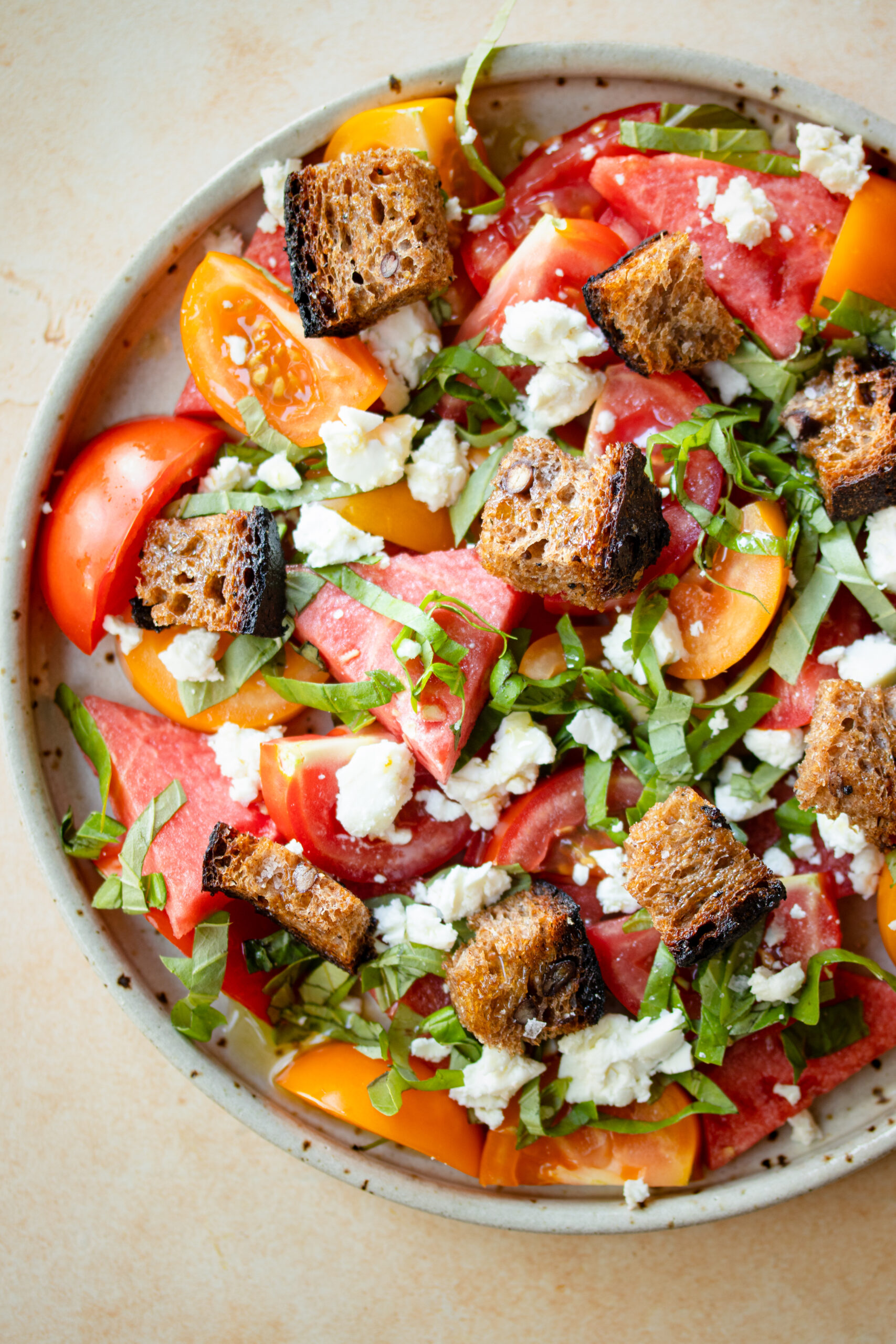 Watermelon, Tomato & Feta Panzanella Salad
As is often the case with my casual summer salads, ingredient amounts are flexible and really up to you!
Ingredients
large

handful

toasted bread cubes

, see recipe/directions below

2

small

heirloom tomatoes

, cut into large slices (ideally 2 different colors for presentation)

1/2

small

watermelon

, enough for about 8 small triangle slices (watermelons really vary in size, so use your best judgement here- I also trying to get them on the smaller side)

3

ounces

feta

, cubed

small

handful

fresh basil leaves

, julienned

drizzle

extra virgin olive oil

large pinch

flaky sea salt
Instructions
Get a large plate (this looks best served on a flat plate rather than a bowl). Arrange tomato and watermelon on plate. Then add on toasted bread and feta on top.

Drizzle with extra virgin olive oil and and add some flakey sea salt on top right before serving.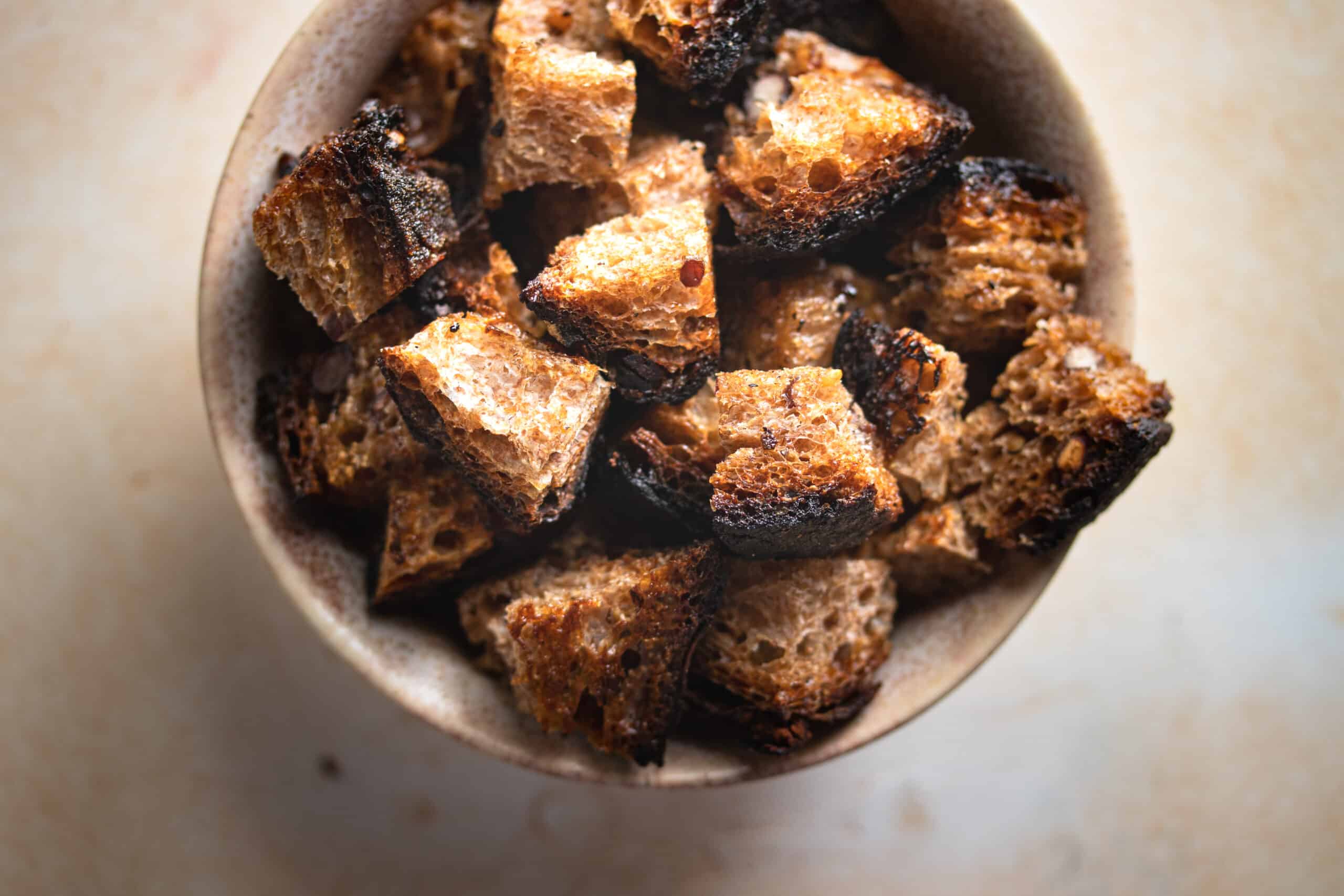 Go-To Toasted Bread
You can choose to do this in the oven or the stovetop- either works! The stovetop takes quicker, but also requires a more watchful eye, and it can go from perfectly toasted to overly charred more quickly. The oven takes a bit longer, but is a better option if you're a beginner cook and worried about overcooking.
The key to this simple recipe is the bread- you need something with some body, texture, and most importantly- a strong crust.
Ingredients
1/2

large

loaf with a crispy crust

this really varies depending on the size of a loaf. You really can't go wrong here though.

2

tablespoons

extra virgin olive oil

1/2

teaspoon

kosher salt
Instructions
For Both
Cut loaf into 1.5'' thick slices (quite a thick slice). Then cut into slice into 1.5'' cubes.

Place cubes in a large bowl. Generously add olive oil (about a tablespoon per cup or so) and toss until each cube is coated with olive oil. Season with salt.
Oven Instructions
Preheat oven to 375. Lay bread cubes in a single layer onto a parchment lined baking sheet.

Bake until golden brown and crispy, about 10-15 minutes. Check halfthrough to lightly toss around or shake the pan.
Stovetop Instructions
Heat a large cast iron skillet over medium heat. Add in just a bit of olive oil (although the bread already has olive oil, so you don't need to do much- just enough to prevent sticking).

Once hot, add in bread. Saute, stirring occasionally, until golden brown and lightly crispy, about 7 minutes.
Storage/After:
This bread will stay pretty crispy if stored in an airtight container or ziploc bag in the fridge for up to a week. I'll usually make a large batch with half a loaf and then enjoy it through the week.