Recipes that can be done from start to finish in 20 minutes can be hard to find. At least ones that don't sacrifice any quality in flavor or use pre-made sauces and the like. This 20 Minute Shrimp & Snow Pea Stir Fry reminds me why stir-fries made up about 5/7 dinners in my early twenties. They are so easy and quick. Seriously, this recipe, start to finish, truly takes 20 minutes and is absolutely delicious.
The key to any good stir fry is the sauce and in particular, soy sauce. This sauce is adapted from the Defined Dish, as this recipe is what inspired me to make this in the first place! There are lots of substitutes for soy sauce out there now- there's gluten-free (tamari, liquid aminos), soy-free (liquid aminos), and lower sodium options. I usually use either low sodium tamari or shoyu.
Behind the Recipe: 20 Minute Shrimp & Snow Pea Stir Fry
It may seem there wasn't that much intention behind the vegetables I've included in this 20 Minute Shrimp & Snow Pea Stir Fry, but I purposefully chose ones that cook quickly. Snow peas, asparagus, and zucchini take about 5-6 minutes under high heat to become tender. Similarly, the shrimp takes about 2 minutes/side to cook through. With that said, you can use whatever veggies you have on hand. Feel free to substitute in items like carrots or chicken but realize it will take longer. Different vegetables may cook at different rates as well.
A few other notes based on family and friends who have seen me cook this:
Don't be afraid of high heat! Stir fries are meant to be quick, and high heat is key for that.
If you use a non-stick pan, watch the heat just a bit more than a regular pan. You don't want the pan to smoke. However, as long as something is in the pan, you'll most likely be fine.
Don't be afraid of the fish sauce- it does add an important flavor and because it's so little, the flavor is very mild.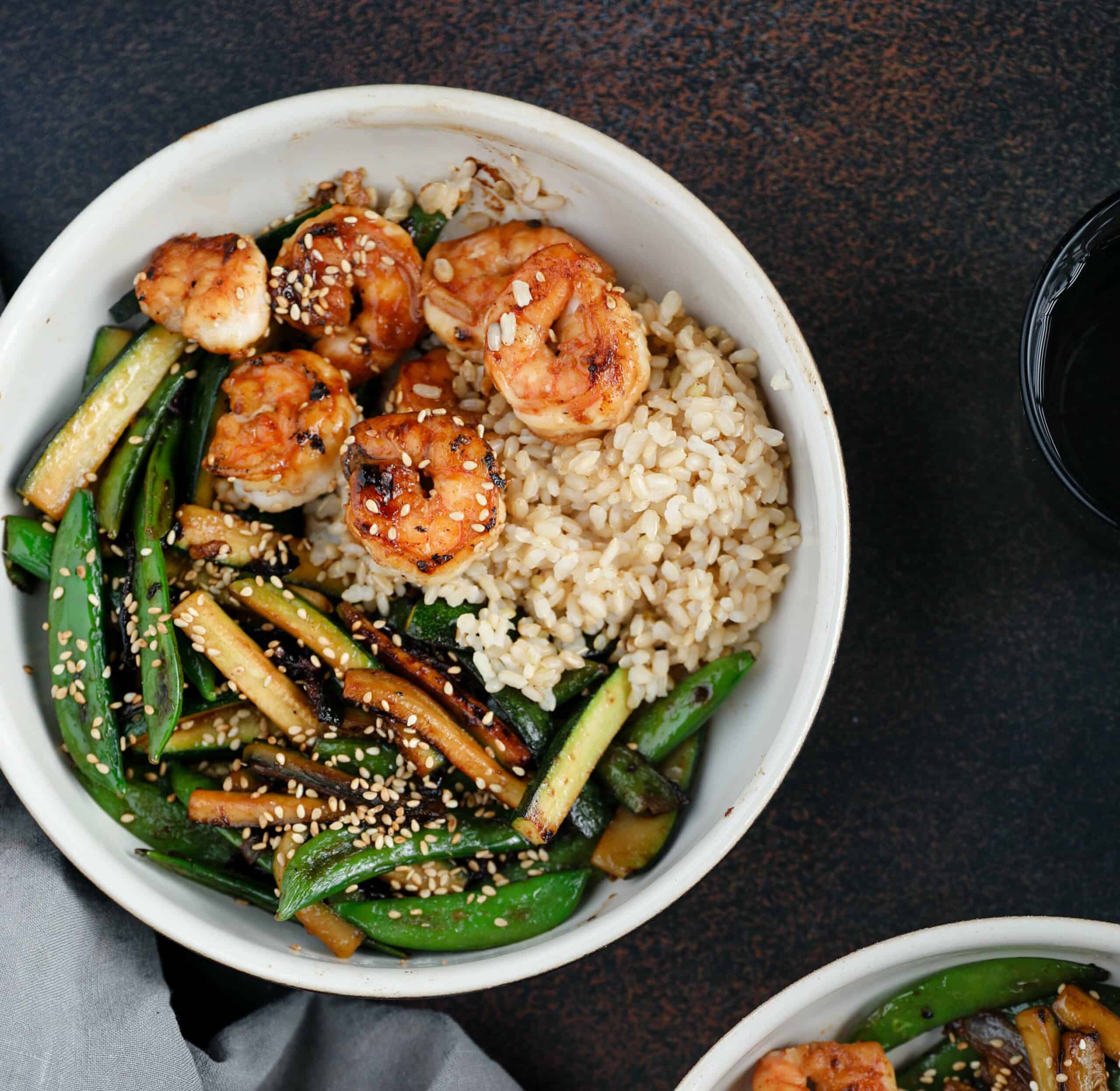 20 Minute Shrimp & Snow Pea Stir Fry
Inspired by the Defined Dish
2

tablespoons

avocado oil

pinch

salt

8

ounces

snow peas

,

trimmed

2

small or 1 large

zucchini

,

cut into matchsticks (OR asparagus, cut into 1'' slices)

1

pound

medium shrimp (26-30)

,

peeled, deveined, washed and dried
Sauce:
3

tablespoons

low sodium shoyu or soy sauce

2

garlic cloves

,

minced

2

teaspoons

toasted sesame oil

1/2

teaspoon

fish sauce

1

tablespoon

rice vinegar

sesame seeds

,

for garish
Sides:
1

cup

rice or noodles

,

cooked according to directions

sesame seeds

,

for topping
Make the sauce
Combine all ingredients for sauce in a small bowl or cup.
Make the stir fry
Prepare the shrimp by making sure it's clean and patting dry. Lightly season with salt.

Heat a large saute pan over medium heat. Add in half of the avocado oil (~1 tablespoon). Add in shrimp, one at a time, with tongs and let sit for 2 minutes over medium/high heat. Flip and repeat for another 2 minutes. About 1 minute in on this side, add in just a bit of the sauce. Lightly toss shrimp in the sauce before removing from pan. Set aside in serving plate while you cook the veggies.

Add in the remaining avocado oil (another tablespoon) and add in snow peas and zucchini or asparagus. Lightly season with salt. Optional: Add in just a touch of water (about 1-2 teaspoons) and cover for 1 minute to speed up cooking process. Saute until brown, about 3-4 minutes. Add in remaining sauce. Continue to cook until quite browned, about 2 more minutes. Add to plate with shrimp.

Serve with rice or noodles and top with sesame seeds.