As someone who doesn't eat traditional burgers and is often looking for alternatives, a solid bean burger recipe felt like a necessity in my toolbox. BUT I'll be honest- I've had some pretty bland black bean burgers so was I was a little skeptical. My goal: packed with flavor, but not overly complicated.
After doing some research, I went for @seriouseats method of baking the beans before mashing them- this helps dry them out. From there, I took a bit of a detour. Yes, there are a lot of ingredients in here, but they're all key to giving this dimension and lots of flavor. Also, you just toss all of these seasonings into the food processor and give it a whirl, so the actual process is simple (side note- if you don't have smoked paprika, cumin, and chili powder… trust me, they should have a place in your spice drawer).
Serve this with spinach and smashed avocado on an open-face bun and a side of sweet potato fries. I've been testing this recipe out for a month and have enjoyed every single dinner I've made with this combo. So good!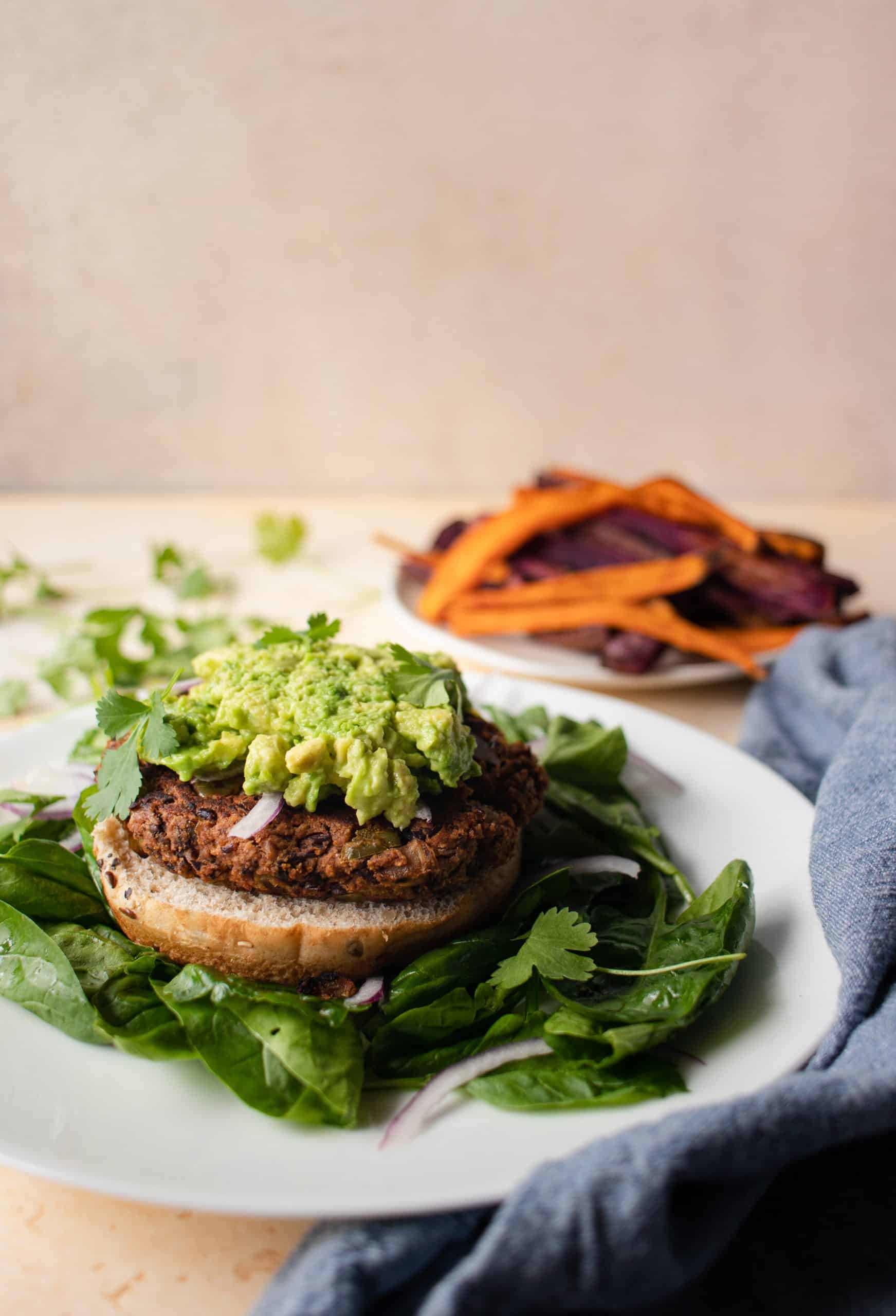 Black Bean Burgers with Smashed Avocado
1

can

black beans

,

,rinsed and drained

1/2

tablespoons

extra virgin olive oil

1

small

green bell pepper

,

, diced (5 ounces)

2

ounces

sliced shitake mushrooms

,

(about 1/4 cup)

1/4

yellow onion

,

, diced

2

garlic cloves

1

tablespoon

adobo sauce

1

tablespoon

soy sauce

1

tablespoon

Worcestershire sauce

scant 1/2

cup (take away 1 tablespoon away)

bread crumbs

1/2

teaspoon

smoked paprika

1/4

teaspoon

cumin

1/2

teaspoon

chili powder

3/4

teaspoon

diamond kosher salt

1

egg
Smashed Avocado
2

ripe avocados

1

lime

diamond kosher salt
Preheat oven to 350. Spread out beans onto a foil-lined baking sheet. Bake for 15 minute to dry out.

Saute pepper, mushrooms, onion, garlic until soft. Then put in food processor and add in remaining ingredients. Pulse until somewhat mixed.

Form into 1/2 cup patties (about 4-5).

Heat a non-stick oven-proof skillet over medium heat (if you don't have open proof, no worries- just transfer to a baking sheet when baking). Spray pan generously with oil.

Place patties onto pan- it should sizzle immediately. Cook until the bottom side is brown, about 2 minutes, then flip for another 2 minutes.

Place pan in the oven until falafels are fully baked inside, about 5-7 minutes. Serve.
Smashed Avocado
Mix avocado and salt with a fork. Squeeze lime over avocado and taste as you go- I usually will use only 1/2 lime, but it depends on the lime and how much juice you get. Season generously with salt.