The first time I tried poached rhubarb I was blown away with just how simple and quick it took. It quickly became part of my morning routine to add to my skyr before work- seriously it's that easy you can make it under 10 minutes! I intentionally kept the rhubarb a bit tart- just enough to make you pucker a bit for a second followed by sweetness from the honey. I personally like the tarter flavor and enjoy this recipe because it puts the rhubarb front and center. So many times rhubarb is a supporting actor to other stars, like strawberries, but it deserves its own show occasionally!
Serve this with something creamy and a bit sweet like skyr, greek yogurt, or ice cream. It's the perfect compliment to round out the flavor of rhubarb. And of course- feel free to add more honey (or sugar) if you prefer things on the sweeter side!
One important cooking note: Be careful about overcooking the rhubarb! It breaks down quicker than you think- the first few times I tried poaching, I found I cooked it a bit too much and so it was softer than I preferred. Err on the side of caution and watch closely after 3-4 minutes and keep the heat on low!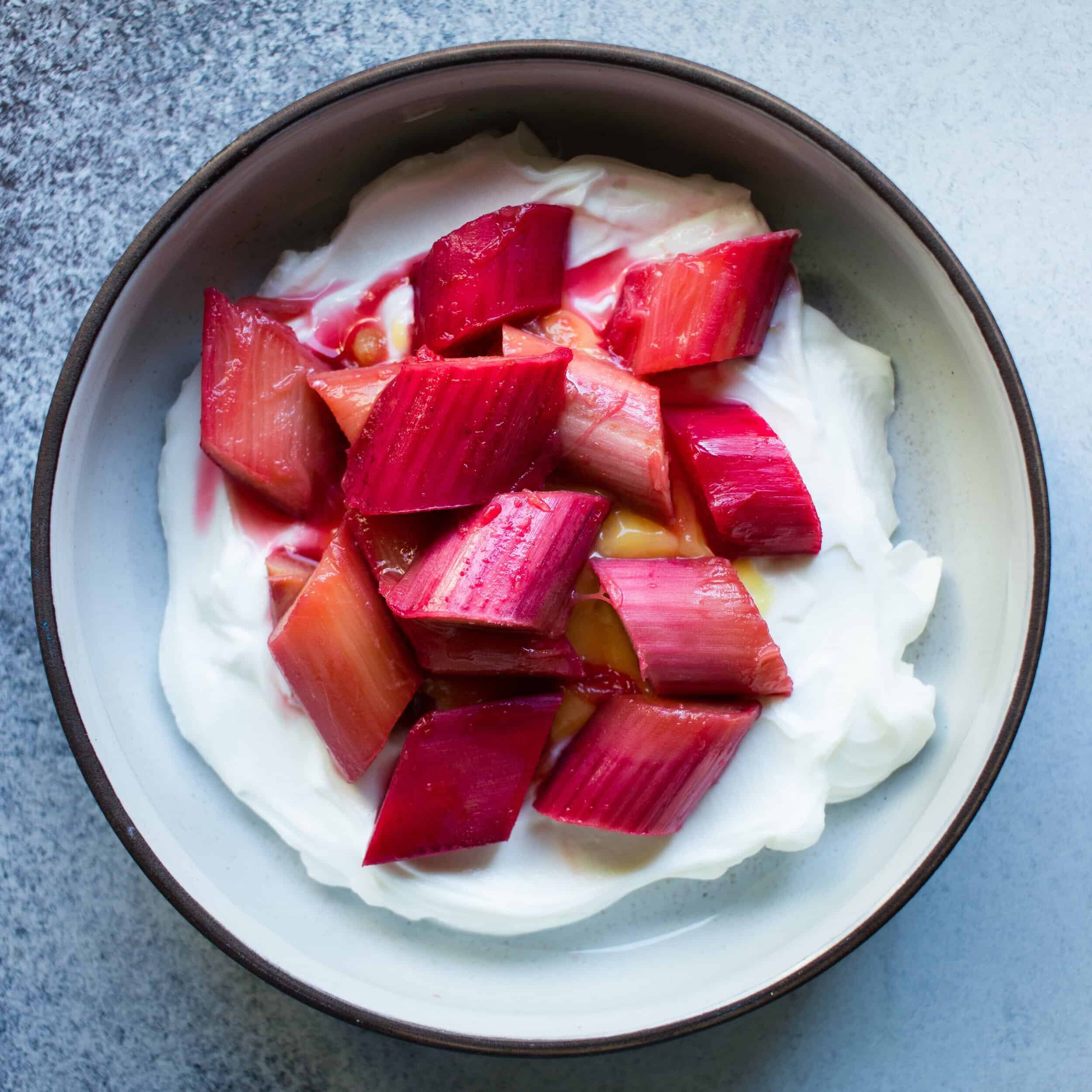 Ginger Honey Poached Rhubarb
1

pound

rhubarb

,

sliced into 1'' long pieces diaganolly

1

tbsp

(21g) honey

,

(add another if you prefer things on the sweeter side)

3

tbsp

(1.5 ounces) water

generous sprinkle of kosher salt

1/2

tbsp

freshly grated or pureed ginger

,

(sometimes I'll add another 1/2 if I want this flavor to be quite strong!)
Place everything in a medium saucepot and stir to combine. I've found that results are best when the rhubrab isn't stacked on itself too much, so bigger is better here.

Heat pot over low to medium heat until the water and honey is bubbling. Reduce to a simmer for four minutes, or until rhubarb is just tender. Serve immediately.
What to serve with?
My favorite: plain skyr & lemon curd- see my curd recipe here.