Zucchini fritters- one of those recipes that can be SERIOUSLY delicious or sadly disappointing. Fritters are one of my favorite sides to eat, but I've also had many trials be the victim of soggy zucchini, batter that doesn't fully stay together, or just an overly soft fritter.
Happy to say, this recipe is none of those things. It's perfectly cheesy, crispy, and full of zucchini. And I've tested it many times to ensure it. While prepping zucchini requires a bit of care, the rest of this recipe is crazy simple: toss everything in a bowl and combine.
The biggest thing is the prepping of the zucchini itself- I'm not a big fan of grating it. Instead, I slice it into super thin coins using a mandolin (could also be done with a spiralizer on the wide setting or carefully with a knife), and then cut that into thin strips. It requires a bit more time, but is SO worth it in making the zucchini shine and not get watery.
The other thing- if possible, let the zucchini sit in a colander for at least 30 minutes, up to 2 hours.
This recipe has two adaptions- one that uses AP flour and one with coconut and tapioca flours for a gluten- and grain-free option.
P.S. Thanks to my aunt Carol for the initial recipe I adapted this from!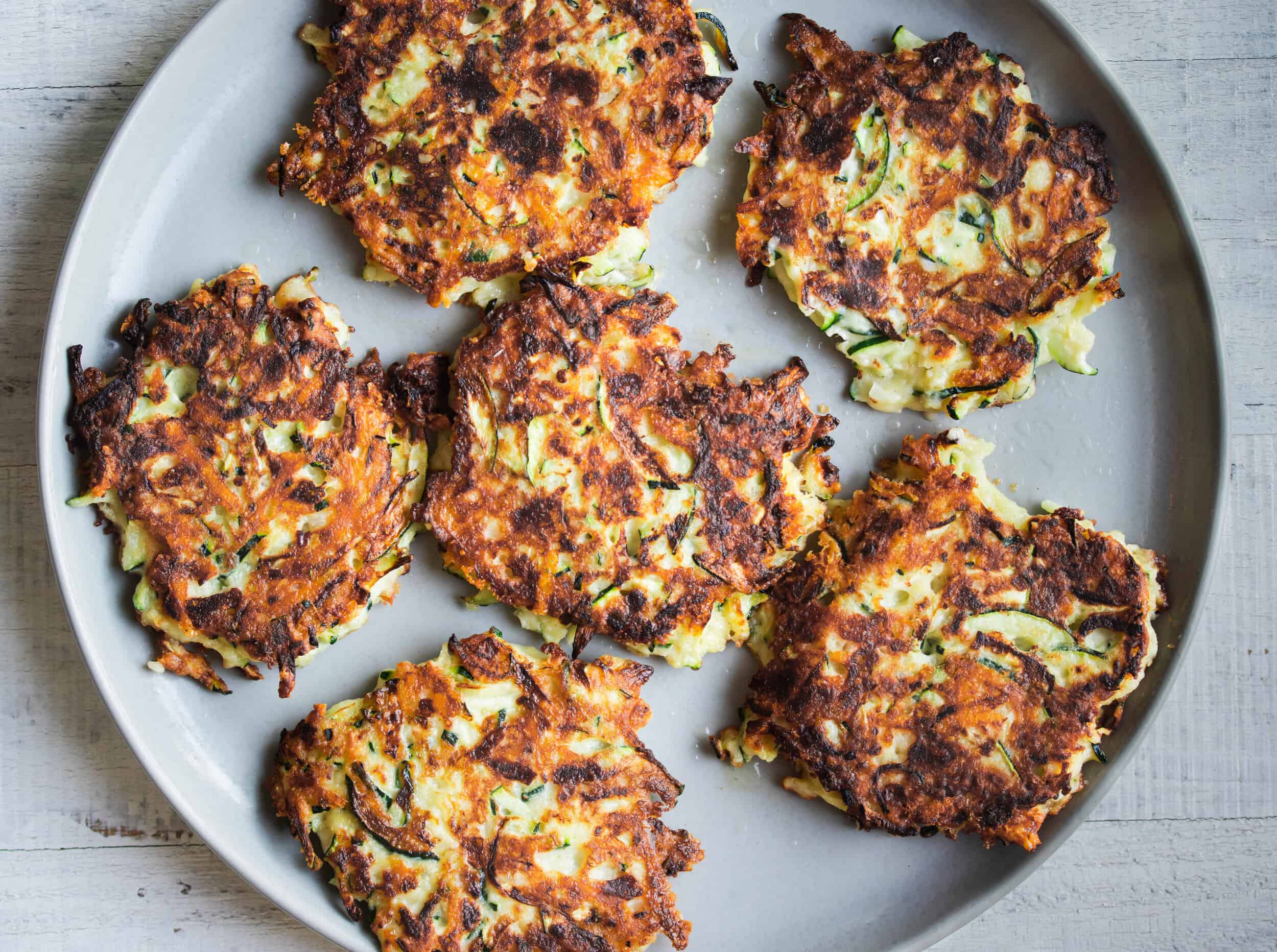 Parmesan Zucchini Fritters
3-4

cups

zucchini sliced thinly on mandolin and cut into thin strips

,

about 2 small zucchini or 1 large- 8-10 ounces

2

eggs

,

beaten

1

shallot

,

diced (1/4 cup or so; can also use yellow onion)

½

cup

AP or whole wheat pastry flour

,

gluten free substitute: ¼ cup tapioca + 2 tablespoons coconut flour

½

cup

grated Parmesan

1/4

cup-1/2 cup shredded mozzarella

,

I've done both- go for the 1/2 cup if you want a very cheesy fritter; 1/4 cup has a more subtle flavor

1/2

teaspoon

sea salt

2-4

tablespoons

high heat neutral oil

,

grapeseed, avocado, or canola oil
Slice zucchini into super thin matchsticks. Place in a colander and sprinkle generously with salt (about a heaping 1/4 teaspoon). Cover with paper towels, place a few cans or another type of heavy-ish weight on top, and let sit for 30-120 minutes- you should see about a tablespoon of water or so drain out of the colander.

Add eggs into a medium to large bowl. Whisk until beaten.

Lightly pat zucchini with paper towel to remove any excess moisture; add to the bowl with the eggs, along with all remaining ingredients (shallot, flour, parmesan, mozzarella, and salt). Using your hands or a spatula, combine until well mixed.

Use the widest skillet you have for this- place it over medium heat and add in enough oil to generously coat the bottom.

Using your hands (or a measuring cup), scoop out about 1/4-1/3 cup of the mixture. Flatten into a patty with your hands (don't worry about making it too flat- you can flatten it more with a spatula once it's in the pan) and place onto skillet. It should immediately sizzle. Press down lightly with spatula to spread it out and make it thinner if desired. Let sit until brown on one side, about 2-3 minutes. Add in about 4 or so more fritters in the pan at the same time (as much as you can without overcrowding the pan).

Flip and repeat on other side. Once done cooking, place on a plate lined with a paper towel to absorb any excess oil. Repeat with other fritters. Repeat a second batch until all batter is used.